Regent Theatre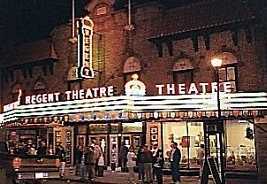 Regent Theatre
Venue in Picton, Ontario, formerly George Cook's Regent Theatre. It opened in 1918 in a heritage building dating to 1830. It was, at the time, the largest theatre between Montreal and Toronto, seating 1100.
Regent Theatre operated as both a theatre and cinema for sixty years, closing in 1981. It was purchased in 1994 by the Regent Theatre Foundation (created by Susan Sivel, Nigel Sivel and Larry Tayler) and has since housed a wide variety of performing arts productions as well as film.
In 1998, the Foundation's board decided to create an in-house professional theatre production company and Susan Cox was named as its Artistic Director.
Last updated 2020-11-17