Théâtre Sans Fil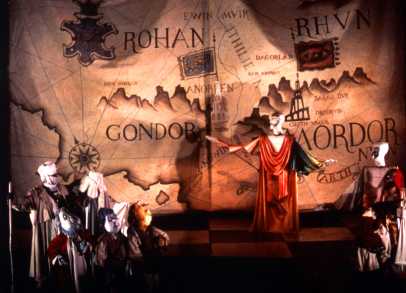 Lord of the Rings. Photo courtesy of Théâtre Sans Fil
Company in Montreal, Quebec, founded in 1971 as a puppet theatre for adults as much as children. The name translates as "Theatre Without Strings." It was inspired by Japanese Bunraku theatre, but now uses a wide range of innovative styles and techniques. It is still led by co-founding artistic director André Viens, who has directed all of its productions.
It has had success not only in Canada but world-wide, touring adaptations of Indian legend (Tales From the Smokehouse) and the works of JRR Tolkien (The Hobbit, Lord of The Rings) in French and English, the work which catapulted Théâtre san fil into the international theatre scene.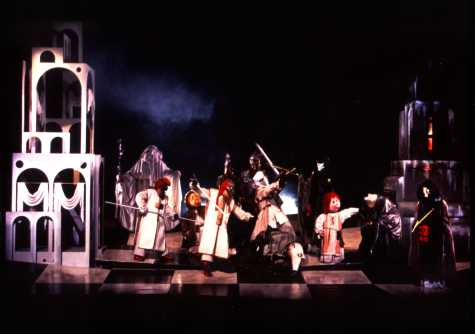 Lord of the Rings . Photo courtesy of Théâtre Sans Fil
In 1992, the company participated in a gigantic outdoor spectacle honouring the 350th anniversary of the City of Montreal: Le Grand jeu de nuit. It was seen by more than 150,000 spectators during its summer run. In December 2000, it mounted a production of Humperdinck's opera Hansel and Gretel.
Other works include: The Crown of Destiny (1995) and The Dream Catchers (1992) (both by Henriette Major)
In 1996, the company received a lifetime achievement award at the Masques Awards.
In 2003, it relocated its studios to the historic Caserne Letourneaux.
Website: www.theatresansfil
Last updated 2021-12-08