Théâtre Sortie de Secours
Theatre company founded in 1989 by Philippe Soldevila, and based in Quebec city. Sortie de Secours (Emergency Exit) is dedicated to developing new works in collaboration with artists beyond its immediate milieu in order to explore complex questions of identity through a diversity of voices. It also creates works inspired by the art, literature, and myths of other cultures to achieve a critical distance on individual and social behaviour. It considers the cultural consequences of immigration, and the nature of Canadian interculturalism. The company often translates and adapts Spanish works. It engages actively in co-productions with other Francophone theatre companies in Quebec and across Canada. The Artistic Director since 1989 is Philippe Soldevila.
Among its early works are: Le miel est plus doux que le sang by Simone Chartrand et Philippe Soldevila, in which Salvador Dali, Frederico Garcia-Lorca and Luis Bunuel meet as young men in a student residence in Madrid, and are all creatively inspired by a cabaret singer. It was nominated for three Masques Awards. Other productions include : Bhopal by Rahul Varma (2005) ; Santiago by Helene Robitaille (Théâtre Périscope 2006) ; Le Magicien prodigieux (2008), a free adaptation of Calderon's play by Soldivila ; À la défense des moustiques albinos (Théâtre Périscope and La Nouvelle Scene in Ottawa, 2010), a translation by Soldevila of the Spanish play by Mercè Sarrias.
In Les trois exils de Christian E. by Christian Essiembre and Soldevila (Théâtre Périscope and Théâtre l'Escaouette 2011), a successful young Acadian actor played by Essiembre tries his luck in Montreal, and encounters a very different cultural milieu. Essiembre won several awards for his portrayal of multiple characters : Prix du public Radio-Canada; Prix de l'Association québécoise des critiques de theatre; and Prix Paul-Hébert. Philippe Soldevila was awarded the Prix Artiste de l'Acadie du Québec.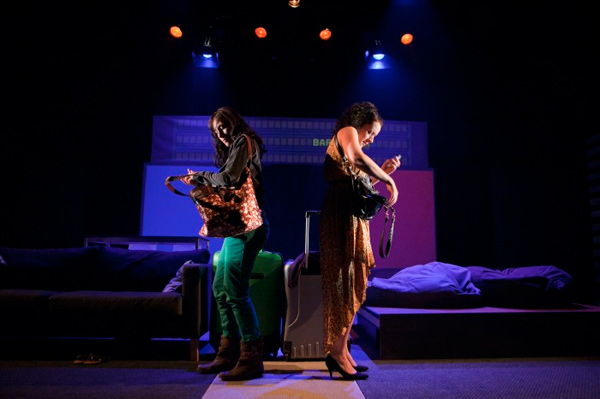 Québec-Barcelona by Philippe Soldevila
Québec-Barcelona (2012) shows the cultural and personal consequences when two cousins from Quebec and Spain exchange houses. The cast included two Quebecois and two Catalan actresses, and the production played in Quebec and in Barcelona.
Quand la mer … by Esther Beauchemin was presented in September 2013 at Théâtre Périscope in a co-production with Théâtre de La Vieille 17 and Théâtre du Nouvel-Ontario. The inhabitants of an isolated fishing village struggle to keep their livelihoods while their traditions are eroded, the sea inexorably retreats, and the fish disappear.
Website : www.sortiedesecours.org
Profile by Anne Nothof, Athabasca University
Last updated 2022-01-14