Theatre Royal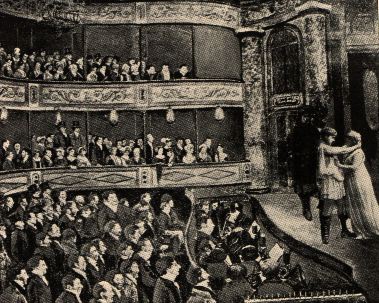 F. Brown and Miss Riddle in a performance of Virginius (1825, Theatre Royal)
First permanent theatre building in Montreal, Quebec, opened in 1825, built by English merchant, John Molson, to attract bigger names to the city which lacked such a venue. It cost the magnate $30,000.
The theatre seated 1000, with two tiers of boxes, and a full proscenium arch. It had a 50-member company of actors, technicians and musicians, and presented a repertory of Shakespeare and the Restoration authors. The venue was also used for concerts and circuses.
After presenting a season of 111 full-length plays, the in-house company went bankrupt in 1826 and the building struggled along through rentals, financially unsuccessful touring operations and a cholera epidemic.
It served Molson's purpose, however: Dickens and Kean played there but so, too, did local companies which began to spring up in the city. (See Documents of Interest for Dickens' description of his experience.)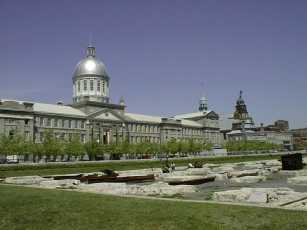 The Marché Bonsecours, where the Theatre Royal once stood. (photo: Bruno Lajeunesse)
The house was demolished in 1844 and the site was used for the Bonsecours Market (still standing). Another venue, also called Theatre Royal, was built not far away in the section of Montreal now called Old Montreal. This building, too, no longer exists.
Sources: Eugene Benson and LW Conolly. English-Canadian Theatre. Toronto: Oxford University Press, 1987. Franklin Graham. Histrionic Montreal. Montreal: John Lovell & Son, Publishers, 1902.
Last updated 2009-09-15