Ukrainian Drama Theater Zahrava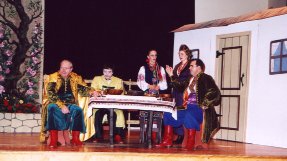 Boyarynia From left: Ilarij Kushnirenko as retired kozack's officer; Josef Terlicki as "Stepan"; Larysa Bajus as "Oksana"; Oliya Pankiv as "Oksana's mother"; Bohdan Gogus as "Ivan"
The Zahrava Ukrainian Drama Ensemble was founded June 5, 1953 in Toronto Ontario by Volodymyr Dovhaniuk, Yuriy Belsky and Andriy Ilkiw.
The first director was Zdislaw Turzanski – Slav Telizhyn. Volodymyr Dovhaniuk was the administrator, Omelian Telizhyn the stage designer and Maria Levytska the costume designer. Various actors participated in productions throughout the history of Zahrava: Michael Lalka, Volodymyr Dovhaniuk, Andriy Ilkiv, Ilariy Kushnirenko, Kornyliy Savytsky, Nina Telizhyn, Nina Tarnovetska, Valia Orlovska, N. Mamotiuk, Maria Levytska, Taras Parchenko, and many others. Other directors included Yuriy Belsky, Maria Levytska, Volodymyr Dovhaniuk, and Taras Parchenko.
The theatre's repertoire included many Ukrainian classics, such as: Prokuror Dalsky, Advokat Martian, Motria, Myna Mazaylo, Suyeta, Kassandra, Ukradene Shchastia; and European classics such as Charlie's Aunt, Anouilh's Jeanne d'Arc, Ibsen's Ghosts, Gogol's Marriage, Goldoni's Servant of Two Masters and others. More modern works included: Moral Pani Dulskoyi, Kuriyer UPA, Taborova Kozulka (also presented as Hrikhy Molodosti), Prolisky, Ksantypa, Zavtra Znovu Ziyde Sontse, Korol Striltsiv, etc. Works were specially written for the ensemble: Yecshan Zillia, Viva Boyko, Tanok Voli.
The productions took place on Toronto's stages and then in various cities of Canada and the United States. For over 40 years Zahrava has been located at the Ukrainian Cultural Centre at 83 Christie St. in Toronto.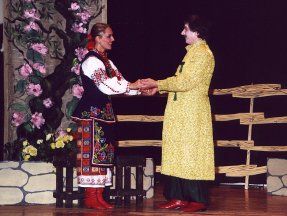 Boyarynia Larysa Bajus as "Oksana", Josef Terlicki as "Stepan"
Zahrava was a member of the OMTA – Ontario Multicultural Theatre Association, an organization which ran up until the mid 1980s, and held annual ethnic theatrical festivals in which Zahrava took part. The group has won many awards such as: best leading/supporting actors/actresses, best performance of the festival, best Canadian play, best costume design.
In 1990 the Zahrava Ensemble conducted a two-week tour of the Ukraine, where it put on 17 productions in 12 days. Younger actors who joined Zahrava included: Lilia Lozynska, Oleksandra Mykytenko, Liliana Fil, Daria Luciv, Oleksander Stelmashenko, Orest Leschyshyn, Josef Terlicki, Adam Stec, Volodymyr Babytsch, Ola Shchuryk, Nadia Lypovetska, Stefan Genyk-Berezowsky, Anna Levytska, George Mykytyn, Mykola Kandiuk, Yurij Kelebay, Nadia Kutsa. Also in the 1990s Zahrava put on several dramatic montages for various community events.
There was a hiatus in Zahrava's activity during the 1990s when old actors passed away, new ones were still developing, and the theatre was in search of a director.
In 2000 Zahrava produced Judas Iscariot. 2001 was proclaimed Lesia Ukrainka Year by UNESCO and Zahrava staged her play Boyarynia.
In 2003 Zahrava celebrated its 50th Anniversary and officially changed its name to: The Ukrainian Drama Theatre Zahrava.
In 2005 Zahrava staged Triumphalna Zhinka by Nadia Kovalyk, a contemporary dramatist from Ukraine.
In 2007 and 2008 Zahrava successfully presented Nelehalka by Anatoliy Krym, another contemporary Ukrainian playwright, including presentations in New York, Philadelphia, Chicago and Cleveland.
The government of Ukraine has recognized various individual members of Zahrava: in 2005 Mykhaylo Lalka and Nina Tarnovecky were given the distinction of Merited Artist of Ukraine, and in 2007 Ilariy Kushnirenko and Josef Terlicki were recognized as Merited Cultural Workers of Ukraine. In 2009, The Ministry of Culture of Ukraine presented Certificates of Accomplishment to Josef Terlicki, Larysa Bajus, Stefan Genyk-Berezowsky and to artists, Oleh and Natalya Valenyuk, who design the sets and costumes.
On December 14, 2008 Zahrava celebrated its 55th Anniversary. The Ukrainian World Congress presented Certificates to Josef Terlicki, Larysa Bajus and Stefan Genyk-Berezowsky.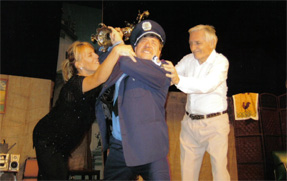 Nelehalka From left: Larysa Bajus "Nina", Josef Terlicki colonel "Nesmilyj", Stefan Genyk-Berezovskyj "Kostia"
Josef Terlicki, who became Artistic Director in 1988 after the death of Volodymyr Dovhaniuk, directs Zahrava's productions. Directors from Ukraine, Fedir Stryhun and Inna Pavlyuk, have worked on a Master Class basis with the group.
On November 14, 2010, Zahrava staged Lyubov na hachku - a comedy in three acts by Vera Ke, which met with great success. It was performed at the Ukrainian Cultural Centre, at 83-85 Christie St. Actors that took part were Larysa Bajus, Andriy Martsynevsky, Yosyp Terlicki, Natalia Aleksiyenko, Stefan Genyk-Berezowsky, Adam Stec and Ihor Myslyvchouk. Stage design was by Oleh Valenyuk, costumes and props by Natalia Valenyuk, music by Michael Romaniuk, lights by Daria Terlicki, Director – Yosyp Terlicki, distinguished cultural professional of Ukraine.
Zahrava is currently working on a production of the tragicomedy Gospel of Ivan by Anatoly Krym. It is also preparing to celebrate its 60th anniversary in 2013.
Last updated 2012-05-22