Ross, David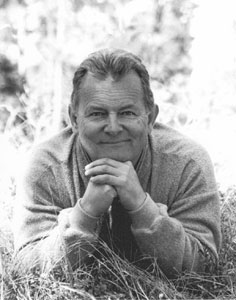 David Ross
Director, actor, producer, born in England in 1945, died March 29, 2009 in Kamloops, British Columbia. David Ross has contributed significantly to Canadian theatre for 40 years. He grew up in B.C. and graduated from the University of Victoria in 1964 with a B.A. in English. He began a teaching career in the Northern B.C. community of Chetwynd, and in St. Catharine's, Ontario, where he participated in school, community and semi-professional theatre. After moving to Penticton, B.C. he worked for Giant's Head Theatre of Summerland with George Ryga, Michael Cook, and Ken Smedley, telling Canadian stories through theatre.
He relocated to Newfoundland and Labrador to join the Mummers Troupe, collectively creating works based on topical and controversial social issues, such as the sealing industry (They Club Seals Don't They?, which toured Canada. In 1978 David co-founded Rising Tide Theatre, with a mandate to produce Canadian works, while focusing on Newfoundland society.
In 1983 he returned to B.C. to assume the position of Artistic Director for Western Canada Theatre Company, where he developed a strong relationship with the community of Kamloops in the development of topical plays, such as Boris Karloff Slept Here - a collective creation portraying Kamloops' history and culture. Among his many premiers at Western Canada Theatre are: The Trials of Eddie Haymour by John Lazarus; The Honourable Member, Scandal: The Robert Sommers Story and Keeper of the Light by Jeff Pitcher; Cornflower Blue by Kelly Rebar; Hunter of Peace by Sharon Stearns; Ernestine Shuswap Gets Her Trout by Tomson Highway; and Where the Blood Mixes by Kevin Loring. He produced over 170 plays while with WCT, doubled the size of the company, and built a second stage for alternative and experimental theatre.
He has acted in over 100 CBC radio plays.
For 30 years, David Ross was an active member of the Professional Association of Canadian Theatres/PACT; and served on juries and advisory committees for the Canada Council for the Arts, and for the British Columbia Arts Council. He has also contributed to Theatre BC, which supports community theatre and hosts an annual New Play Festival and Mainstage Festival. He has adjudicated provincial and regional drama festivals and given workshops across the province in acting and directing. He has co-produced shows with Vancouver Playhouse, the National Arts Centre, Richmond's Gateway Theatre, the Arts Club Theatre, Belfry Theatre, Alberta Theatre Projects and Workshop West Theatre.
For his lifetime dedication to Canadian theatre David Ross was awarded Her Majesty's Golden Jubilee Medal, the Governor General's Medal, and the City of Kamloops Pioneer Award.
Source: Obituary, Western Canada Theatre Company web site.
Last updated 2020-06-12