Sincennes, Cory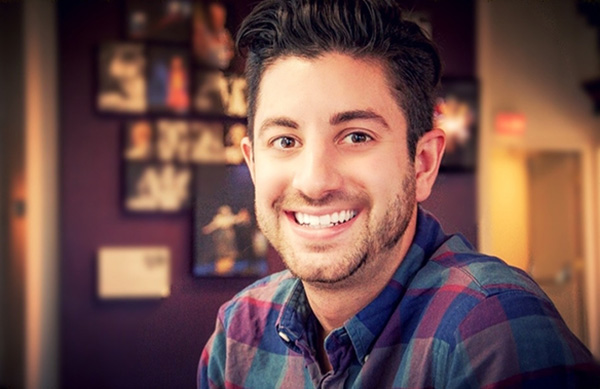 Cory Sincennes
Award-winning scenographic designer, currently residing in Charlottetown Prince Edward Island, who has designed a wide range of imaginative and expressive sets, lighting, and costumes for theatres across the country and internationally. Cory Sincennes grew up in Ottawa, where he acted in musical theatre, and studied architecture and history at Carleton University (BA 2007). At Ryerson Theatre School, he studied stage design under Cameron Porteous and others. In 2010, he graduated with an MFA in Theatre Design from the University of Alberta. His graduation project was the design for The Good Woman of Setzuan for a production in the Timmís Theatre.
Since his graduation, Sincennes has designed on average a dozen shows each year. His costume and set designs for large-scale musicals have been particularly innovative and flamboyant: Crazy For You (Citadel Theatre 2017, Sterling Award for costume design); Bittergirl: The Musical (Charlottetown Festival 2016); Million Dollar Quartet (Citadel 2016); Da' Kink in My Hair (Theatre Calgary 2016); Mama Mia (Charlottetown Festival 2016 and Citadel 2018); Venus in Fur (Citadel 2015).
His amazing metatheatrical set for Shakespeare in Love (Citadel 2017) suggested the configurations of the Globe Theatre, and his sumptuous costumes rivalled those of the Stratford Festival. His flexible architectural set design for the musical Evangeline by Ted Dykstra (Citadel 2015) imaginatively suggested many different interior and exterior locales, including an Acadian village, a church, a ship at sea, and a Louisiana homestead.
Many of his designs have been for new Canadian works in regional theatre companies, such as Theatre Network: (Bust by Matthew MacKenzie in 2016; and Armstrong's War by Colleen Murphy in 2015, for which he created a convincing hospital room in a temporary theatre space in the Edmonton Arts Barns).
Also in 2015, he designed set and costumes for: Vanya & Sonia & Masha & Spike (Belfry Theatre); and for Mary Poppins (Western Canada Theatre Company).
In 2014, Sincennes designed set and costumes for Peter and the Star Catcher (Western Canada Theatre Company , dir. Daryl Cloran); a cluttered kitchen including dozens of salt and pepper shakers for The Gravitational Pull of Bernice Trimble by Beth Graham, (Theatre Network, dir. Bradley Moss, Elizabeth Sterling Haynes Award); a multi-door farcical set and costumes for One Man, Two Guvnors (Citadel Theatre, dir. Bob Baker); and a naturalistic detailed evocation of a Dutch town occupied by Canadian soldiers after WWII for Liberation Days by David Van Belle (Theatre Calgary/WCT, dir. Daryl Cloran), which won a Betty Mitchell Award in 2015. He provided production design for We are Canadian (Charlottetown Festival, dir. Kerry Gage); for The Genius Code (Surreal Soreal Theatre, dir. Jon Lachlan Stewart); Queer Bathroom Stories, (Buddies in Bad Times, dir. Megan Watson); and Paper Song (Concrete Theatre/Young Peopleís Theatre, dir. Caroline Howarth). He also designed extravagant costumes for Make Mine Love by Tom Wood (Citadel Theatre, dir. Bob Baker); a minimalist set and costumes for Little One by Hannah Moscovitch (Theatre Network, dir. Bradley Moss); opulent Elizabethan set and costumes for Romeo and Juliet, (Citadel Theatre, dir. Tom Wood); a colourful cityscape and domestic interior for Mary Poppins (Citadel Theatre/Theatre Calgary, dir. Michael Shamata); and set and lighting for The Huron Bride by Moscovitch (Vertigo Theatre, dir. Eric Rose).
His design projects in 2013 included Les Miserables for Western Canada Theatre, dir. Daryl Cloran (set and costumes); Aladdin for Alberta Opera, dir. Farren Timoteo (set and lighting), King Lear for Free Will Players, dir. Jim Guedo (scenic and lighting design for the amphitheatre in Hawrelak Park); A Midsummer Night's Dream for Free Will, dir. Marianne Copithorne (set and lighting); Monty Pythonís Spamalot, for Citadel Theatre, dir. Bob Baker (imaginative and humorous set and costumes, for which he won a Sterling Award). At Theatre Network, he created a set and costumes for Pig Girl by Colleen Murphy that underscored the brutal events in the play; evocative set and costumes for Let the Light of Day Through by Collin Doyle; and an evocative imagistic landscape for Where the Blood Mixes by Kevin Loring. In his review of the same production at Theatre Aquarius, Gary Smith was particularly impressed by the set and lighting: "Across a blasted landscape, a broken tree, roots exposed, falls gracelessly across grey rocks. Against a dark sky, spirits lurk. They come in the form of giant fish and birds, images of a land once proud and beautiful, now blighted....Co-produced with Western Canada Theatre and Theatre Network, Where the Blood Mixes sits nicely on the hard surfaces of Cory Sincennes' moody setting, washed in the tint of atmospheric lighting." (The Spec, 2012). Sincennes also provided a whimsical set and costumes for Murielle (Blarney Productions, dir. Wayne Paquette).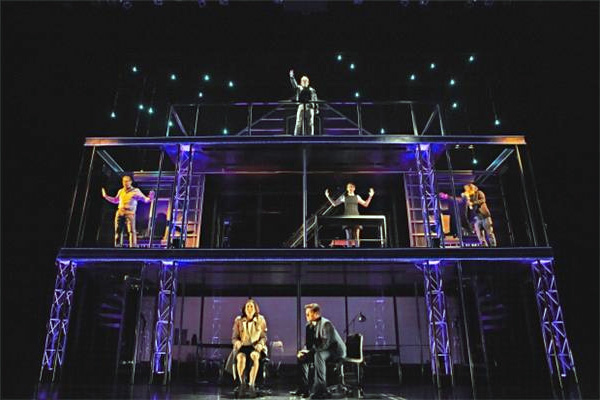 Next To Normal, Citadel Theatre, 2012.
In 2012 Sincennes created a haunting two-story skeletal home for Next to Normal (Citadel Theatre/Theatre Calgary, dir.Ron Jenkins), which won a Sterling Award. He provided scenic and lighting design for the Free Will productions of Julius Caesar (dir. John Kirkpatrick), and The Tempest, (dir. Marianne Copithorne). He created a Broadway set and costumes for Chicago on the limited stage of the Mayfield Dinner Theatre (dir. Ron Jenkins); an ominous wooden structure for The Country (Shadow Theatre, dir. Wayne Paquette); and a compelling suggestion of Vancouverís skytrain for BigShot (Surreal Soreal Theatre/Theatre Network, dir. Georgina Beatty).
2011 projects included a wide range of sets, costumes and lighting designs, from The Rocky Horror Show (Citadel Theatre) to Michel and Ti-jean (Theatre Network). For Edmontonís Opera Nuova, he designed sets for The Light in the Piazza, Rusalka, and Le Nozze Di Figaro.
Design highlights in 2010 included a punk set for Hard Core Logo: LIVE (Theatre Network/November Theatre (dir. Bradley Moss); Mump and Smoot: Cracked (Theatre Network, dir. Karen Hines). For Surreal Soreal Theatre, where he began his work as a designer in 2009, he provided production design for Death: Live! (dir. Vincent Forcier), The Survival of Pigeons, and Grumplestockís.
In 2009, he provided scenic design for Goodnight Desdemona (Good Morning Juliet), (dir. Marianne Copithorne), costume design for Tideline (dir. Jeff Page), and for Major Barbara at Timms Centre for the Arts. He also designed lighting for The Woman in Black (Theatre Network, dir. Marianne Copithorne), for Bashir Lazhar (Wishbone Theatre, dir. Piet Defraeye), and for Ribbon by Pat Darbasie (Ground Zero Productions). He designed for several plays at the Edmonton Fringe Festival and at Nextfest (Theatre Network).
Earlier design work in Ontario includes Cabaret (Hart House Theatre in 2008), as well as shows for the All Saints Drama Guild, and St. Matthew Drama Guild.
Cory Sincennes has taught stagecraft and design at the University of Alberta. He is a member of the Associated Designers of Canada.
Website: http://cory-sincennes.squarespace.com/
Profile by Anne Nothof, Athabasca University.
Last updated 2020-06-12