MacIvor, Daniel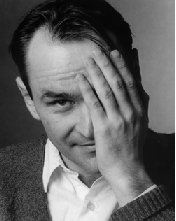 Daniel MacIvor
Prolific and highly versatile actor/playwright/screenwriter/director, born in Sydney, Nova Scotia, July 23, 1962 and educated at Dalhousie University and George Brown College.
He has been writer-in-residence at Buddies in Bad Times, National Theatre School of Canada (which presented his You Are Here in March, 2000), and more recently at the Tarragon Theatre. His plays, many of them solo works in which he acts variations on himself, play in theatres across the country and abroad, including Australia, Israel, Europe, Britain and the United States. His work has been translated into French, Portuguese, Spanish, Czech, German, and Japanese.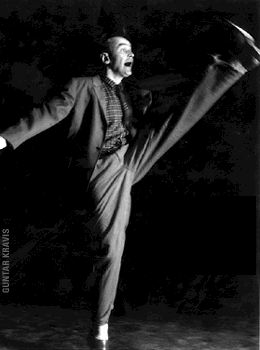 He was the founder and artistic director of da da kamera and is also a film and video artist. However, he has said of his work, "I think of myself as an actor. Watching directors direct on film doesn't make me want to direct. It's a pretty deadly job. As an actor your responsibility is based on a moment. As a director, [you have to] create a universe."
His best-known play Marion Bridge has been performed across Canada, including at Mulgrave Road Theatre (1998) and Theatre Network in 2004. His monologues are extraordinary performances, in which he assumes diverse roles that project aspects of his psyche in terms of multiple personae: Monster (1998) is a study of evil, combining humour, frightening (albeit very simple) stage effects, and a story line which seduces and delights.
Other plays include: See Bob Run (da da kamera, 1989, directed by Ken McDougall, revived Epicentre Theatre, Vancouver, May 2000); Yes I Am and Who Are You? (Buddies in Bad Times, 1989, Edward Roy); Wild Abandon (Theatre Passe Muraille, 1990, Vinetta Strombergs, revived Epicentre Theatre, Vancouver, May 2000); Somewhere I Have Never Travelled (Tarragon Theatre, 1990, Andy McKim); Never Swim Alone (da da kamera, 1991, McDougall); 2-2 Tango (Buddies in Bad Times, 1991, McDougall).
House (1991) was the first of MacIvor's plays to be directed by Daniel Brooks; followed by Jump (Theatre Passe Muraille, 1992, Daniel Brooks; This is a Play (da da kamera, 1992, MacDougall); The Lorca Play (da da kamera, 1992, MacIvor/Brooks); In On It (Edinburgh Festival, 2000, MacIvor), for which he was awarded a Village Voice OBIE Award; Cul-de-Sac (da da Kamera 2003, Brooks); A Beautiful View (da da kamera, 2006); His Greatness (Arts Club Theatre Vancouver 2007, Jessie Richardson Award); How It Works (Tarragon, 2007); and This is What Happens Next with Brooks (Necessary Angel at Berkeley St. 2010).
In 2009 MacIvor had four theatre projects in process: How It Works began a run at the Prairie Theatre Exchange in Winnipeg, and A Beautiful View was running in Washington.
MacIvor is particularly adept in depicting sibling dynamics and women's relationships. He premiered a new play, entitled Confession, about three generations of women, at the Mulgrave Road Theatre, and workshopped a follow-up called Redemption at the National Theatre School of Canada in Montreal. The third play in the trilogy, Communion (Tarragon 2010) is also a story of three women: a dying mother who believes in nothing, her estranged daughter who has embraced fundamentalist Christianity, and a mediating therapist who loses faith in therapy, as they struggle to understand each other and themselves. It is one of his more powerful and moving works. "All three plays are an exploration of man's [sic] search for meaning and the pandemic of narcissism," MacIvor says. "I've become convinced that the only thing we can do that's of any worth is to be of service to other people."
His three-hander for women, Was Spring opened at the Tarragon in March 2012, with Clare Coulter, Caroline Gillis, and Jessica Moss. It is published in a collection entitled Try: Communion/Was Spring/Small Things by Playwrights Canada Press (2016).
MacIvor's plays are often highly metatheatrical: the characters observe their own performances. In A Beautiful View the two women whose relationship is constantly shifting and redefining itself, know they are on stage, and are aware that they are enacting the past, and moving towards an inevitable conclusion. For MacIvor, however, the words are paramount: he writes text in order to ignite performance.
Bingo!, a black comedy about a thirty-year high school reunion, in which five friends recall their lost youth and attempt to salvage some fun by indulging in a drinking game, opened in Halifax in 2011 in a production by Mulgrave Road Theatre. It was subsequently produced at Prairie Theatre Exchange in October 2011 to enthusiastic reviews. MacIvor has commented that it constitutes his "Norm Foster" play.
The Best Brothers premiered at the Stratford Festival in 2012, with MacIvor as the controlling, uptight brother, and John Beale as the feckless, irresponsible brother, mourning in very different ways the death of their mother, crushed by a Brazilian gay man in a fall from a float in the Toronto Gay Pride Parade. The real battle, however, is over which brother she loved the most, and who will inherit the destructive dog she came to love.
MacIvor's most recent trilogy of monologues, entitled I, Animal, were written for performance by other actors. They explore the nature of being human in terms of animal behaviour: a black nurse from Halifax takes his dog for a walk, while strenuously defending his violent defence of his sexual orientation as "queer", rather than "gay"; a boy in a hoodie who has become a social outcast in his school is used by cheerleader for sexual games; and a divorced woman wearing Prada in an airport, who has left a young lover when their holiday goes awry, calmly states her preference for a palomino. It was premiered in Halifax by Kazan Co-op, and played at SummerWorks in 2012.
In Arigato Tokyo (Buddies in Bad Times, March 2013), a Canadian author on a book tour in Japan is involved in a complex sexual triangle with his young interpreter and her brother, a Noh actor. The play explores the cultural differences between East and West in terms of attitudes to love and sex.
Something Small, another three-hander for women, premiered at the Chester Playhouse in Nova Scotia in August 2013.
His monologue, Who Killed Spalding Gray?, about his connection to the 2004 suicide of the American monologist, premiered at Magnetic North Theatre Festival in 2014 (dir. Daniel Brooks). It was published by Playwrights Canada in 2016.
New Magic Valley Fun Town premiered at Tarragon Theatre in a co-production with Prairie Theatre Exchange (2019, dir Richard Rose). Two friends (played by McIvor and Andrew Moodie) reunite after thirty years and disinter a surprisingly fraught personal history. Opening like a Norm Foster sit-com, it ends by confounding audience expectations and assumptions.
MacIvor has adapted several of his plays for film, including House (1996). His feature film, Past Perfect (produced by Camelia Frieberg) premiered at the 2002 Toronto International Film Festival, and played in theatres across Canada in 2003. He also shot his second feature, Wilby Wonderful in Nova Scotia in 2003. His screenplay adaptation of Marion Bridge, directed by Wiebke von Carolsfeld, also premiered in Toronto in 2002. More recently, he wrote and starred in the film Whole New Thing (2005) and appeared in the Halifax film Growing Op.
He has acted on stage in David Mamet's Oleanna, and Judith Thompson's White Biting Dog (directed by Morris Panych); in Canadian films, including Justice Denied: The Donald Marshall Story, and The Five Senses, for which he received a Genie Award nomination; and on television in Thom Fitzgerald's Beefcake, Don McKellar's CBC series Twitch City, and Jeremy Podeswa's film The Five Senses, for which he was also nominated for a Genie Award.
He dramaturged and directed Linda Griffth's The Last Dog of War (2009).
MacIvor has twice won the Dora Mavor Moore Award, is a Chalmers Award laureate, and in 2006 won the Governor Generalís Award for his collection of five plays, I Still Love You. In October 2008, he was named the 2008 recipient of the Elinore & Lou Siminovitch Prize in Theatre, Canadaís largest annual theatre award. In 2009 he was named winner of a $25,000 playwriting commission from the Banff Centre for the Arts, where he began developing his play Arigato, Tokyo.
During the Covid-19 pandemic, which closed theatres across Canada, he has undertaken an on-line Masters program in drama, theatre, and performance studies at the University of Alberta. pursuing an interest in queer theory and women's studies, and writing a thesis on performance.
Profile by Anne Nothof, Athabasca University.
Last updated 2021-04-08