Kerr, Mary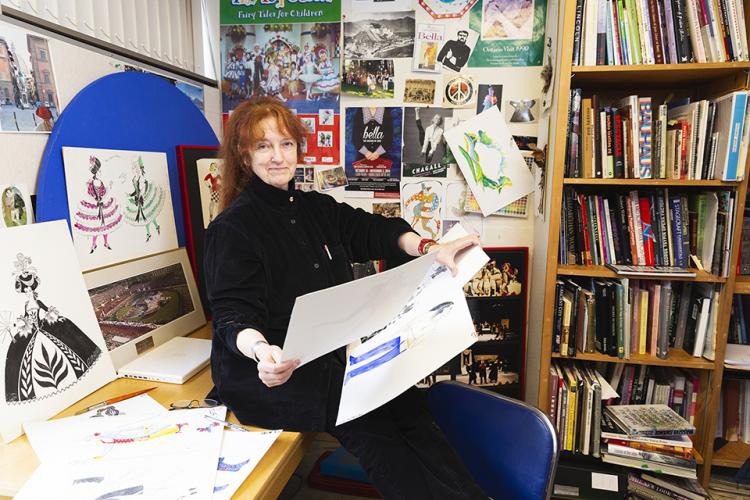 Mary Kerr. Photo courtesy of University of Victoria Photo Services.
Set and costume designer, who has worked in theatres across Canada and abroad. Mary Kerr grew up in Winnipeg Manitoba, where her mother ran a theatre and dance school, and adjudicated performances. As a child, she loved to twirl batons in parades and ceremonies. She learned the discipline of dance while teaching after school, and designed and sewed costumes for her mother's shows. Her father was an aeronautical engineer, which peaked her interest in structure and design. John Hirsch was Artistic Director of Manitoba Theatre Centre, and his production of Brecht's Mother Courage was also an inspiration. After graduating with a Bachelor of Fine Arts from the University of Manitoba, she undertook graduate studies at the University of Toronto in 1967, studying medieval art and literature. During her student years, Kerr designed the costumes for four medieval plays, one at the University of Waterloo, and three for the Centre for Medieval Studies at the U. of Toronto, including one about the seven deadly sins performed at Hart House Theatre, and a Herod play.
In the 1970s, her friendship and collaborations with director and designer Stephen Katz were "transformative." They collaborated on nine productions, "striking for [their] formalist aesthetic, brazen theatricality, conceptual intelligence, and satirical edge" (Kerr and Newton, 140). In 1972, she designed the set for The Stag King by Carlo Gozzi, adapted by Sheldon Rosen for the Tarragon Theatre (dir. Katz, lighting by Jim Plaxton, with John Candy in the cast); she created a miniature Renaissance court stage with a false proscenium and chequered floor from the bare bones interior of a former electronics factory. Eclectic costumes in exaggerated commedia and Ballets Russes styles were in bright allegorical colours for good, evil, and compromised characters. For Vancouver Playhouse Kerr and Katz worked together on Mandragola (1974) and The Caucasian Chalk Circle (1975); for Shaw Festival Shaw's The Admiral Bashville (1974); and for Young Peopleís Theatre's Fresh Disasters by Larry Fineberg.
Since then, Mary Kerr has designed 350 productions for a wide range of theatres across Canada, including Vancouver Playhouse (If We Are Women by Joanna McClelland Glass 1993); Toronto Free Theatre; Buddies in Bad Times; Canadian Stage (George F. Walkerís Nothing Sacred 1988); Grand Theatre, London; Citadel Theatre (Into the Woods 2000); National Arts Centre (Marie Clementsís Copper Thunderbird 2007); Belfy Theatre (Jovette Marchessault's The Magnificent Voyage of Emily Carr 1992); Stratford Festival, and Shaw Festival (Desert Song).
In her design for Nothing Sacred, she opened up the proscenium box with pine floorboards that flowed into the auditorium, suggesting interiors with unframed doors on either side of the stage, and exteriors with cutouts of trees in unpainted layered wood.
For If We Are Women, she created a wooden floor surrounded by a sea of silk, to heighten the emotional connection among three generations of four women, and the seaside setting.
For her costume designs for Copper Thunderbird, inspired by the paintings of Norval Morrisseau, see the National Arts Centre Study Guide at: http://www.nac-cna.ca/pdf/eth/0607/copper_thunderbird_guide.pdf.
She has also designed for the Canadian and Vancouver Opera Companies, the Royal Winnipeg and Ontario Ballet Companies, and twenty-eight world premieres for the Danny Grossman Dance Theatre between 1975 and 2000, with international tours to Great Britain, US, France, Cuba, and Russia.
From 1977 to 1982, she worked at CBC TV, and on feature films.
She created the theatrical rooms of the Canadian pavilion for Expo '86. In 1994, for the Commonwealth Games in Victoria, she created the spectacular opening and closing ceremonies, with Haida images as an expression of West Coast culture.
Colour, pattern, and rhythm are paramount in Kerr's creations.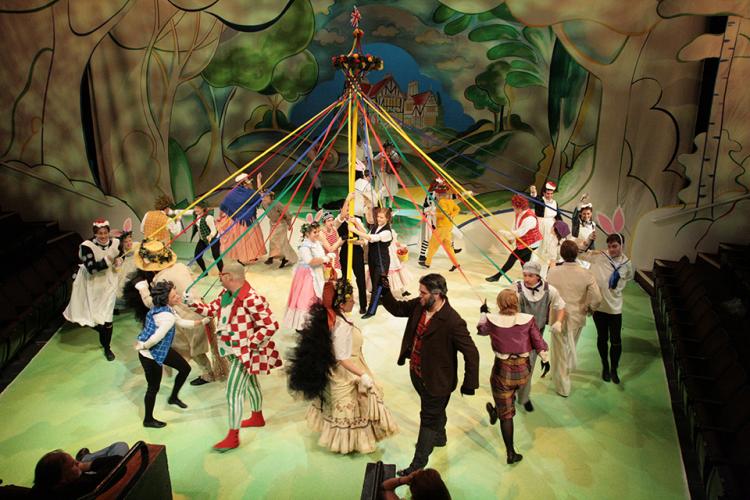 The Wind in the Willows, UVic Phoenix Theatre, 2017. Photo by Tim Matheson.
She has been awarded seven Dora Mavor Moore Awards, and three Elizabeth Sterling Haynes Awards (Sterling Awards) for set and costume design. In 1996, she was elected to the Royal Canadian Academy of Arts. In 2020, she was awarded the prestigious Molson Prize of $50,000, which honours contributions to Canada's cultural and intellectual heritage.
She has taught at Ryerson University, the University of Waterloo, York University, and the University of Victoria, where she has been a Professor in the Department of Theatre since 1998. She is married to New Zealand architect, John Armitage.
Sources: Mary Kerr and Alistair Newton. "Dreaming New Worlds: Katz and Kerr in the 1970s," Theatre Research in Canada 42.1 (2021).
Natalie Rewa. Scenography in Canada: Selected Designers. Toronto: University of Toronto P, 2004.
Michael Kruse. The Title Block #58 (https://www.thetitleblock.com/episodes/2020/1/27/58-mary-kerr).
Profile by Anne Nothof, Athabasca University
Last updated 2021-09-17