Silk, Ilkay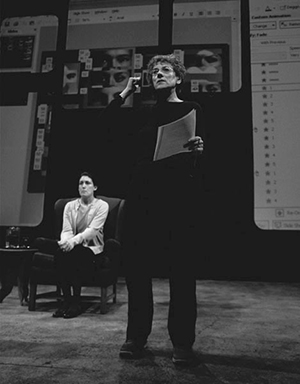 Ilkay Silk directing Tania Breen in Schwaiger's Yes, My Führer! (TST 2004, photographer Stephen Moss)
Actor, director, playwright, producer, administrator, and educator born in Nicosia, Cyprus in 1948 to Turkish Cypriot parents.
Her impact on the development of professional theatre, film, and theatre education in post-Centennial New Brunswick is extensive. From 1978 until her retirement in 2014 she was Drama Coordinator / Director of Drama for St. Thomas University (STU), producing more than sixty plays for Theatre St. Thomas (TST), the vast majority directed by her, while teaching acting and directing courses at STU. In 2002 she was instrumental in creating STU's Drama Concentration within the Department of English.
Off-campus, Silk co-founded Theatre New Brunswick's (TNB's) Young Company in 1974, served as President of the NB Filmmakers Co-op (1983-85), co-chaired the NB Arts Board (1990-94), co-founded the Atlantic University and Community Theatre Festival in 1997, was a founding director of the NotaBle Acts Theatre Festival in 2001, and chaired the TNB Board of Governors (2007-12) and the fundraising entity the TNB Foundation (2012-present).
She has directed for the TNB, Upper Canada Playhouse, and Charlottetown Festival stages, as well as for CBC film, for which she won a Moonsnail Award for best Industrial Film at the Atlantic Film Festival.
She is the recipient of the Excellence Award for Arts in Education from the province of New Brunswick (1999) and the inaugural Playhouse Honours Award (2008) for her contribution to the performing arts in Fredericton. In 2016, she became a Member of the Order of Canada.
After moving to London, England at the age of five with her parents, Silk grew up attending Christmas pantomimes and plays in the West End. Her first stage role was as the second king in a nativity play, and by the age of eleven she was playing Hamlet in the annual Shakespeare production at her all-girls school. She saw plays by Orton and Pinter in London during the 1960s, and at seventeen she attended a weeklong workshop at Oxford with the British Drama League.
Silk's formal theatre education began at London's New College of Speech and Drama where she performed in productions of Behan's The Hostage, Middleton and Rowley's The Changeling, and Shakespeare's The Tempest, as well as plays by Ionesco and Orton, before graduating in 1969 and teaching drama at The Henrietta Barnett Grammar School in London.
A year later, Silk followed her husband to Fredericton, New Brunswick so that he could pursue post-doctoral work at the University of New Brunswick's (UNB's) Department of Chemistry. They rented a basement apartment in Fredericton owned by TNB founder Walter Learning. Silk auditioned for TNB's Christmas pantomime, directed by STU French professor Ted Daigle, who would later hire her to lead theatre at STU.
Silk worked with TNB as an actor, technical assistant, and wardrobe mistress before co-founding the TNB Young Company in 1974 with a grant from the Beaverbook Canadian Foundation. With the Young Company, Silk toured extensively to most English-language schools around the province where she was billeted by, and made longstanding connections with, dozens of public school drama teachers. "Probably [the Young Company] is the first time that a lot of students see live theatre. And it comes to their school. And part of the challenge was to make sure that we … transformed a space that they were familiar with … like a gym or library. A rundown auditorium became something else. That was part of the philosophy as well, rather than just bussing people in to see shows…. The Young Company philosophy is to take theatre into their lives, into their environment."
Silk also toured each year with TNB's five mainstage shows to high school auditoriums throughout the province, rehearsing for five weeks, playing a week in Fredericton, and then two weeks on the road in nine communities (Grand Falls, Campbellton, Dalhousie, Bathurst, Newcastle, Moncton, Sussex, Saint John, and St. Stephen). On these tours she worked with the likes of Ted Follows and Jack Medley on plays that included Coward's Present Laughter and Bolt's A Man for All Seasons. When Silk stopped touring with TNB, she continued to work with the Young Company writing plays as well as doing film and video work in the region. By the mid-2000s TNB was in serious financial difficulty, and Silk was asked to Chair the TNB Board of Governors to improve the financial stability. In 2006, with Leigh Rivenbark as interim Artistic Producer, she brought the theatre back to solvency, even as the Young Company continued to play to over 25,000 students across New Brunswick each year.
Cast photo, with Ilkay Silk in the centre holding pencil and glasses, from Fry's A Phoenix Too Frequent (TST 1978, photographer unknown)
In 1978, she was hired to a new staff position at STU as Drama Coordinator to direct plays for TST and to teach a drama course. Her first productions for TST were Fry's A Phoenix Too Frequent and Ionesco's The Lesson, followed by politically charged works she had been introduced to in London a decade earlier, such as The Hostage and O'Casey's The Shadow of a Gunman. Much of Silk's repertoire over the following thirty-six years at the university drew from British, and some American, playwrights, including Churchill, Stoppard, Jellicoe, Marowitz, and Mamet. She also frequently returned to Brecht.
Silk made the most of her professional theatre network by hosting TNB on STU's campus for productions like Fo's Can't Pay Won't Pay and Gooch's Female Transport.
In 1994, along with English Professor Russ Hunt and her colleague Michael Eagan, the designer and instructor at the National Theatre School of Canada, Silk was instrumental in having STU's Black Box Theatre built as the university's state-of-the-art flexible studio space. Within a few years, Silk was hired as a fulltime staff member to run the university's theatre activity. Some of Silk's students have gone on to found their own theatre companies, notably Ryan Griffith's The Next Folding Theatre Company in Fredericton.
Silk currently splits her time between Fredericton and Los Angeles—-where she lives with her daughter, screen actor Anna Silk (Lost Girl series), son-in-law, and grandson.
In respect to her extensive contributions to theatre practise and education in New Brunswick, her career parallels that of Toronto's Dora Mavor Moore and Calgary's Betty Mitchell, several decades later.
Profile by Robin C. Whittaker, St. Thomas University
Last updated 2016-07-20