Kerr, Tom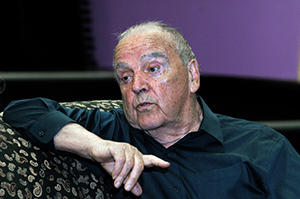 Tom Kerr. Photo from Kamloops This Week, 26 March 2020.
Director, drama teacher, and founder of Western Canada Theatre Company, born 1929 in Scotland; died March 22, 2020 at the age of 90. Tom Kerr studied at the University of British Columbia, then taught drama at NorKam Secondary School in Kamloops British Columbia in the 1960s. For ten years, he was the school district drama director. His student productions won several drama festival prizes. In 1964, he won the Louis Jouvet Trophy for best director at the Dominion Drama Festival. In 1965, Kerr studied theatre at the newly founded Simon Fraser University, in a program established by Michael Bawtree.
Kerr founded the Western Canada Youth Theatre in 1969, which broadened its mandate and became fully professional in 1975 under his direction. The Company won an Edinburgh Festival Fringe First Award for his 1973 production of George Rygaís The Ecstasy of Rita Joe, which was a British premiere. During his tenure as Head of the Drama Department at the University of Saskatchewan from 1976 to 1983, he won an Edinburgh Fringe award again in 1979 with a production of David Freemanís Creeps.
Tom Kerr was Artistic Director of Persephone Theatre from 1978-80, then AD of Neptune Theatre from 1983-86. For the Stratford Festival, he was briefly head of the Young Company and director of Third Stage.
He was awarded an Honorary Doctorate from the University of Okanagan, and inducted into the BC Entertainment Hall of Fame in 2011.
Sources: Harry Lane. The Oxford Companion to Canadian Theatre, eds. Eugene Benson and L.W. Conolly. Toronto: Oxford UP, 1989.
Sean Brady. Kamloops This Week, 26 March 2020.
Last updated 2020-04-27