Mengesha, Weyni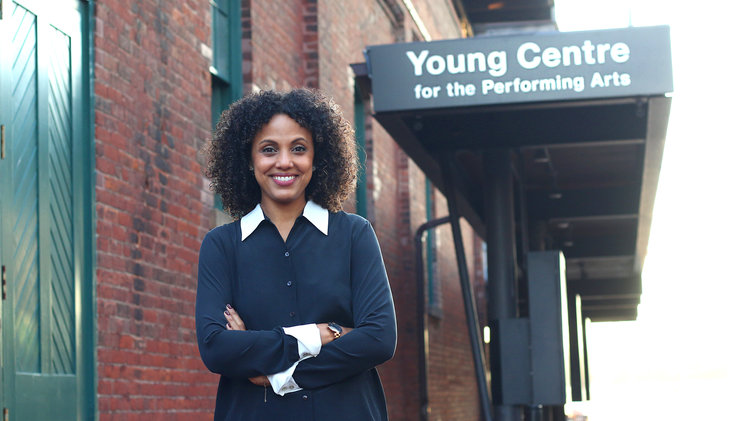 Weyni Mengesha
Award-winning director, dramaturge, teacher, and film editor, Weyni Mengesha was born in Vancouver British Columbia, and studied theatre at York University. Her great-grandfather was Haile Selassie, Emperor of Ethiopia from 1930-73. She moved from Vancouver to Scarborough at the age of fifteen to live with her father, who had left Ethiopia to study in Canada. During the Ethiopian civil war, most of the other male members her family were executed; and all of the female family members were imprisoned, except for those who fled the country. Not surprisingly, for Mengesha, theatre is an important social and political vehicle for exploring and exposing issues of social and political justice, and she has demonstrated this belief in her multi-faceted work.
Mengesha began her directing career in Canada with da Kink in my Hair by Trey Anthony at the Tarragon Theatre in Toronto (2003), for which she also composed the score (Dora nomination). The production toured across North America and in London to sold-out houses. She was also dramaturge and director for blood.claat by d'bi young.anitafrika (Tarragon 2003).
She received a Toronto Critics Award for her direction of The Small Room at the Top of the Stairs by Carole Frechette (trans John Murrell, Tarragon Theatre 2012). For Tarragon, she has also directed an acclaimed production of Lungs by British playwright Duncan MacMillan. She won a Dora Award for her direction of Why Not Theatre's national touring production of Butcher by Nicolas Billon (Alberta Theatre Projects 2014). For the Stratford Festival, she directed the composite Shakespeare history play, Breath of Kings in 2016.
Mengesha was appointed Artistic Director of Soulpepper Theatre Company in October 2018, her tenure beginning in January 2019. She began her association with Soulpepper in 2006, as a member of the Soulpepper Academy. For Soulpepper, she directed A Raisin in the Sun (2008); Father Comes Home from the Wars (2017) which won the Dora Mavor Moore Award for Best Production; and the Kim's Convenience by Ins Choi (2012), one of the most successful shows at the box office in Soulpepper's history, which became a popular CBC television series.
Her dramaturgical work includes The Taxi Project: A Play by Writers in Exile; and Another Africa, a four-year project with Volcano Theatre which included the works of fifteen playwrights.
She has been an instructor at the National Theatre School of Canada, and Co-Artistic Director and for nine years and teacher with the A.M.Y. Project, which mentors women in theatre production. In 2018, she led the Directors' Lab at Rumble Theatre as Master Director.
Weyni Mengesha was named one of NOW magazine's "Top Ten Toronto Theatre Artists" in both 2008 and 2012. In 2015, she was presented with a Bikila Professional Excellence Award for her outstanding achievement as a producer of acclaimed plays and visionary leadership inspiring Black artists in Toronto.
Since 2011, she is married to American film and TV actor, Eion Bailey. They have two sons.
Website: www.weynimengesha.com
Sources: Soulpepper press release; ByBlacks.com
Last updated 2021-06-07