Adhere & Deny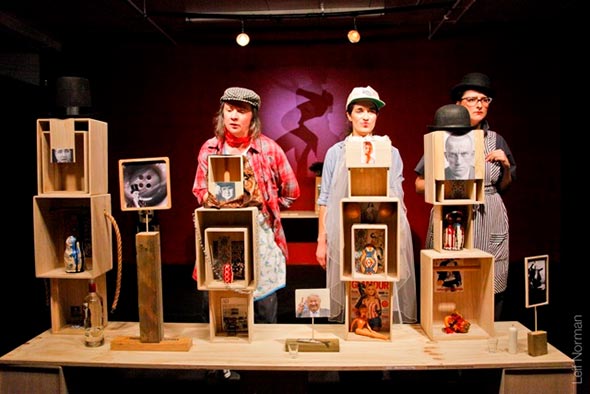 Left to right: Carolyn Gray, Coral Maloney and Mia van Leeuwen in The Bedbug
Avant-garde puppet/object theatre company, formed in 1997, and based in Winnipeg, Manitoba. Adhere & Deny evolved out of Shared Stage (1981-1997), which was the result of a union between the Manitoba Association of Playwrights, Agassiz Theatre, and the Winnipeg Film Group. Shared Stage provided a mixed program venue of performance, theatre, vaudeville, poetry, film, video and sound art, as well as initiating the International Intermediate Performance Festival (1987). The festival presented artists such as Carolee Schneeman, Doug Melnyk, John Gurdebeke and Marcella Bienvenue. Grant Guy, the programmer and executive director of Shared Stage, was a major player behind this cultural event.
After graduating from the Design Program at the National Theatre School of Canada in 1973, Grant Guy worked professionally as a designer, director, playwright, curator, video producer, performance artist and writer. He received the Manitoba Arts Council Award of Distinction in 2004, the Winnipeg Arts Council New Creation Fund in 2009, and the 2013 Major Arts Grant from the Manitoba Arts Council.
Under the artistic vision of Grant Guy, Adhere & Deny was transformed from a theatre of the actor to the theatre of the actor and the object/ puppet. Lost (1997), a pivotal work in the company's history, was inspired by the short-fiction works of Samuel Beckett. It featured paper puppets and a mini-tabletop stage that was designed and performed by Guy, in mask. The performance artist Sharon Alward remarked on this seminal production in the Ace Art publication Critical Distance: "Guy's puppets avoid the actor's sense of authority and the problems of compromise and collaboration of the artistic vision. The objects possess the final authority."
Guy's object/puppet designs are unique creations that include inked-faced figurines made from toilet paper rolls, toy puppets composed of wood, yarn and buttons, sculpted rocks, glass jars filled with sand, handcrafted matryoshka dolls, and assemblages of domestic objects functioning as performance sculpture. Many of Guy's past performing art objects can be found on display at the current location of Adhere & Deny's studio/theatre/museum in the historic Exchange District of Winnipeg. The mini-theatre, which seats forty people through a combination of wooden benches and mismatched chairs, is big part of the Adhere & Deny experience. Known for sparse, innovative productions that distil the elements of theatre into poetic proportions, Adhere & Deny has provided a profoundly intimate experience.
In 1998, Guy took on the role of director and began working with a company of actors. Guy's adaptation of Georg Büchner's unfinished play Woyzeck was performed on a thrust stage, with a mix of live performers (Graham Ashmore, Carolyn Gray, Tracy McCourt, and Robert Slade) and two-dimensional wooden figures that ranged from six inches to four feet. In 2000, Guy continued to build his signature style that combined the re-contextualization of literature with object/puppets in Frederico Garcia Lorca's Blood Wedding. According to the Winnipeg Free Press columnist Kevin Prokosh, the merger was effective: "[h]aving both puppets and visible actors performing among themselves doubles the tension and foreboding which envelopes the admirable production." Since then, Adhere & Deny has produced over twenty-five works including Salome (2001), Prometheus Bound (2002), Antigone (2003), Canticle (2004), Medea Etude (2005), The Tragedy of Doctor Faustus (2005), Haiku (2006), Swan Song (2007), Song For Simone (2009), Still Walking (2010), The Grand Inquisitor (2011), The Bedbug (2012), Trumpets and Raspberries (2013), and Sacco & Vanzetti (2013).
In 2009, Guy was the recipient of a major arts award from the Winnipeg Arts Council that funded an Adhere & Deny's rendering of Milton's Paradise Lost. As with many of Guy's explorations, the work not only combined actors and object/puppets, but also incorporated video projection, in this case, original animations created for the show by Alex Poruchnyk. The ambitious work involved a sound score developed by Susan Chafe, live singing, a mirror gilded stage surface for Guy's object/puppets and the use of pyrotechnics by the performers.
In 2011-13, a series called Circus of Objects was produced by Adhere & Deny (curated by Guy) that paid tribute to the notion of variety theatre and cabarets of the early twentieth century, as well as a return to the mix-programmed spirit of the early Shared Stage days. Circus of Objects showcased everything from toy theatre and spectacular oddities to dance, video, and installation, to burlesque, bouffon, spoken word and live music. The all-encompassing project included submissions and live performances from over fifty Canadian artists.
Adhere & Deny is currently in transition from a company with a regular season to a project-by-project based company, and renamed "Exploded Puppet" as of July 2020. The project scheduled for 2020/21 is Gregory Corso Died For Our Sins. The Circus of Objects is the interim name until July.
Sources: Borody, Claire. "I am a Redder: An Interview with Grant Guy." Canadian Journal of Practice-based Research in Theatre 1.1 (2009): n. p. Web. 12 Mar. 2014.
Guy, Grant. Open Fragments: The Theatre of Adhere and Deny. Winnipeg: Lives of Dogs, 2010.
Profile by Mia van Leeuwen, Lethbridge University
Last updated 2019-11-14