National Theatre School of Canada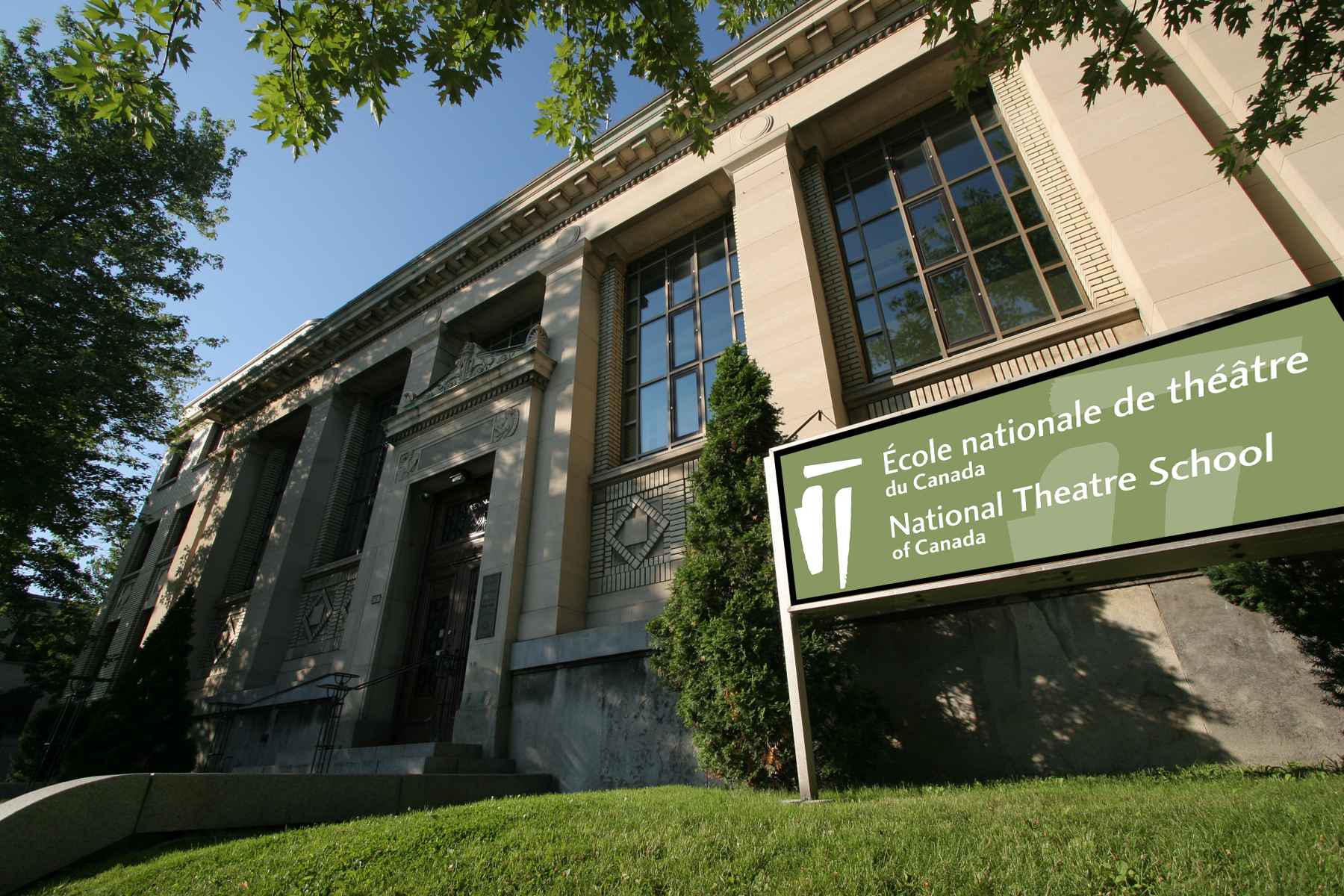 The National Theatre School of Canada's Suria and Michel Saint-Denis campus
The National Theatre School of Canada (NTS) is one of the few conservatory-type arts training establishments in the world that unites all the theatre disciplines under one roof. Established in 1960 and located in Montreal, Quebec the School offers training in acting, playwriting, directing, set and costume design, and production — in both English and French. Powys Thomas and Jean Gascon were its first directors; Michel Saint-Denis acted as consultant and senior advisor.
The NTS is a private, non-profit institution. It is funded mainly through government grants, but also counts on a portion of the revenue generated by its own activities, including its fundraising campaigns. Under the patronage of a volunteer board of fifty governors representing every province in Canada, it is headed by two artistic directors, Alisa Palmer, English Section and Frédéric Dubois, French Section, with Gideon Arthurs as CEO. NTS determines its own training programs and management strategies.
The School focuses its training on practical experience and the interdependence that exists naturally among the different elements constituting a theatrical production. Students work hand in hand with their colleagues in the other training programs thereby developing a keener knowledge of, and respect for, all the artists and artisans implicated in the making of theatre. All classes and performances take place at both the School and its public performance venue, the Monument National — an impressive multi-level heritage building with three different theatre spaces and a rehearsal hall.
Some 160 persons make up the School's student body receiving in large part individualized training (there is a maximum of twelve students per class). Daily contacts with a constantly changing pool of close to two hundred artists, including directors, producers, technicians, designers, playwrights, actors and voice coaches, help them form privileged relationships with the prime movers shaping today's theatre. This explains why most NTS graduates enter their field so successfully upon graduation.
In its selection of teachers and students, the NTS seeks out artists who demonstrate exceptional creativity, autonomy, talent, dedication, discipline, curiosity, sensitivity, generosity, integrity and vision. Applicants must have completed high school and be at least 18 years old. The application deadline is February 15 and there is no quota based on region. Interviews and auditions are held at major centres across the country in May and April. Of approximately twelve hundred applicants per year, some sixty are chosen.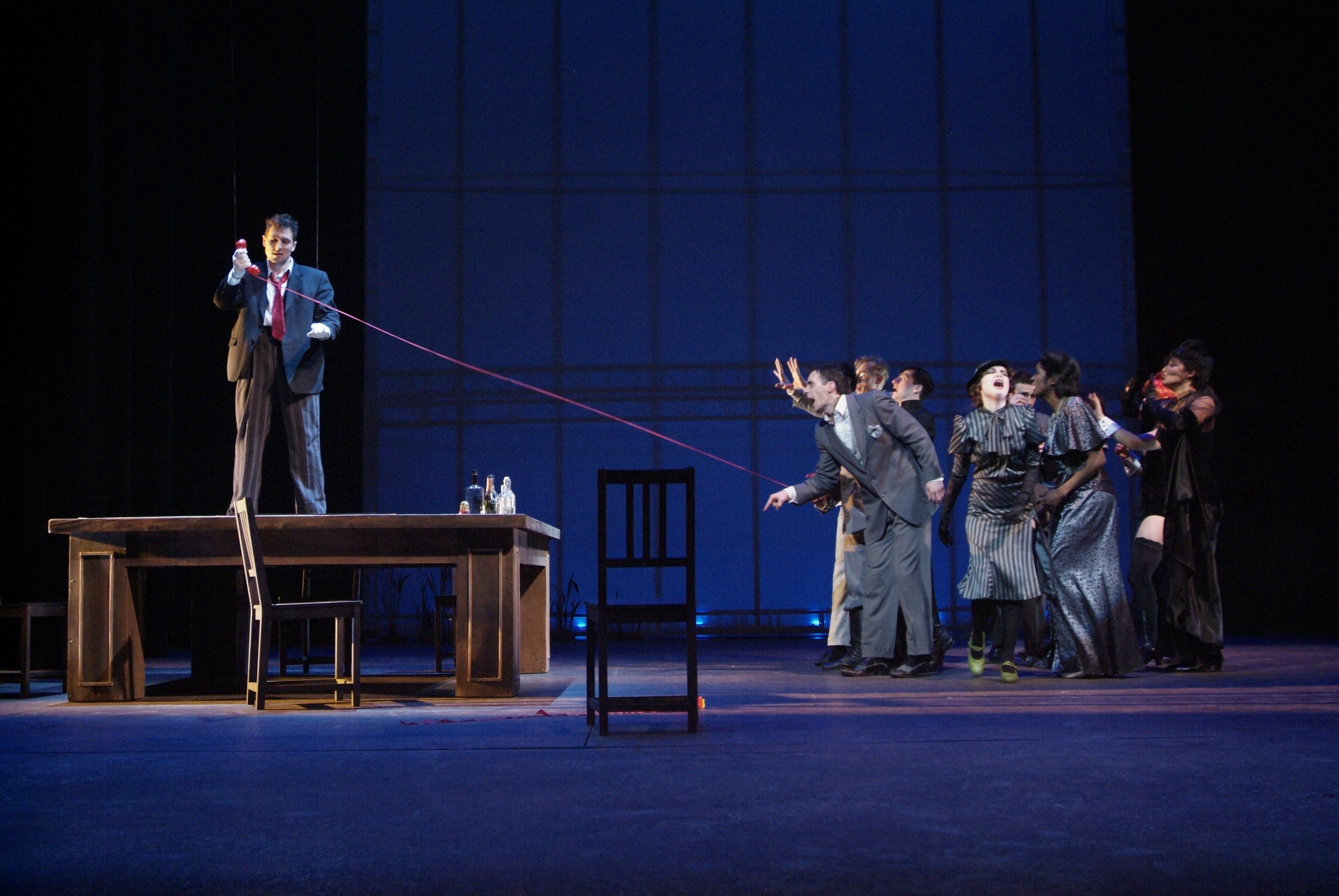 The Suicide by Nikolai Erdman, translated by John Freedman, Directed by Alexandre Marine at the Monument-National in 2007 Photo: Maxime Côté
NTS teachers are working professionals, leaders in their disciplines who bring freshness and relevancy to their classes. Recent teachers at the School have included: Denis Bernard, Gill Champagne, Leah Cherniak, René-Richard Cyr, Charlotte Dean, Michael Eagan, Richard Greenblatt, Andrea Lundy, Dany Lyne, Alexandre Marine, Sheila McCarthy, Yanna McIntosh, Daniel MacIvor, Guy Nadon, Alisa Palmer, Karin Randoja (Acting, 1988), Sarah Stanley, Judith Thompson (Acting, 1979), Kelly Thornton, Leigh Ann Vardy, and Ker Wells (Acting, 1988). This connection to the theatre community is part of the reason why NTS graduates enter their fields so successfully upon graduation. Every year sixty graduates leave the School and ninety per cent of them find employment in their domain directly after graduation.
Well over fifteen hundred theatre professionals have graduated from the National Theatre School of Canada. Many alumni have established flourishing careers and solid reputations in the fields of theatre, film, television, opera and other performing arts, across Canada and North America. Some NTS alumni: Salvatore Antonio, Raoul Bhaneja, Louise Campeau, Dominic Champagne, Paula Danckert, Claudia Dey, Roy Dupuis, Ted Dykstra, Colm Feore, Carole Fréchette, Luba Goy, Martha Henry, Eda Holmes, Alanis King, Diana Leblanc, Ann-Marie MacDonald, Kari Matchette, Kristina Nicol, Peggy Mahon, Sandra Oh, Adam Pettle, Cara Pifko, Michael Riley, August Schellenberg, David Storch, Ker Wells, Kenneth Welsh, and Gina Wilkinson.
An archival collection on this subject is available at the Toronto Reference Library.
Viewing: Behind the Scenes at the National Theatre School, dir. Luc Bourdon, Groupe Mediavision Inc., 1997.
Website: www.ent-nts.ca
Last updated 2021-06-22