Marine, Alexandre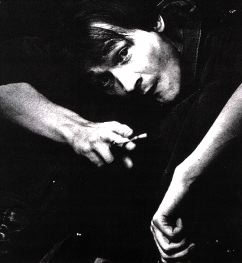 Alexandre Marine
Director/actor/playwright born in Krasnoiarsk, Siberia, in 1958, Alexandre Marine now works in Montreal, Quebec, and in Moscow.
He studied theatre immediately out of high school in Russia, first at the Oleg Tabakov workshop and then at the Moscow Arts School-Studio.
His first play, If I Would've Had Mountains of Gold , written in 1984 with M. Zuev, played across Russia. In 1987, the Theatre-Studio of the Tabakov was inaugurated with the production of Marine's The Armchair, directed by the author.
Soon he was directing and acting worldwide, and received Russia's Lifetime Distinguished Artist Honour.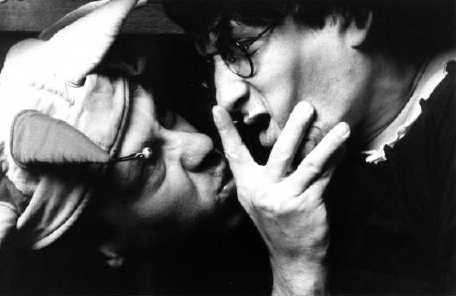 Stéphane Brulotte (l) and Vitali Makarov in Marine's production of Hamlet (1999) (Photo: Maxime Coté)
Marine has a particular interest in the play of Chekhov and Shakespeare. He directed Chekhov's Three Sisters at the National Theatre School of Canada, Uncle Vanya, Shakespeare's Antony and Cleopatra and his own adaptation of Bulgakov's The Master and Margarita at Centaur Theatre, Mrozek's The Emigrants and Elizabeth Egloff's The Swan (among others) with his own company, Théâtre Deuxième Réalité in Montreal. His 1997 production of A Winter's Tale for Centaur Theatre was rewarded at the Masques Awards. His 1999 production/adaptation of Hamlet won the Quebec critics' circle award; and his productions of Amadeus (2006/07 season) and Marie Stuart (2007/08 season) also won awards. In 2013, he adapted and directed an acclaimed South African production of Waiting for the Barbarians. In 2015, he translated The Tempest into Russian as The Tempest Variations for the Tabakov Theatre, and played Prospero.
He has also acted in Russian films.
His work is marked by a vibrant imagination, a pointed sense of humour and an exuberant iconoclasticism. His Centaur production of Vanya was filled with sparkling imagery including a magnificent moment where papers flew around the anguished Yelena at the end of Act II and snow fell on Vanya and Sonia - indoors - at the end of Act IV.
Profile by Gaetan Charlebois
Last updated 2021-04-15