Thornton, Kelly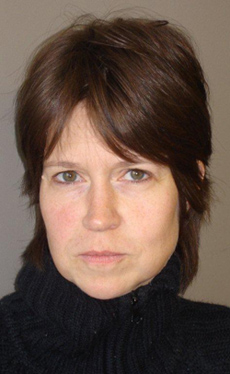 Kelly Thornton
Actor, director and dramaturg Kelly Thornton was born in Brockville, Ontario in 1965, and grew up in Melbourne Australia. After returning to Canada with her family at the age of 15, she studied at the University of Guelph. She was married to actor/playwright Alex Poch-Goldin, with whom she has a daughter, Chloe Babette Poch-Goldin, born in 2007. She is currently married to Josep Seras.
Kelly Thornton became the Artistic Director of Nightwood Theatre in June of 2001. Prior to this she worked in new play development at the Canadian Stage Company, Factory Theatre and Buddies in Bad Times Theatre (Rhubarb Festival Director 2001 and 2002). She has directed plays in theatres across Canada, including So Many Doors (Yukon Arts Centre/Sour Brides/Magnetic North Theatre Festival); The Comedy of Errors (Canadian Stage, Dream in High Park); This Hotel (Theatre Passe Muraille/Planet 88 (six Dora Mavor Moore Award nominations including Outstanding Direction); Peep Show (Buddies in Bad Times Theatre); The Dumb Waiter (SummerWorks); and Friedrich Durrenmatt's The Visit (Alumnae Director's Award).
Since taking over as Nightwood's Artistic Director, she has directed most of its productions, beginning with The Danish Play (2002) by Sonja Mills, which was nominated for two Dora Mavor Moore Awards. In 2004, The Danish Play was invited to tour to Aveny-Teatret in Copenhagen. It was also staged at the Magnetic North Theatre Festival at the National Arts Centre, and remounted in Toronto in 2007.
Her production of Finding Regina by Shoshana Sperling opened at the Globe Theatre in Regina in 2002, and ran in Toronto in 2003. Also in 2003, Kelly Thornton inaugurated the "Hysteria Festival" with Moynan King at Buddies in Bad Times, a multi-disciplinary festival for women artists. That same year she was honoured with a Pauline McGibbon Award for her work as a director.
She directed China Doll by Marjorie Chan at Tarragon Theatre Extra Space in 2004. The play had originally been commissioned as a CBC radio play and was then commissioned for full production by Nightwood. It had a three-week residency at the playRites Colony at the Banff Centre for the Arts in Spring 2003. China Doll was nominated for three Dora awards in the General Theatre category, for Outstanding Costume Design (Joanne Dente), Production and New Play. It was also nominated for the 2005 Governor General's Award.
Other directing credits for Nightwood have included Diane Flacks' one-woman show Bear With Me; Mathilde by Veronique Olmi, translated by Morwyn Brebner and starring Martha Burns and Tom McCamus; and Wild Dogs, arranged for the stage by Anne Hardcastle from the novel by Helen Humphreys, and produced in association with The Canadian Stage Company at the Berkeley Street Theatre.
Thornton's tenure at Nightwood has been notable for her emphasis on new play and new artist development: in addition to Nightwood's long-running "Groundswell Festival," Thornton has augmented "Write From the Hip" for emerging, young women playwrights, and launched "Busting Out!" for teenage girls, as well as the "Emerging Actors Program" for recent graduates.
She has also been a driving force behind a national campaign called "Equity in Canadian Theatre: The Women's Initiative," spearheaded by Nightwood in partnership with the Playwrights Guild of Canada Women's Caucus and the Professional Association of Canadian Theatres/PACT. In addition to a series of public debates and presentations on the issue of gender inequity in the theatre world, the initiative sponsored a survey on women's participation rates in professional theatre and has been disseminating the findings and challenging Canadian theatres to respond.
In November of 2009, Nightwood celebrated its 30th anniversary with the "4x4 Festival of Women Directors." The Festival staged four productions included That Face, by Polly Stenham, directed by Thornton, as well as hosting an inter/national Directors Summit with public dialogues and master classes, including a pan-Canadian directors showcase which saw ten directors collaborate to stage Margaret Atwood's The Penelopiad.
In 2005, Kelly Thornton and Producer Nathalie Bonjour were honoured by The Honourable Sarmite D. Bulte, MP, at her International Women's Day Breakfast. In 2008, Kelly Thornton was the winner of a YWCA Woman of Distinction Award: "Recognized by a plethora of nominations and awards, the works she produces also challenge the status quo of artistic vision, displacing the centrality of male experience. ... Kelly makes a home for women developing artistic careers... [her] tenure has been marked by a clear emphasis on opening doors of theatre to new generations of talented women."
In October 2018, she was appointed Artistic Director of the Royal Manitoba Theatre Centre; her tenure began in June 2019. For the 2019/20 season, she directed Bang Bang by Kat Sandler.
She has also taught at the National Theatre School of Canada.
Profile by Shelley Scott, University of Lethbridge
Last updated 2020-07-17