Theatre Passe Muraille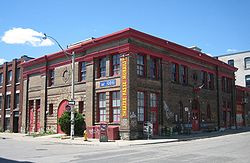 Theatre Passe Muraille
Pioneering theatre company in Toronto, Ontario, founded in 1968 by Jim Garrard at Rochdale College. "Passe Muraille" translates as "beyond walls," or "without walls," speaking to the Company's mandate to create theatre that is open and inclusive, moving beyond the confines of traditional theatre space to reach into the community. Its early controversial production, Futz was performed at the Central Library Theatre. It then located to the Guildhall at Holy Trinity Church courtesy of Reverend Jim Fisk. Since the late 1970s, it has performed in its own space, a converted bakery and stables at 16 Ryerson Ave, an historic site. Garrard resigned in 1969 to teach theatre at Simon Fraser University. Martin Kinch was artistic leader from 1969 to 1971, followed by Paul Thompson in 1972.
Though collective creation was already in wide use throughout Canada (having fuelled many of the productions of George Luscombe's Toronto Workshop Productions/TWP), it was Passe Muraille and Thompson who took the movement and truly ran with it. Within one decade of its founding, the company had produced 22 collective creations and had taken the philosophy all over the country, and brought proponents of the form, such as Codco) to Toronto.
Thompson has been quoted as saying, "I would like to make theatre as popular as bowling," and with collective creation he almost succeeded. With works like The Farm Show, The Immigrant Show and The West Show, the ensemble was sent out into the community to be "presented" and encouraged to record oral histories, anecdotes, jokes and songs for inclusion in the production which was then, often, first presented before the audience it concerned. Many communities saw reflections of themselves in theatre for the first time.
Most importantly, Passe Muraille has and does serve as inspiration to companies across the country: its existence assures that there is an audience and interest in alternative and experimental theatre.
Playwrights who have been involved in the process or who have had works created at Passe Muraille include Rick Salutin, Linda Griffiths, Judith Thompson, Anita Majumdar and Anusree Roy.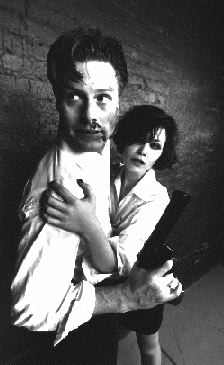 Hrant Alianak's Lucky Strike, at Theatre Passe Muraille (1996)
In February, 1999, Passe Muraille presented a work which alluded to The Farm Show called The Drawer Boy, written and directed by two of The Farm Show's company, Michael Healey and Miles Potter. To celebrate its 40th anniversary in the 2007-08 season, Passe Muraille remounted The Drawer Boy in an all-new production.
Passe Muraille has also supported works by and about women. In October 2001, it presented an all-female cast in Shakespeare's A Midsummer Night's Dream. Its 2014-15 season featured two one-woman performances: Hooked, enacting the tumultuous creative lives of Myra Hindley, Unity Mitford, Zelda Fitzgerald, Dora Carrington, Elizabeth Smart, Carson McCullers and Jane Bowles, based on poems by Canadian poet Carolyn Smart, and performed by Nicky Guadagni in the TPM Backspace; and R-E-B-E-C-C-A by Sara Farb, based on the playwright's younger sister who was born seven weeks prematurely and diagnosed as developmentally delayed.
In 2012, TPM's production of Crash a new play by Asian-Canadian author Pamela Mala Sinha, won two Dora Awards for best play and best actress. The 2012 season included MT Space's Body 13; Obsidian Theatre Company's Shakespeare's Nigga; and Atomic Vaudeville's Legoland. The 2013/14 season featured new works by seminal Canadian playwrights George F. Walker (Moss Park) and Linda Griffiths (Heaven Above, Heaven Below).
In 2016, TPM premiered Elle. Based on a true story, adapted and acted by Severn Thompson from the Governor Generalís Award-winning novel by Douglas Glover, Elle enacts the ordeals and adventures of a young French woman deliberately marooned on a desolate island off the coast of Newfoundland in 1542. The play then toured across Canada.
Clarke Rogers was Artistic Director from 1982 to 1987. Layne Coleman was Artistic Director from 1999 to 2007. Andy McKim was A.D. to June 2019; his vision was more culturally inclusive: "TPM has a special interest in supporting and presenting independent artists and companies, emerging artists, collaborative and multidisciplinary work, culturally specific and inter-cultural work, and marginal voices" (website).
To celebrate the theatre's 50th anniversary in 2018, Playwrights Canada Press published TPM: A Collective History, ed. Martin Julien and Samantha Serles, with visual editor Rae Johnson.
Marjorie Chan was appointed AD as of July 2019. She reasserted Passe Muraille's mission "to break down walls by pushing against boundaries; to create art with and for an audience, examining the marginal, the unexplored and the unforeseen; to articulate a distinct Canadian voice that reflects the complexity of our intercultural society" (website). The theatre space was closed to live audiences during the Covid-19 pandemic in 2020 and 2021, but reopened for the 2022-23 season with seven productions, six of which are produced by Passe Muraiile, beginning with The Year of The Cello, created by Marjorie Chan and composer Njo Kong Kie. The show was staged in the renovated Bob Nasmith Innovation Backspace.
The company's archives are at the L.W. Conolly Theatre Archives of the University of Guelph, Ontario.
Profile by Gaetan Charlebois. Additional information provided by L.W. Conolly and J. Kelly Nestruck ("Nestruck on Theatre", Globe & Mail 11 Oct 2022). Profile updated by Anne Nothof in 2022.
Website: www.passemuraille.ca
Last updated 2022-10-13