Atomic Vaudeville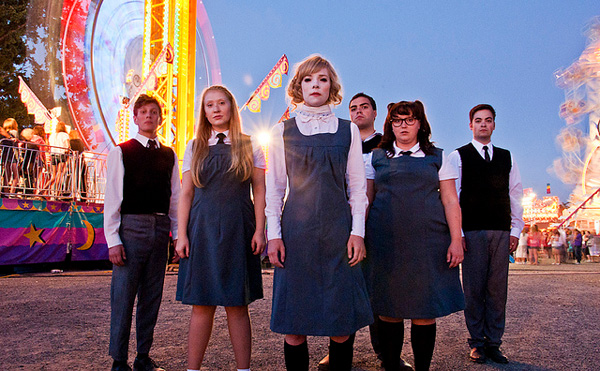 Atomic Vaudeville's Ride the Cyclone
Performance company based in Victoria, British Columbia. Atomic Vaudeville was founded by Britt Small and Jacob Richmond (the son of Janet Wright and Brian Richmond) in 2004 with a mandate "to encourage and support the professional development of new and emerging local actors, writers, musicians, artists and performers" (website). It presents a popular series of cabaret performances in Victoria; commissions and develops works by emerging local writers, composers and performing artists; and sponsors and participates in Canadian and international festivals in order to showcase new, contemporary, local work. It also tours its works across Canada and in the United States. Since 2004, the Company has produced over eighty cabaret shows in Victoria, Vancouver, Toronto, and Bellingham. Cabaret 82, entitled Mind the Gap, opened in December 2019 in Victoria.
Full-length productions included: The Qualities of Zero by Jacob Richmond, which premiered in Montreal in 2001, and was remounted by Atomic Vaudeville in 2006. The performance piece, Circus Fire by Janet Munsil tells the harrowing story of a fire that consumed a circus tent in Hartford in 1944, killing 167 people, most of them children.
The highly acclaimed musical theatre production Ride The Cyclone by Jacob Richmond and Brooke Maxwell (music and lyrics) was developed and workshopped by the company over three years, and premiered in 2009 at Intrepid Theatre's Metro Studio in Victoria. The production toured to the Vernon Arts Centre in November 2009. In 2010 it appeared at SummerWorks, and in 2011 at the Belfry Theatre. In 2013, the show toured to One Yellow Rabbit's High Performance Rodeo, Arts Club Theatre, Citadel Theatre, Manitoba Theatre Centre, Persephone Theatre, and TheatreOne. Ride the Cyclone is a bizarre black comedy about six members of a teenage chamber choir from Uranium, Saskatchewan who die in a roller coaster accident at a travelling fair. In their final performance after their death, they celebrate their individuality while coming to terms with their untimely demise. Awards include: Dora Mavor Moore Award for Best Touring Production (2012); Toronto Theatre Critics Awards for Best Musical, and for Best Direction of a Musical (2012); and the Victoria M Awards for Best Direction, Best Production, and Best Musical (2012).
The vaudeville pastiche, Legoland (2012) by Jacob Richmond, tells the bizarre story of siblings extradited to Canada after a brutal attack on one of America's most beloved pop stars.
In March 2013, Atomic Vaudeville premiered L'Empereur n'a pas de Pénis at the Victoria Event Centre, "a postmodern deconstruction of the oppressive desire for patriarchal approval" (website).
Atomic Vaudeville has also been commissioned to create new works for festivals, awards ceremonies, and conferences.
Website: www.atomicvaudeville.com
Last updated 2020-02-27