Belfry Theatre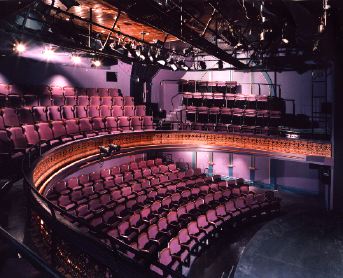 Inside the Belfry Theatre - Mainstage
(architect: John Keay; photographer: Bruce Stotesbury)
Company and venue in Victoria, British Columbia, founded in 1974 by Michael Stephen as the Springridge Cultural Centre Society using space in the newly vacant and historic Emmanuel Baptist Church (built between 1887-92). The Society was created to promote culture in the city. The venue was renamed the Belfry in 1976. Don Shipley was the theatre's first producer/artistic director and conceived and directed the first work professional adult production there: Puttin' on the Ritz (1976). This was soon followed by Joanna Glass's Canadian Gothic/American Modern double-bill, setting the company on a route of active involvement in and stimulation of Canadian theatre creation. In 1979, the last year Shipley helmed, the company presented a full season of plays. Victoria has been the benefactor of the company's unerring eye for great Canadian and international theatre.
Among the many premieres the company has presented on its mainstage and in the studio are works by Joan MacLeod (Gracie 2017); Morris Panych (Vigil), and Jovette Marchessault (The Magnificent Voyage of Emily Carr English-language premiere). In 2013, it premiered Let Me Call You Sweetheart by Bruce Ruddell, music by Bill Henderson (dir. Michael Shamata). In 2018, the Belfry premiered Forget About Tomorrow, a play about her husband's early-onset Alzheimer's by Jill Daum. In 2020, it mounted the premiere of The Ministry of Grace, written and directed by Tara Beagan, an all-Indigenous production, with PJ Prudat and Sheldon Elter in the cast. During the Covid-19 pandemic in 2020, the Belfy announced a season that included Being Here: The Refugee Project, a verbatim work by Joel Bernbaum; Serving Elizabeth by Marcia Johnson, and Same Old Same Old, a portrait of a long-time marriage by actors Jan Wood and James Fagan Tait.
The Belfry has also presented or hosted productions of Oscar Remembered, Ever Loving, Maggie and Pierre, Salt-Water Moon, Amigo's Blue Guitar, Goodnight Desdemona (Good Morning Juliet)), Homeward Bound, The Collected Works of Billy the Kid, Fronteras Americanas, 2 Pianos, 4 Hands and other plays by Anne Chislett, Norm Foster, John Murrell, Michel Marc Bouchard, Daniel MacIvor, Maureen Hunter and Eugene Stickland.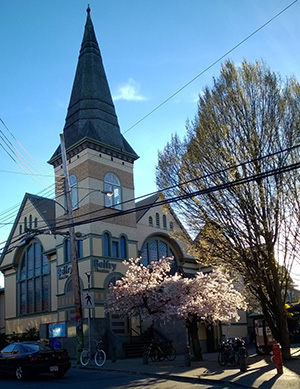 Belfry Theatre
Other artistic directors: James Roy (1980-84), Miles Potter (1984-86), Glynis Leyshon (1986-97), Roy Surette (1997-2006), Michael Shamata (2007-).
The Belfry has an operating budget of over $1.3 million annually and employs 78 people. Since its inception, it has produced 230 plays, of which 158 are Canadian, and 33 are premieres. It has toured productions and worked cooperatively with companies across the country. In 2016, for its annual Spark Festival, it hosted Iceland by Nicolas Billon in a production by Why Not Theatre (dir. Ravi Jain).
Website:www.belfry.bc.ca
Profile by Gaetan Charlebois and Anne Nothof
Last updated 2022-03-30