Salt-Water Moon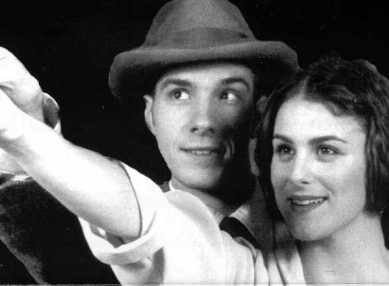 Éloi ArchamBaudoin and Nathalie Nadon in the Théâtre de l'Ile production of Une Lune d'eau salée (toured 1999-2000), directed by Gilles Provost.
Drama in one long act by David French, it one of the Mercer Plays (along with Leaving Home, Of The Fields, Lately, 1949, and Soldier's Heart), premiered at Tarragon Theatre in 1985, directed by Bill Glassco. It is the winner of the Dora Mavor Moore Award and has been widely produced across the country and abroad playing, according to its playwright (in a November, 1999, interview), every month, somewhere, since its creation. It was translated by Antonine Maillet as Une Lune d'eau salée, and presented by Théâtre de l'Ile, Hull, Quebec, and toured across the country. It was revived in summer/autumn, 1999, in a well-received Ship's Company Theatre production directed by RH Thomson. In November 2001, it was revived in a brilliant production at the Saidye Bronfman Centre, directed by Chris Abrams.
Salt-Water Moon depicts the family patriarch, Jacob Mercer, as a young man, returning to Colley's Point to win the heart of Mary Snow. It is the gentlest play in the cycle, and answers many of the questions audiences for Leaving Home and Of the Fields, Lately may have had about the relationship of Mary and Jacob. Truly romantic, it is a glimpse of Eden caught in the moonlight over Newfoundland and Labrador.
It is judged by many to be the best of the Mercer Plays and, perhaps, of the entire David French canon.
Profile by Gaetan Charlebois. Additional information provided by Scott Burke.
Last updated 2010-12-06