Ship's Company Theatre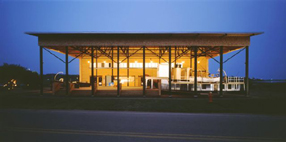 Ship's Company Theatre
The Ship's Company Theatre is situated in the picturesque town of Parrsboro, Nova Scotia on Cumberland County's Bay of Fundy shoreline. The theatre came into existence in 1984 when co-founders Michael Fuller and Mary Vingoe staged the first production aboard an old and dilapidated ferry vessel, the M.V. Kipawo: You'll be in Her Arms by Midnight and Other Parrsboro Stories.
Over the years the production season has grown to fourteen weeks. Each summer a tent is erected over the fore deck of the M.V. Kipawo to house two Mainstage plays running in stock for a total of nine weeks. Since 1995 a Second Stage has been dedicated to new and emerging artists from the Atlantic Provinces. 1999 saw the introduction of a Concert Series which features four presentations each season. Periodically Ship's Company Theatre tours a production to other centres in the Maritimes.
The Mission of the company is to be a prime centre for the production and development of Canadian and Atlantic theatre. The primary activity is developing and producing plays with special emphasis on Atlantic Canadian content. Ship's Company Theatre is committed to the promotion, development and support of the artists of Atlantic Canada.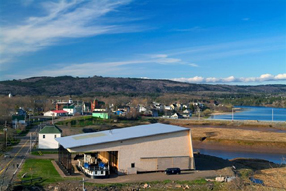 In 1998 Scott Burke came aboard as Artistic Producer of Ship's Company, and actor/director RH Thomson has been Associate Artist since 1999. Pamela Halstead was Artistic Producer from 2004-09. In 2013, Natasha MacLellan became Artistic Producer, followed by Jack Paterson in 2018. The current Artistic Director is Richie Wilcox.
Recent productions of Chairmaker the Musical, Miles From Home and Sole Survivors have seen the company re-emerge as a leader in new play development and production in Atlantic Canada. Since 1984, Ship's Company has commissioned, developed and produced over thirty new works and given over fifteen plays second productions. A number of plays have also been produced across the country, notably, two plays by Wendy Lill: Sisters and The Glace Bay Miners Museum. Ray Guy's Young Triffie's Been Made Away With and Lance Woolaver's World Without Shadows were remounted at Neptune Theatre in Halifax, and David French's Salt-Water Moon transferred to the Eastern Front Theatre in Dartmouth.
The 2017 season included Pugwash, the world premiere of a new play by Vern Thiessen, about the first international peace conference held in Pugwash NS, organized by Cyrus Eaton, seen from a child's perspective. In 2021, the theatre presented Half-Cracked by Mary-Colin Chisholm, Good Grief by Richie Wilcox, and Cottagers and Indian by Drew Hayden Taylor.
Website: www.shipscompanytheatre.com
Last updated 2021-10-15