Paterson, Jack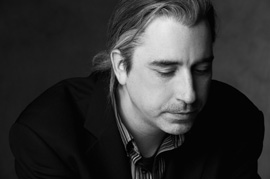 Jack Paterson
Director, dramaturg, actor and theatre creator, Jack Paterson was born in Vancouver British Columbia in 1974, and has worked across Canada. A graduate of Circle in the Square (NYC), he has performed with Arts Club Theatre, Chemainus Theatre, and was a regular performer in Savage Godís The Shakespeare Projects.
He played Hitler and Walt Disney in Mieko Ouchiís The Blue Light (Firehall Arts Centre) and Scheffler in The Ugly One (Plan B Collective).
He was the founder of multi-award winning Mad Duck Theatre Collective, for which he adapted and directed Coriolanus, Shakespeareís R&J, Titus Andronicus, Julius Caesar and The Tempest with Vancouverís first female Prospero. Other directing credits include The Hobbit and The Odyssey (Carousel Theatre), and Banana Boys by Leon Aureus (Firehall Arts Centre).
Recent credits include directing the West Coast premiere of The List (BoucheWHACKED!); the site specific production of Women of Troy (Canadian Stage: Festival of Ideas); F. Garcia Lorcaís The Love of Don Perlimplin for Belisa (Shaw Festival Directorís Project); and production dramaturgy on the English language premiere of H. Mullerís Macbeth: nach Shakespeare.
Paterson completed a series of Artistic Director Residencies with three companies: Playwrights' Workshop (Montreal), Theatre Conspiracy (BC) and the Magnetic North Theatre Festival (Ontario and Alberta). In 2018, he was appointed Artistic Producer of Ship's Company Theatre, and served for a year.
e is currently the Co-founder and Creative Producer of BoucheWHACKED! Theatre Collective bridging local, national and international artists and audience separated by distance, language and culture (Vancouver).
His work has been nominated for over twenty Jessie Richardson Awards including four for Outstanding Direction and two for Outstanding Production. He is the recipient of the Ray Michal Outstanding Body of Work by an Emerging Director Award.
Website: www.jackpatersontheatre.com
Last updated 2021-07-21