Chemainus Theatre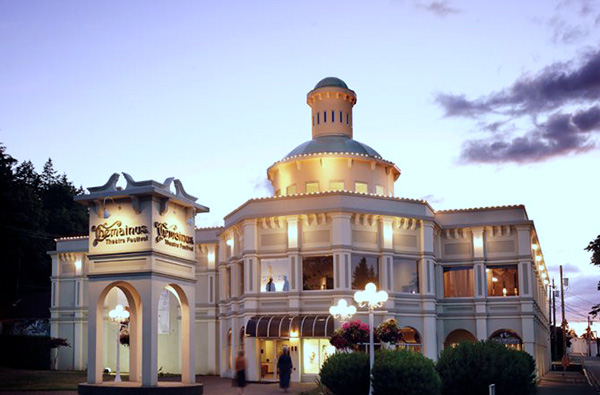 Chemainus Theatre
Professional, non-profit theatre, located in the seaside community of Chemainus, British Columbia on Vancouver Island, famous for its splendid historical murals. Chemainus Theatre was co-founded in 1993 by Ken Smith, who established a contact with Rosebud Theatre and School of the Arts, which was looking for a second site to provide opportunities for its graduates. After some difficulty in locating a venue, a community group led by Dan Sawatsky and Ken Smith raised the funds for a new building: a form of theatre temple, which includes a mainstage, studio theatre, Gallery for local arts and crafts, and the Playbill Dining Room. Chemainus Theatre's goals are: to enrich the region; build community; and advance the arts.
The theatre produces an annual festival that "explores and nourishes truth, hope, redemption, love and the human spirit." (website). Seasons typically include popular musicals, such as Mamma Mia (2019); a "Kidzplay" such as The Magician's Nephew (based on the Narnia stories, 2019); a Christmas play; a Canadian work, such as Waiting for the Parade (2014) and Kim's Convenience (2018); and a "classic" work such as Mrs. Warren's Profession (2019). The Studio Theatre houses a contemporary work as part of the "Discovery" series, such as I & You by American playwright Lauren Gunderson. The theatre also hosts productions from Drayton Entertainment Company.
Theatre artists from across Canada have contributed to productions: designers Stancil Campbell and Daniel Van Heyst; directors Kim Collier, Morris Ertman, and Jack Paterson; playwrights Lucia Frangione, Dorothy Lees-Blakey, and Gary Kirkham.
Lucia Frangione was Artistic Director in 1995; Mark Du Mez has been A.D. from 2002.
As of 2019, Chemainus Theatre Festival has been visited by over 70,000 residents and tourists.
Website: www.chemainustheatrefestival.ca
Last updated 2019-09-09