Drayton Entertainment Company
Drayton Entertainment offers lighthearted professional productions during the summer in seven theatres in southwestern Ontario communities: Huron Country Playhouse and Playhouse II in Grand Bend; Drayton Festival Theatre in Drayton; King's Wharf Theatre in Penetanguishene; Schoolhouse Theatre and St. Jacobs Country Theatre in St. Jacobs; and the Hamilton Family Theatre in Cambridge. Comedies and musicals are performed in repertory, relocating to different theatres through the summer season, which runs from twelve to twenty-six weeks, with five to seven productions. Each Drayton Entertainment venue maintains its own distinct identity, but at the same time successfully combines the energies and strengths of all seven, in order to provide a rich theatre experience of music and comedy.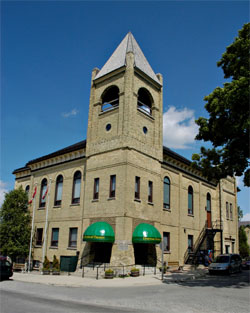 Drayton Festival Theatre
Drayton Festival Theatre was founded in 1991 under the artistic direction of Alex Mustakas, and housed in a renovated 375-seat Opera House, originally built in 1902. The company made Canadian theatrical history by completely selling out both its 1993 and 1994 seasons. As its popularity grew, Drayton Festival Theatre decided to launch a second stage in the picturesque village of St. Jacobs in 1997. The Schoolhouse Theatre is located in a renovated 1867 schoolhouse, with 120 seats. The 2005 summer season featured Boeing-Boeing and Lend Me a Tenor.
In January 1999, Drayton Festival Theatre was chosen by the Ontario Government to assume operations of the King's Wharf Theatre in Penetanguishene on Georgian Bay, a forty minute drive from Barrie and Orillia. With 385 seats, it produces some of the same plays as are featured in Huron Country Playhouse and Drayton Festival Theatre summer seasons.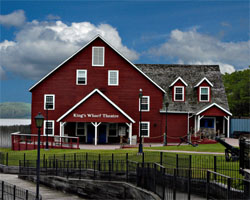 King's Warf Theatre
The Huron Country Playhouse joined the Drayton Company in 2001. Founded in 1972, it launched its first season in a rented big-top tent; actors and staff lived and worked out of a century-old barn. The renovated barn is still its main venue, with 660 seats. A second stage, Playhouse II, with 160 seats, features more intimate cabaret-style theatre. The 2005 summer season for the mainstage theatre included Beauty and the Beast, Lost in Yonkers, Give my Regards to Broadway, and Twist and Shout: The British Invasion, conceived and directed by the Artistic Director for Drayton Entertainment Company Alex Mustakas.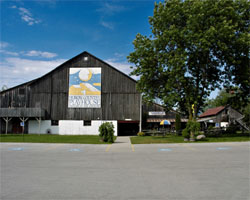 Huron Country Playhouse
In 2005, Drayton Entertainment purchased and extensively renovated a former Winery and Cidery in St. Jacobs, after raising $2.5 million through the generosity of the corporate and private sector. Operating year-round, the St. Jacobs Country Playhouse celebrates Canada's cultural heritage through a diversity of arts forms.
In spring 2013, Drayton Entertainment opened the Dunfield, a custom-built theatre in Cambridge, Ontario. It includes a 500-seat theatre, five rehearsal rooms, set, props and costume shops, and a 33-room actor's dorm. The 2013 season included an all-Canadian production of Mary Poppins. In 2014, the theatre was renamed the Hamilton Family Theatre in recognition of donors John and Terry Hamilton.
Productions of Canadian works include Norm Foster's The Last Resort (2005), a farcical murder-mystery set in a remote lodge in rural Saskatchewan; Sorry, I'm Canadian, a satirical musical comedy conceived and directed by Mustakas, with additional material by Dave Broadfoot (2013); and a new musical based on the life of Terry Fox, Marathon of Hope, with songs by John Connolly and book by Peter Colley (2016).
Drayton Entertainment is the third largest not-for-profit professional theatre company in Ontario, after the Stratford Festival and Shaw Festival. Annual attendance exceeds 250,000. It does not receive funding from any level of government for its annual operations. It is also recognized by Canadian Actors' Equity Association as one of the largest employers of professional artists in Canada.
Drayton Entertainment has received six Lieutenant Governor's Awards for the Arts, bestowed on arts organizations that exemplify outstanding private sector and community support. Drayton Entertainment has a volunteer twelve-member Board of Directors, and a strong community involvement through volunteerism.
Website: www.draytonentertainment.com
Last updated 2018-03-22