Foster, Norm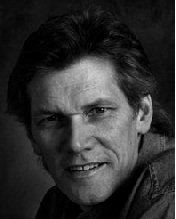 Norm Foster
Prolific and popular playwright and actor, born in Newmarket, Ontario in 1949. Norm Foster is considered by many to be Canada's pre-eminent comic playwright.
He studied radio and television at Centennial College in Toronto and Confederation College in Thunder Bay before writing two very successful works--Sinners and The Melville Boys--for Theatre New Brunswick's Artistic Director Malcolm Black. Both works have been translated into French and the latter has been produced all over the country.
Norm Foster's works have been performed at major houses and summer theatres across Canada and abroad, and are typically well-received by audiences and critics. He won the Los Angeles Drama-League award in 1988 for The Melville Boys. His The Affections of May (Theatre New Brunswick, 1990, directed by Michael Shamata) also had huge success, and many productions in mainstream theatres and festivals across Canada (among them Centaur Theatre).
Norm Foster has written more than sixty plays, which receive an average of 150 productions annually, including: Windfall (Theatre Plus, 1986, directed by Black), Bravado (Magnus Theatre, 1988, Michael McLaughlin), Ned Durango Comes to the Big Oak (Grand Theatre, London, Charlie Tomlinson), The Long Weekend (Festival Antigonish, 1994, Michael Keating), Jupiter in July (Theatre Aquarius, Hamilton, 1997, Christopher McHarge), A Foggy Day (Shaw Festival, 1998, Kelly Robinson), Ethan Claymore (Grand Theatre, London, 1998, Miles Potter), The Foursome (Theatre-on-the-Grand, Fergus, 1998, Christopher McHarge; Festival Antigonish, Nova Scotia, 1999), Drinking Alone (Festival Antigonish, 1998, Jean Mortpurgo), Office Hours (six one-act plays, Lunchbox Theatre, 2000), Old Love (Lighthouse Festival Theatre, Port Dover, 2008, which he also acted), and Skin Flick (Neptune Theatre 2009).
Hilda's Yard (2012, dir. Caleb Marshall) is the eighth work by Foster to premiere at Theatre New Brunswick, opening fifteen years to the day since his last TNB world premiere. Set in the 1950s, it portrays a middle-aged couple whose grown offspring return to the nest. It is published by Playwrights Canada Press (www.playwrightscanada.com).
In 2016 The Ladies Foursome opened at Theatre Aquarius: four golfing partners attempt to come to terms with the death of a mutual friend.
The Norm Foster Theatre Festival was inaugurated in June 2016 in the Robertson Theatre, First Ontario Performing Arts Centre, St. Catharines Ontario, with three plays running for nine weeks: Here on the Flight Path, Halfway to the North Pole (premiere), and On a First Name Basis. For the 2018 Festival, Foster wrote Come Down from Up River, about an elderly logger who comes to St. John New Brunswick for medical tests, with the hope of reconnecting with an estranged and angry niece, now a lawyer and married to a Black woman. The Writer premiered in June 2019 at the Festival. A successful playwright, who won a Pulitzer Prize thirty-five years ago, has run into difficulties: he is separated from his wife, unable to begin a new script, and becoming increasingly forgetful. A visit from his middle-aged son, an itinerant travel writer attempting to prove his worth as a writer, reveals surprises from the past, and presents new problems. The Writer is published by Playwrights Canada Press.
Cynthia Zimmerman wrote in Letters in Canada 1998: "The master of clever situation comedies with lots of witty one-liners, and some memorable quick-sketch characterizations, Foster is often compared to America's Neil Simon or Britain's Alan Ayckbourn."
In 2016, he was appointed to the Order of Canada.
Website: www.normfoster.com
Last updated 2021-06-22