Festival Antigonish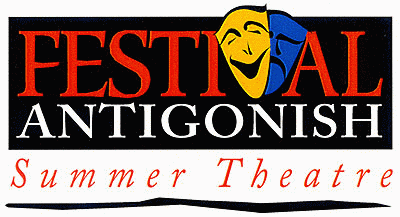 Repertory theatre Festival in Antigonish, Nova Scotia, founded in 1987 by a group of local community leaders, university personnel and artists, including Addy Doucette, who was the first Artistic Director. They launched their first season July 1, 1988 with a new musical revue, It's The Berries.
Since then, the Festival has produced a wide array of largely populist works including John Gray's Eighteen Wheels(1989); Agatha Christie's The Mousetrap; and Norm Foster's The Long Weekend (1994).
The Festival promotes the creation of new works by Nova Scotia artists, which it features in its "Late Night Series," and has premiered works by da da kamera's playwright/actors Daniel MacIvor and Daniel Brooks: Here Lies Henry (1994); Marion Bridge (1999); In On It (2000); cul-de-sac (2002).
Among the other Canadian plays produced by the Festival are: the Nova Scotia premiere of Michel Tremblay's For the Pleasure of Seeing Her Again (2001); Lance Woolaver's World Without Shadows; Eugene Stickland's Midlife; Sharon Bajer's Molly's Veil (2007), and Ravi Jain's A Brimful of Asha (2019).
In 1996 the Festival moved into the newly-renovated Bauer Theatre at St. Francis Xavier University -- an amphitheatre auditorium which seats 228. The Festival includes a children's series, readings, and touring productions.
Ed Thomason was Artistic Producer from 2005. In 2016, Andrea Boyd was appointed Artistic Director, and Reema Fuller became Managing Director.
website: www.festivalantigonish.com
Last updated 2020-12-03