Theatre New Brunswick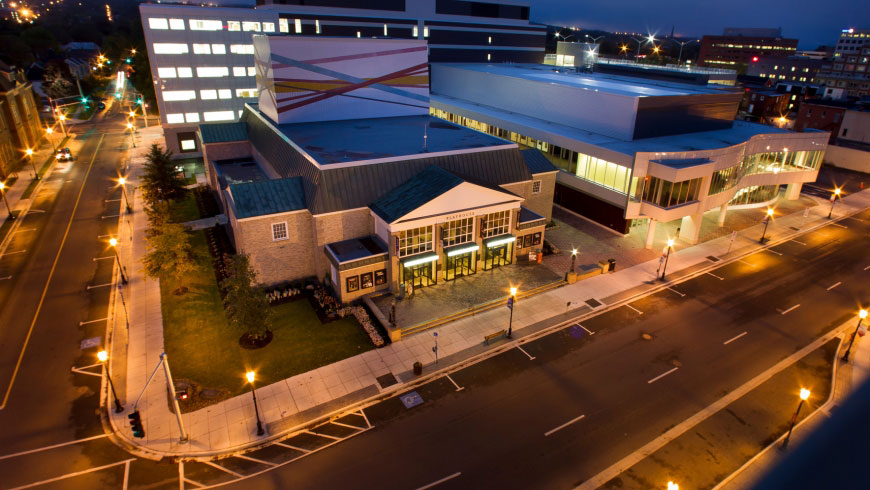 Fredericton Playhouse
Company in Fredericton, New Brunswick, founded in 1968 by Walter Learning. Its main venue is the Playhouse donated to the people of the province by Lord Beaverbrook in 1961. The Open Space Theatre venue stages new works.
The company initially began with a summer season, funded by box office receipts alone, and then expanded to fulfil Beaverbrook's mandate to serve the whole province with touring productions. In the winter of 1969 productions included John Osborne's Inadmissable Evidence, and Tennessee Williams' The Glass Menagerie, exemplifying Learning's belief that local audiences should not be patronized.
The schedules at the start included classics and contemporary theatre, and, eventually, Canadian works (some of which Learning co-wrote himself, including The Dollar Woman with New Brunswick poet Alden Nowlan in 1977).
By the end of the third season, TNB had the fastest growing subscription base in the country with ticket sales going from $12,800 the year of its foundation to $83,500 in 1972.
In 1972, the Playhouse was completely renovated, with 709 seats. In 1974, a bilingual Young Company was established for school tours. In 1978 Malcolm Black became Artistic Director and in 1984, Janet Amos assumed the position. In 1988 the AD was Sharon Pollock. From 1990-1995 the company's AD was Michael Shamata, and Walter Learning returned in 1995 to 1999, followed by David Sherren (2000-2002), Scott Burke (2003-2005), and Claude Giroux. Leigh Rivenbark was interim Artistic Producer in 2006, working to eliminate a large debt load, assuming a permanent position from 2007-2009.
The Artistic Producer from 2009 to 2014 was local playwright Caleb Marshall. He launched TNB New Voices Opening Acts, TNB Next Stage Studio Branch, TNB Extras Reading and Presents series. He produced over 50 projects while at TNB, saw the highest percentage of NB theatre artists on stage in the company's 48 year history, oversaw the purchase of its building and the completion of an in-house studio theatre. In 2015, Thomas Morgan Jones became Artistic Director. As of 2018, the AD is Natasha MacLellan.
Among the works presented at the Playhouse were operas by Mozart, Humperdinck and Britten, and plays by Shaw, Beckett, and Shakespeare under the direction of Malcolm Black. Janet Amos produced more Canadian works, and experimental international theatre on the smaller second stage. Canadian works include: David French's Leaving Home; Michael Cook's The Head, Guts and Sound Bone Dance; Norm Foster's The Melville Boys (which premiered at TNB) and Here on the Flight Path) (2005). In 2010, the Company produced The Bricklin: An Automotive Fantasy by Allen Cole and Paul Ledoux, directed by New Brunswick native Alisa Palmer. Norm Foster's Hilda's Yard (2012) was his eighth play to premiere at Theatre New Brunswick, opening fifteen years to the day since his last TNB world premiere. The 2014 season included The Net, A Tragedy of the Sea by Marcel-Romain Thériault, translated by Maureen Labonte and Don Hannah. Set against the backdrop of the 2003 Shippagan fishing riots, the tensions of a society and a precarious way of life play out in three generations of an Acadian family.
The 2015-16 season included Marion Bridge by Daniel MacIvor, and the premiere of Returning Fire by Ryan Griffith, which combined text messaging and live performance. Griffith was appointed playwright-in-residence in April 2016. His new work, Fortune of Wolves, an anthropological study of human nature set in a possible apocalypse opened in 2018 to critical acclaim.
In 2018, TNB celebrated its fiftieth anniversary. It has produced 225 plays, half of which have been Canadian.
website: www.tnb.nb.ca
Profile by Gaetan Charlebois and Anne Nothof.
Last updated 2021-12-14