Burke, Scott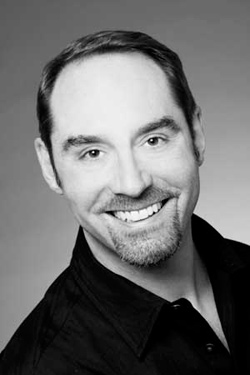 Scott Burke
Director, playwright and producer Scott Burke has a BA from the Dalhousie University Professional Actor Training Program (1981-84) and an MFA in Theatre Direction from Penn State University (1985-88).
From 2003 to 2005 he was the Artistic Director of Theatre New Brunswick, where he directed Oh, Coward!, Mary's Wedding, Chairmaker the Musical, Dear Santa and The Hobbit.
From 1998 to 2003, Scott was the Artistic Producer of the Ship's Company Theatre in Parrsboro, Nova Scotia, where he wrote and directed The Parrsboro Boxing Club (Robert E. Merritt Award Best New Play); and Chairmaker the Musical (five Merritt Award nominations including Best New Play, Best Director), about young love, growing up and growing old in the Nova Scotia village of Bass River in the 1940s. He also directed Maryís Wedding (Merritt Award winner for Best Production, Best Director, Best Lighting Design), The Last Tasmanian, Miles From Home, Sole Survivors, and Apple Tree Road. His tribute to a beloved Canadian television show, Singalong Jubilee -- the East Coast Sound Celebration -- set a new box office record.
Administratively Scott was responsible for the revitalization of Shipís Company Theatre and played a leading role in the conception and development of the New Theatre Facility. Scott was the editor of, and one of the contributing playwrights in Maiden Voyages: Shipís Company Theatre Premieres 2000Ė2002.
At Neptune Theatre Scott directed Kilt. Other directing credits encompass a wide variety of genres from Shakespeare to vaudeville revue, comedy troupes to new play development.
As a founding member of In Good Company, he was the dramaturg and director of God's Middle Name, winner of the 2007 Robert Merritt Award for Best Production and Best New Play. He was also the founding Artistic Director/General Manager of Harbinger Theatre in Toronto.
His first play, Crazy Quilt premiered at the Old Red Lion Theatre in London, England as part of the London New Play Festival in 1993. It dramatizes the harrowing ordeal of a family following the abduction of a child. Hero Today, which shows how two unemployed superheroes resort to employment counseling, premiered in 1993 at Alberta Theatre Projects. Scavengers (Victoria Playhouse, P.E.I. 1998) portrays the sibling rivalry that follows the reading of a motherís will, which results in a scavenger hunt for the money and family reconciliation. In summer 2013, Ship's Company Theatre premiered Diligent River Daughter, adapted from Parrsboro native Bruce Grahamís novel. The play opens on Parrsboro's main street, with the conflicted reaction of a young newspaper woman's response to the celebrations on the night the First World War ended. It then tracks back to her childhood, bringing back to life her memories of her beloved father, a community that has been changed irreparably by the war, and the history that has shaped her: The Titanic sinking, the Halifax Explosion, and the suffragette movement.
He is currently Executive Director of Kids Up Front Atlantic.
Last updated 2020-06-01