Alberta Theatre Projects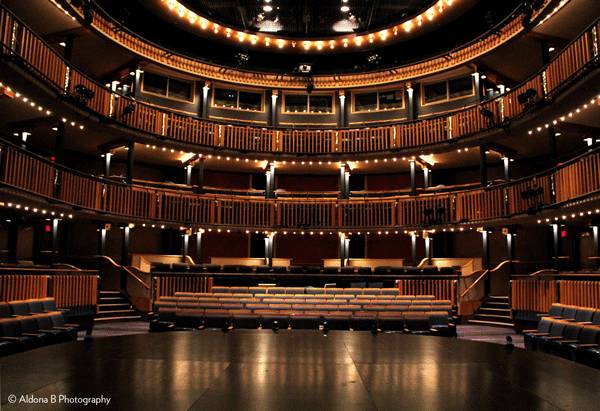 Martha Cohen Theatre
Theatre company in Calgary, Alberta, founded by Douglas Riske, Lucille Wagner and Paddy Campbell in 1972.
Launched with a Local Initiatives Grant, it was the first Alberta theatre to dedicate itself to the production of Canadian works, originally commissioning local plays based on historical themes for school-aged children performed in the tiny old Canmore Opera House in Heritage Park. The opening play was The History Show written by Paddy Campbell for children and adults. Campbell also created a musical comedy about the legendary Calgary journalist, Bob Edwards, called Hoarse Muse.
Financial exigencies in the 1975/76 season necessitated a wider mandate, although the focus was still on new Canadian works. The company moved from the 166-seat log cabin Canmore Opera House into the 465-seat Martha Cohen Theatre in 1985. A not-for-profit enterprise, it is funded through grants from three levels of government, ticket sales, private sector donors and has, since the 1980s been the recipient of some of the country's largest corporate sponsorships for its productions.
Since its inception, ATP has performed a wide range of Canadian works including Tom Hendry's Fifteen Miles of Broken Glass (1972); Carol Bolt's Cyclone Jacke (1972); W.O. Mitchell's The Devil's Instrument; as well as premieres of John Murrell's A Great Noise, A Great Light (1976), set in Calgary during Aberhart's rise to power; and Waiting for the Parade (1977), which has been remounted in many other Canadian theatres, including the Shaw Festival in 2004.
Sharon Pollock's The Wreck of the National Line Car and Generations (1981) also premiered at ATP, while she was playwright-in-residence, following Murrell's tenure.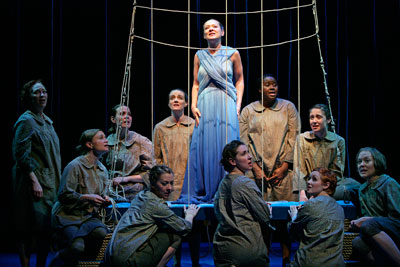 The Penelopiad
by Margaret Atwoood; dir. Vanessa Porteous; with
Meg Roe
as Penelope and
Denise Clarke
as Helen. Photo by Trudie Lee Photography.
Other notable productions of Canadian works include Goodnight Desdemona (Good Morning Juliet) (1998); Red Lips (2001) by Connie Gault; East of Berlin (2008) by Hannah Moscovitch; Half Life (2008) by John Mighton; Communion (2010) by Daniel MacIvor; The Penelopiad by Margaret Atwood (2010); Billy Twinkle: Requiem for a Golden Boy (2010) and Penny Plain (2011) by Ronnie Burkett; True Love Lies (2011) by Brad Fraser; Butcher by Nicolas Billon; Gracie by Joan MacLeod (2017); and Glory by Tracy Power (2018, in association with Western Canada Theatre Company).
From 1987 to 2013, ATP produced the playRites Festival each year, founded by D. Michael Dobbin as a featured performing arts event of the 1988 Olympics Arts Festival. Rebranded as The Enbridge PlayRites Festival, it presented four full-scale productions of new Canadian plays, several "platform performances" of plays in progress, and staged readings every winter, and was one of Canada's premiere annual arts events. The Festival launched such plays as Mary's Wedding by Stephen Massicotte; Unidentified Human Remains and the True Nature of Love by Brad Fraser (who was playwright-in-residence at ATP for a year); several plays by Eugene Stickland, who was playwright-in-residence for five years; new plays by Frank Moher and Conni Massing; and at least fifty other new works by Canadian playwrights and translators from across the country.
Dobbin was Producing Director/CEO of Alberta Theatre Projects from 1983-2000. Bob White was Artistic Director from 2000 to 2009. Vanessa Porteous, a long-time dramaturge at ATP and distinguished free-lance director, was appointed A.D from 2009 to 2017. Porteous saw Alberta Theatre Projects as "partly a gathering place and [partly] a showcase for the exciting work that Canadians are doing out there." She welcomed collaborations with other theatres, as well as encouraging new work from a diverse range of playwrights.
In 2018, Darcy Evans was appointed Executive and Artistic Director, with Dianne Goodman as Producer. For his first season, Evans programmed three Canadian works: The Wedding Party by Kristen Thomson; Old Stock: A Refugee Love Story by Hannah Moscovitch and Ben Caplan; and Cowgirl Up, a new play by Governor General's Award nominee Anna Chatterton about "the power of women and a heartfelt love letter to rodeo life," cancelled when the Covid-19 pandemic closed theatres across Canada. During this closure, Darcy Evan directed ATP's resources towards new play development, reviving the Playwrights Unit, and commissioning eight new works. Tragically, he died November 25, 2020 of cancer at the age of fifty. In his honour, ATP has set up the Darcy Evans Legacy Fund – which will "provide support and develop opportunities for future theatre artists and administrators."
In February, 2021, ATP announced the appointment of Haysam Kadri as Interim Artistic Director. A native Calgarian, Kadri spent six seasons with the Stratford Festival before returning to Alberta. He has led Calgary's The Shakespeare Company since 2012, and worked as a theatre instructor with Red Deer College, Mount Royal University, Ambrose University, and the University of Calgary.
website: www.atplive.com
Profile by Anne Nothof, Athabasca University
Last updated 2021-02-23