Goodnight Desdemona (Good Morning Juliet)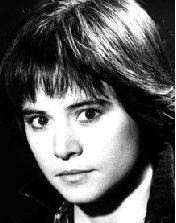 Ann-Marie MacDonald
Comedy in three acts by Ann-Marie MacDonald, premiered at Nightwood Theatre, 1988, directed by Banuta Rubess with set and costumes by Denyse Karn, lighting by Dorian Clark, and featuring Derek Boyes, Beverley Cooper, Diana Fajrajsl, Tania Jacobs and Martin Julien. In a revised version, it toured across Canada in 1990, with Kate Lynch as the anti-heroine, Constance Leadbelly, with set and costume design by Sue LePage.
It is the winner of a Governor Generalís Award and the Chalmers Award. The play has been produced over 40 times in Canada and abroad, and revived at Canadian Stage in April, 2001.
In her introduction to the published text, Banuta Rubess explains that the play began as a joke during a Nightwood tour of England in 1985 with This is For You, Anna, when Ann-Marie MacDonald crammed a pillow in her face "and with great hilarity pronounced: 'Goodnight, Desdemona'".
As imaginative a play as you are likely to find in the Canadian repertory, this tells of an academic who is trying to decipher an arcane text that may be the source for Shakespeare's Othello and Romeo and Juliet. In an Alice in Wonderland scenario, she falls through her garbage can into the worlds of the two works and "saves" the leading ladies (while being saved by them), and succeeds in mixing up everyone's identity (sexual and literary).
This is a funny, touching and incredibly smart play, without the smugness that normally accompanies the writing in such theatrical experiments. Even iambic pentameter is recruited and parodied for the dialogue.
Goodnight Desdemona (Good Morning, Juliet) is published by Coach House Press.
Commentary by Gaetan Charlebois. Additional information provided by Dena Smith.
Last updated 2020-07-17