Nightwood Theatre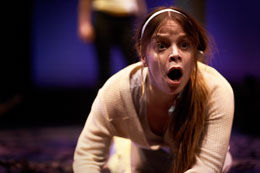 Wild Dogs: from the novel by *Helen Humphreys*. Arranged for the stage by *Anne Hardcastle*. Directed by *Kelly Thornton*. October 2008.
Photo of Taylor Trowbridge by Robert Popkin
Nightwood Theatre is Canada's oldest professional women's theatre company and has over 3000 members. It was formed 1979 by Cynthia Grant, Kim Renders, Mary Vingoe, and Maureen White, who had a vision for a different kind of theatre based on collaboration and a shared imagistic aesthetic. According to Mary Vingoe, feminism was not the primary reason for starting the company; it became a significant factor when they began to be identified as a group of four women running a theatre company. Now over forty years old, Nightwood is one of Canada's top operating theatres with respect to professional success, audience and financial growth. It is nationally recognized for the creation of original plays written and directed by women with different racial, national, gender, and social backgrounds.
Early notable plays include Goodnight Desdemona (Good Morning Juliet) by Ann-Marie MacDonald, Princess Pocahontas and the Blue Spots by Monique Mojica, and A Fertile Imagination by Susan Cole. In the last decade, plays developed and produced at Nightwood have received numerous awards. For example, Djanet Sears' Harlem Duet was the recipient of four Dora Mavor Moore Awards, a Chalmers Award, and a Governor General's Award. Random Acts by Diane Flacks went on to a Canadian tour and a CBC adaptation. Smudge, by Alex Bulmer, the first professional play written by a blind playwright, was a finalist for the Dora and Chalmers Awards, and toured across Canada. Nightwood also developed and premiered The Adventures of a Black Girl in Search of God by Djanet Sears, and Anything That Moves, an original chamber musical written by Ann-Marie MacDonald with then Artistic Director, Alisa Palmer, and composer Allen Cole. Both of these productions were nominated for six Dora nominations each in 2002. Also in 2012, Nightwood produced The Penelopiad by Margaret Atwood, starring Megan Follows (dir.Kelly Thornton), reprised in 2013 by popular demand.
In September, Nightwood premiered Between the Sheets by Jordi Mand (dir. Kelly Thornton), and starring Susan Coyne as a mother who confronts her son's grade 3 teacher over his special needs, and the teacher's relationship with her husband.
In January 2014, Nightwood presented the North American premiere of the British play Free Outgoing by Anupama Chandrasekhar at Factory Theatre. "A young girl is filmed during a sexual indiscretion, and the clip spreads like a virus. Free Outgoing sets rampant technology against the conservatism of traditional India and asks the question: how can we protect our girls in the digital age?" (Nightwood website). The play starred Anusree Roy and was directed by Kelly Thornton.
In April 2016, Nightwood presented Refuge by Mary Vingoe (dir. Thornton), which addresses the fraught complexity of Canada's refugee system through the very different responses to the arrival of an Eritrean soldier claiming asylum in Halifax. Mouthpiece, created and performed by Norah Sadava and Amy Nostbakken, directed and composed by Amy Nostbakken, opened at Buddies in Bad Times in October 2016. A two-woman performance piece about mothers and daughters, it considers the ways in which women are defined by society and by themselves.
Unholy by Diane Flacks (dir. Kelly Thornton 2017) poses the question: "'Should women abandon religion?' Four female panellists face off in a wild, whip-smart public debate about religion and misogyny. With opinions flying from a progressive Muslim lawyer, an Orthodox Jewish spiritual leader, an excommunicated nun, and a lesbian atheist pundit, Unholy delivers a hilarious, no-holds-barred look at contemporary women in organized religion" (Nightwood website). Lo (or Dear Mr. Wells by Rose Napoli opened in 2017 at Crow's Theatre (dir. Andrea Donaldson).
Nightwood holds an annual play development program, Groundswell, and from 1998 an annual playwriting initiative for women aged 18 to 25, entitled "Write from the Hip," a series of weekly workshops and seminars in writing skills and professional play development. Each short work is presented as a staged reading on the final night of Groundswell.
Although Nightwood Theatre has moved away from its origins in collective theatre, and assumed a more conventional theatre organization, it "retains its collective spirit in the sense that it strives to be inclusive and accessible, and continues to be part of a long tradition of political theatre in Canada" (Scott 204), and also remains as a strong advocate of the development of feminist theatre. The Artistic Director was Kelly Thornton until May 2019. The current AD is Andrea Donaldson, who ran "Write from the Hip" since 2014. She aspires to making Nightwood Canada's national feminist company and to creating more relationships across the country.
Information provided by Alisa Palmer, the Nightwood Theatre website, and from Shelley Scott, "Collective Creation and the Changing Mandate of Nightwood Theatre," Theatre Research in Canada 18.2 (Fall 1997): 191-207.
Additional Source: "Nightwood Theatre: Notes from the Front Lines," Canadian Theatre Review 43 (Summer 1985): 44-51.
website: www.nightwoodtheatre.net
Profile by Anne Nothof, Athabasca University
Last updated 2021-07-09