Follows, Megan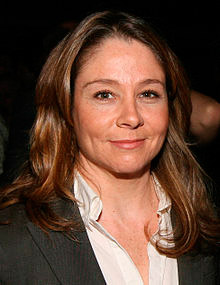 Megan Follows
Actor of stage, screen and television, born in Toronto, Ontario, March 14, 1968, the daughter of actors Ted Follows and Dawn Greenhalgh. She gained considerable popularity in Canada and abroad for her portrayal of the title role in the CBC mini-series Anne of Green Gables and its sequels.
Her first stage role was in The Effect of Gamma Rays on Man-in-the-Moon Marigolds for Young People's Theatre. in 1988, appearing with her mother and her sister Samantha. In 1994, she appeared in the title role of the Stratford Festival production of Romeo and Juliet with Antoni Cimolino as Romeo (directed by Richard Monette). She performed Juliet again in the Los Angeles Shakespeare Festival production. She has also played in A Doll's House (Atlantic Theatre Festival, 1996); 7 Lears (Necessary Angel); Othello (Citadel Theatre and National Arts Centre); Uncle Vanya (Atlantic Theatre Festival, 1997); and Hay Fever with her entire family, directed by her father.
For Soulpepper Theatre Company, she has performed to critical acclaim in an impressive variety of roles: In 2005, she played the leading role of May in Fool for Love by Sam Shepard. In 2006, she played Annie in Tom Stoppard's The Real Thing. In 2007, she played the role of Marlene in an outstanding production of Caryl Churchill's Top Girls, with a stellar cast including Ann-Marie MacDonald (dir. Alisa Palmer), and Chekhov's Three Sisters. For Soulpepper's 2008 season, she appeared in two productions: Marsha Norman's 'Night, Mother with her mother, Dawn Greenhalgh (dir. Alisa Palmer); and a remount of Top Girls.
In 2010, she appeared in the Mirvish Productions' revival of Caryl Churchill's Cloud 9 (dir. Alisa Palmer), again with Ann-Marie MacDonald. In 2011, she starred in the Canadian premiere of Melissa James Gibson's This at the Vancouver Playhouse (dir. Amiel Gladstone). In 2012, she excelled in the lead role of Penelope in Nightwood Theatre's production of The Penelopiad by Margaret Atwood (Buddies in Bad Times), reprised in 2013 by popular demand.
In October 2018, she was awarded a Stratford Festival Legacy Award for her contributions to Canadian theatre.
She has two daughters, and lives in Toronto and Los Angeles.
Profile by Anne Nothof, Athabasca University
Last updated 2018-10-08