Buddies in Bad Times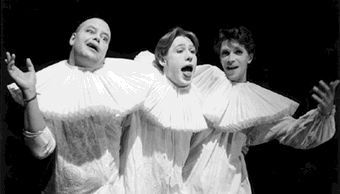 1995 Buddies in Bad Times production of
Sky Gilbert
's
Ten Ruminations on an Elegy
with (l-r) the author, Gavin Crawford, Patrick Connor
Alternative and experimental theatre company in Toronto, Ontario, which develops and produces inclusive queer theatre.
Founded in 1979 by outspoken gay playwright/actor/director Sky Gilbert, Matt Walsh and Gerard Ciccoritti, the Company played at venues around the city until it joined a co-op of other arts groups at The Theatre Centre.
The Company was built on the belief that there is a gay and lesbian culture and, at the beginning, many of its productions posited this. More recently, the Company has also presented feminist theatre works, and plays that have an aesthetic quality that could be called gay or lesbian. Virtually all of Sky Gilbert's plays premiered here.
Buddies has sponsored festivals including the Rhubarb Festival and, from 1985-87, the Four-Play Festival of feminist, gay and lesbian plays.
It is now North America's largest gay, lesbian, and transgender theatre, and since 1994 has its own venue of two playing spaces: "The Big House" and a cabaret space. Buddies is a non-profit company which receives its funding from ticket sales and government subsidy. The Company posted a $54,691 surplus in 2007, which was a year of continued growth for Canada's premier queer cultural institution.
Its growth has not come without controversy. A battle erupted in 1993 at hearings for a municipal grant for the Company, with individuals screaming abuse from the gallery. In 2013, it lost funding from the Department of Canadian Heritage for its Rhubarb Festival.
Among productions presented there are Sonja Mills's Dyke City; Gilbert's Jim Dandy; The Martha Stewart Projects (by 50 artists); Michel Marc Bouchard's Orphan Muses and Tom at the Farm; RM Vaughan's camera, woman; and The Attic, the Pearls and 3 Fine Girls by Ann-Marie MacDonald, Leah Cherniak, Martha Ross et al. In 2001, Damien Atkins's Real Live Girl proved to be an enormous success for the Company. Most of Daniel MacIvor's works have played at Buddies, including In-on-It, Cul-de-Sac, A Beautiful View, Monster and House.
Buddies has also participated in many co-productions, particularly with Nightwood Theatre (Kelly Thornton's Peep Show), and Native Earth Performing Arts (Marie Clements' The Unnatural and Accidental Women).
In 2005, Buddies launched "Hysteria: A Festival of Women", showcasing multidisciplinary works by women; and in 2007 the Company announced plans to address gender inequity through its mainstage programming of projects initiated by women creators.
Founding Artistic Director Sky Gilbert was followed by Sarah Stanley in 1997, and David Oiye in 1999. In 2009 Brendan Healy became Artistic Director. His production of Sarah Kane's Blasted won five Dora Mavor Moore Awards in 2011: for direction, outstanding production, set design, lighting, and sound.
In July 2015, Evalyn Parry was appointed as Artistic Director, the second female A.D. in the Company's history. She resigned in September 2020. During her tenure, she mounted her work Gertrude and Alice (co-created with Anna Chatterton and Karin Randoja); and award winning Kiinalik: These Sharp Tools (co-created with Inuk artist Laakkuluk Williamson Bathory, in a co-production with Theatre Passe Muraille), which toured nationally, and to the Edinburgh International Festival and Cervantino Festival in Mexico. As a director, Parry led the mainstage production The Youth/Elders Project (co-directed with Vanessa Dunn and Leelee Davis).
Profile by Gaetan Charlebois and Anne Nothof.
Website: www.buddiesinbadtimes.com
Last updated 2020-08-28