Native Earth Performing Arts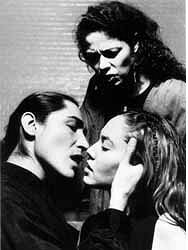 Joyce B. Joe's Ravens, produced by Native Earth, 1996, directed by Gary Farmer with Sandra Laronde (top), Bill Merasty and Christie O'Leary
Production company in Toronto, Ontario, founded in 1982 by Denis Lacroix and Bunny Sicard and an interim board of directors to develop and present Indigenous theatre, dance, and music. The company was based in the Native Canadian Centre. The first works were collective creations, written and performed by actors, including Jim Compton, Ron Cook, Gary Farmer, Rosa John, Makka Kleist, Denis Lacroix, Doris Linklater, Billy Merasty, Monique Mojica, and Maariu Olsen. The first show, Double Take/A Second Look, was created in collaboration with Spiderwoman Theatre of New York, an Indigenous feminist group, and Tukak Theatret, a Danish theatre comprised primarily of Greenland Inuit, with musical direction by Tomson Highway. It examined prevalent myths about Indigenous women, gays, and Inuit in a series of short scenes.
In 1984, Highway, Kleist, Linklater and Mojica organized a workshop to explore possibilities for restoring the First Nations' trickster to the theatre, through mask and clowning techniques. In 1985, NEPA produced Trickster's Cabaret, directed by Richard Pochinko, and performed by Mojica, Merasty, Kleist, and Farmer, each performer having developed a different trickster figure.
In 1986 Native Earth secured government funding, which provided a degree of stability, and allowed for the programming of a season. The company relocated to its own office, and hired its first full-time staff, including Tomson Highway as Artistic Director. Its goals were:
To provide a base for professional Native performers, writers, technicians, and other artists.
To encourage the use of theatre as a form of communication within the Native community, including the use of Native language.
To communicate to audiences the experience that are unique to Native peoples in contemporary society.
To contribute to the further development of theatre in Canada.
Also in 1986, NEPA presented its first scripted work: Tomson Highway's The Rez Sisters. It was a breakaway hit, attracting large audiences, touring across Canada, and invited to the Edinburgh Theatre Festival. It won both the Dora Mavor Moore Award and the Chalmers Award.
The second production for the 1986 season was Aria, a one-woman show written by Tomson Highway for Makka Kleist, which explored the nature of Indigenous womanhood. The first production of the 1987-88 season was New Song... New Dance, a multimedia modern dance production conceived and enacted by Tomson and his brother Rene, a choreographer and dancer.
NEPA also produced Daniel David Moses' Coyote City in 1988, which was developed while Moses was playwright-in-residence at Native Earth. The 1988-89 season included The Sage, the Dancer, and the Fool, created by Tomson and Rene Highway and Billy Merasty, and incorporating music, poetry in Cree and English, modern and Cree traditional dance, and European clown techniques. Highway's Dry Lips Oughta Move to Kapuskasing (1989) was co-produced with Theatre Passe Muraille on the TPM's main stage, and directed by Larry Lewis. The production was the hit of the Toronto season, although it aroused considerable controversy in the Indigenous community in respect to its portrayal of violence against women. It was nominated for six Dora Mavor Moore Awards, and won four, including best new play, best production, most outstanding male performance (Graham Greene), and most outstanding female performance is a supporting role (Doris Linklater).
In 1989 the company created a new annual play festival, "Weesageechak Begins to Dance," developing works which often went on to full production the following year. ("Weesageechak" is the Cree word for "trickster.") John McLeod's Diary of a Crazy Boy was developed though this process. Margo Kane's one-woman play, Moonlodge (1990), was directed by Floyd Favel. It depicts the personal odyssey of a Metis woman, and has toured across Canada. The 1991-92 season included Almighty Voice and his Wife by Daniel David Moses, which had premiered at Great Canadian Theatre Company in Ottawa.
Many of Drew Hayden Taylor's plays were workshopped and produced at NEPA: The Bootlegger Blues(1990), Someday(1994), The Baby Blues (1995), Only Drunks and Children Tell the Truth (1996).
In 1997 Sixty Below by Leonard Linklater and Patti Flather premiered at the Native Canadian Centre in Toronto. It was nominated for seven Dora Mavor Moore Awards in the small theatre division, including outstanding new play and outstanding production.
In the fall of 2003, the "Weesageechak" Festival presented Stalker by Dawn Dumont, Cousins by Ryan McMahon, The Place Between by Lisa C. Ravensbergen and Michelle Olson, On the Road to Freedom by Jani Lauzon, Stretching Hide by Darrell Racine and Dale Lakevold, Red Mother by Muriel Miguel, Is There Bingo in Heaven? by Penny Gummerson. The 2003/04 season also included a new multi-media play by Alanis King -- The Artshow, directed by Paul Thompson.
In 2013, the Gwaandak Theatre production of Café Daughter, a one-woman show by Kenneth T. Williams was produced by Native Earth. Cliff Cardinal (the son of Tantoo Cardinal) performed his solo show, Huff, about a troubled youth on the Rez, at Native Earth in 2015, to open its 33rd season and to launch a nine-city national tour. In 2020, This is How We Got Here by Keith Barker won a Dora Mavor Moore Award for outstanding play by an independent company. Kevin Loring's Where the Blood Mixes was co-produced with Soulpepper Theatre Company in 2022, with Craig Lauzone as Mooch, and Sheldon Elter as Floyd (dir. Jani Lauzon).
Past NEPA Artistic Directors include Dennis Lacroix and Bunny Sicard (1982-1983), Monique Mojica (1983-1986), Tomson Highway (1986- 1992), Floyd Favel (1992-1994), Drew Hayden Taylor (1994-1997), Pamela A. Matthews (Interim 1997-1998). From 1998 to 2000 there was an Artistic Directorate (Alejandro Ronceria, Sandra Laronde and Daniel David Moses). Alanis King was Artistic Director from 2000 to 2002, Doris Peltier, Glenn Shea, and Marion De Vries (Interim) in 2002. Yvette Nolan was AD from 2002 to 2010. From 2011-2013, Tara Beagan was AD, followed by Ryan Cunningham. In May 2017, Native Earth Performing Arts appointed Keith Barker, acclaimed Métis theatre artist as the new Artistic Director. In 2022, Joelle Peters was appointed Interim AD.
Native Earth's permanent theatre, Aki Studio, is located on Dundas Street in Toronto.
The company's archives are at the L.W. Conolly Theatre Archives of the University of Guelph, Ontario.
website: www.nativeearth.ca
Sources: Jennifer Preston, "Weesageechak Begins to Dance: Native Earth Performing Arts Inc." The Drama Review 36.1 (Spring 1992).
Nina Lee Aquino, former Interim Theatre Administrator and Marketing and Development Coordinator, Native Earth Performing Arts.
Profile by Anne Nothof, Athabasca University
Last updated 2022-06-06