Soulpepper Theatre Company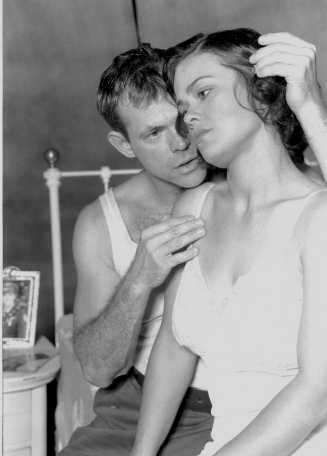 Toronto, Ontario, company founded as an actors' theatre in 1997. Its founding members were Martha Burns, Susan Coyne, Ted Dykstra, Michael Hanrahan, Stuart Hughes, Diana Leblanc, Diego Metamoros, Nancy Palk, Albert Schultz (Artistic Director for twenty years), William Webster and Joseph Ziegler. Many of its founding members worked together at the Stratford Festival Young Company in the late 1980's under the mentorship of Robin Phillips. Several of the company members also direct productions.
Soulpepper Theatre is a repertory company with a three-tiered mandate: to present history's great stories in vital Canadian interpretations; to train the next generation of theatre artists; and to enrich and inspire young people through mentorship and access. It is also committed to developing emerging Canadian talent, and instruction and workshops are given throughout the season aimed at a variety of disciplines including design, directing and acting. In June 2006 it launched the Soulpepper Academy, a revolutionary two-year theatre-training program for mid-career artists, who will be paid for the duration. The program offers a unique combination of studio training, academic study and applied knowledge-apprenticeship training with the Soulpepper main stage company. Applicants are required to have a minimum of four years experience in a professional theatre company. In 2021, the Academy was relaunched after a hiatus necessitated by the Covid-19 pandemic, with a focus on future readiness and ensemble theatre making with an inclusive lens.
Soulpepper was initially focused on the production of "classic" international plays. In its first season in 1998 at Harbourfront Centre, it presented Schiller's Don Carlos (starring Brent Carver), and a modern reading of Molière's The Misanthrope (starring Schultz), both directed by Robin Phillips to generally positive reviews. In its second season it presented Williams' A Streetcar Names Desire (1999), and toured the production to the Saidye Bronfman Centre; Wilder's Our Town; Chekhov's Platonov; Beckett's Endgame; and Molnar's The Play's The Thing. The Company became the centre of a controversy when the nominations for the 1998-99 Dora Awards were announced and the company had been shut out.
Its 2000 season included a co-production, with Ed Mirvish and David Mirvish of A Flea in Her Ear and The Mill on the Floss at duMaurier World Stage Festival. In June, 2000 the company's production of Endgame won several Dora Awards. In 2001 the production of Platonov received two Doras. Its 2004 production of Waiting for Godot cast the octogenarian William Hutt as Vladimir. For the production of David French's Leaving Home (dir. Ted Dykstra), Jane Spidell was awarded a Dora for Outstanding Performance in a Featured Role.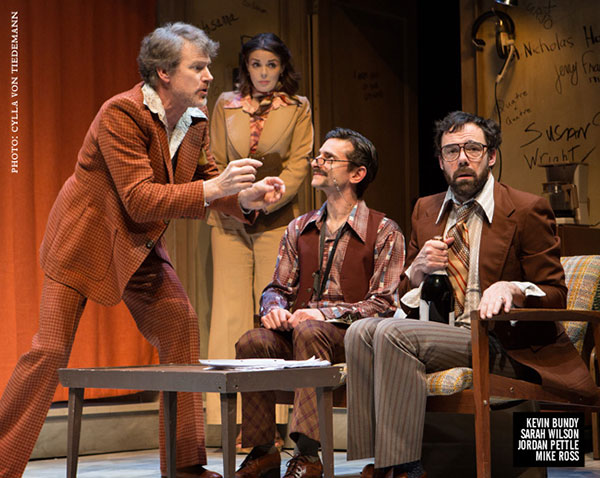 Jitters by David French with l to r: Kevin Bundy, Sarah Wilson, Jordon Pettle, Mike Ross. Photo by Cylla Von Tiedemann.
Soulpepper continued to feature the neglected works of important Canadian plays, including productions of David French's Salt-Water Moon (2008), Of the Fields, Lately, and Jitters; John Gray's Billy Bishop Goes to War (with the original cast of John Gray and Eric Peterson (2009 and 2011, dir. Ted Dykstra); John Murrell's Waiting for the Parade (2010, dir. Joseph Ziegler); and Sharon Pollock's Doc (2010, dir. Diana Leblanc, with RH Thomson as Doc and Jane Spidell as his wife Bob). In 2011, it remounted Fronteras Americanas by Guillermo Verdecchia, with Verdecchia again playing himself. For the 2014 season, it produced Glenn by David S. Young, and Trudeau and the FLQ from Michael Hollingsworth's historical epic series, The Global Village in a co-production with VideoCabaret. In September 2015, Soulpepper produced Michel Tremblay's Yours Forever, Marie-Lou (dir. Diana Leblanc). Almighty Voice< by Daniel David Moses was the first work by an Indigenous playwright to be produced at Soulpepper (2019, dir. Jani Lauzon).
Soulpepper has also mounted productions of new Canadian works, including Kim's Convenience by Ins Choi (2012), which shows how a Korean family, including a patriarchal father with traditional values, a disgraced son, and a spirited independent daughter, adjust to life in Toronto while working in a local convenience store that serves a series of eclectic customers. The play was the most financially successful production in Soulpepper's history, and in 2013/14 toured to six Canadian cities. It has been remounted at Soulpepper, and became the basis for a long-running CBC TV series (2016-21).
In 2014, Soulpepper premiered an adaptation of Somerset Maugham's Of Human Bondage by Vern Thiessen, and Borne, a new work by Judith Thompson in a co-production with the RARE Theatre Company. In 2015, Soulpepper produced Happy Place by Winnipeg playwright and actor Pamela Mala Sinha, which chronicles the lives of six women hospitalized for depression.
Soulpepper announced a major playwriting initiative in 2016, called Project imagiNation, commissioning at least thirty theatre artists or theatre companies across the country to develop new works that "reimagine or represent" Canada – or rework a classic from a Canadian angle (J.Kelly Nestruck, Globe and Mail 21 April 2016). Ravi Jain and Alan Dilworth assumed three-year positions as Associate Artistic Directors.
The Company made its US debut in New York with a festival of new plays and musicals in the summer of 2017, from June 29 to July 29 -- the the largest assemblage of Canadian artists in America during Canada's sesquicentennial celebration. Titled Soulpepper on 42nd Street: Canada Crosses the Border, the festival played at the Pershing Square Signature Center, with a budget of $3 million. Included in the lineup were: Ins Choi's Kim's Convenience; Vern Thiessen and Albert Schultz's stage adaptation of Of Human Bondage; Spoon River, an original musical based on the Spoon River Anthology by poet Edgar Lee Masters; Ravi Jain's A Brimful of Asha; Soulpepper's collective creation, (Re)Birth: E. E. Cummings In Song; and the adaptation of Dennis Lee's book of poems, Alligator Pie. Schultz pronounced the festival a major success, enjoying critical acclaim and good box office, and attracting the attention of theatre producers.
On January 4 2018, the Soulpepper Board announced that Alan Dilworth would serve as Acting Artistic Director, after the resignation of Albert Schultz, who was accused of harassment during his tenure. As of January 2019, actor and director Weyni Mengesha is the Artistic Director, with Emma Stenning as Executive Director until her resignation in 2021.
Soulpepper had exercised its recent commitment to diversity in productions, directors, and actors. In 2019, The Brothers Size, an American play by Tarell Alvin McCraney, set in the South, but based on a Yoruba (Nigerian) myth was critically acclaimed, and received five Dora Mavor Moore Awards. The production was directed by Mumbi Tindyebwa Otu, the current Artistic Director of Obsidian Theatre Company. In 2021, when the Covid-19 pandemic closed theatres across Canada and around the world, Soulpepper launched an on-line festival of new works, titled "Around the World in 80 Plays," including The Parliament of the Birds, freely adapted from the allegorical poems of Persian Sufi poet Farid al-Din Attar by Guillermo Verdecchia (dir. Soheil Parsa, with Jani Lauzon as the Hoopoe bird).
Soulpepper Theatre is located in the restored Distillery Historic District in the Young Centre for the Performing Arts. It launched its first winter season in January 2006, expanding to a nine-show, year-round schedule. In 2015, it had the highest audience attendance of any not-for-profit theatre company in Toronto (95,912), with a budget of $9.9-million. It employs 225 artists and 58 staff members.
Website: www.soulpepper.ca
Profile by Anne Nothof, Athabasca University
Last updated 2021-10-26