Saidye Bronfman Centre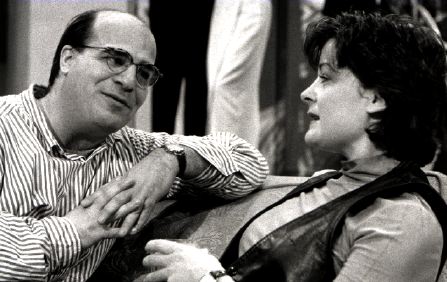 Harry Standjofski
and Julie Burroughs in the Saidye Bronfman Centre production of Woody Allen's
Play It Again, Sam
, 1996, directed by Dean Fleming and produced by
Joe Maalouf
. Photo by Lydia Pawelak.
Arts centre in Montreal, Quebec, founded by the Young Men's-Women's Hebrew Association with funding from the Bronfman family, and opened in September of 1967 as a gift to the Jewish community from philanthropist Samuel Bronfman in honour of his wife's 70th birthday. Designed by Phyllis (Bronfman) Lambert it was built at a cost of one million dollars and housed galleries, studios and a 230-seat theatre.
The theatre company's first artistic director was Marion André who saw the primary concern of the house to be socio-political relevance. His 1970 production of Ibsen's A Doll's House, for example, had Nora as a French-Canadian Catholic wife to a rich Protestant businessman. The early emphasis was on contemporary works by Brecht, Orton, and Fugard.
André's seasons were thematic and his 1971-72 season was to be about the Holocaust. The third play, Robert Shaw's The Man in the Glass Booth, was scheduled to open February 28. A local Holocaust survivors' group was asked to sponsor the production, but after reading the piece and seeing a rehearsal demanded the production's cancellation. (The devilishly ambiguous work uses a war-crimes trial to examine the dangers of racism and guilt.) After backs and forths by the company's board, days before the opening the show was cancelled. André resigned but was convinced to stay on. The ongoing debate not only focussed on censorship but also the place of theatre in the Centre. Subscriptions went from 2,000 to 200. André did leave the following season and was replaced by Nahum Ravel and Muriel Gold in 1972.
The productions became slightly lighter but not without interest, including works in both English and French. Gold convinced a recalcitrant Michel Tremblay to let his plays be performed in English in Montreal. Subscriptions went up to 4,000. In 1973, Gold invited Dora Wasserman's Yiddish Theatre to come to the SBC where it is to this day. Various experiments--some successful and many not--were attempted at the house including the concept of second-stage productions of more alternative works.
Despite the critical successes achieved by A.D. Per Brask (1980-82), the theatre's fortunes continued to wane, and the deficit to increase, and 1982, the professional company was closed down. The theatre then served as a road house for touring and local companies, including Encore Theatre.
After extensive renovations and expansion to 306 seats, the SBC theatre re-opened in 1987 with a commitment to produce Jewish and Quebec plays, but no resident company. With many changes in artistic directorship, the theatre had little focus. It signed co-production deals including with Snapshot Productions that at times appeared astute though perhaps too business minded, and at times ill-advised.
For the 1996-97 season, Joe Maalouf co-produced a series of three works geared towards a much more conservative (but larger) subscriber base than existed at the company in its frenetic heyday. Nathalie Bonjour served as artistic director followed, in 1998, by Bryna Wasserman (daughter of Dora Wasserman). Bryna Wasserman instituted a series of exciting initiatives for her 1999-2000 season, including bringing in Soulpepper Theatre Company, housing Bill Glassco's new Montreal Young Company at the Centre, and co-producing with Winnipeg Jewish Theatre.
Like all mainstream anglo-Quebec houses, the SBC has suffered funding problems and the perpetual problems of political uncertainty and dwindling audience base.
In 2007 the Saidye Bronfman Centre disassociated itself from the YM-YWHA, and was reconfigured as a multi-purpose performance and education arts centre, with more emphasis on education, community outreach, and support for small, independent theatre companies. In acknowledgement of the financial support of Leanore and Alvin Segal in partnership with the Bronfman family, it was renamed the Segal Centre for Performing Arts. It comprises the Segal Theatre, a multi-purpose performance venue housing an English-language company; the Studio, a smaller multi-purpose venue with 186 seats; the Academy, providing educational resources, workshops, and courses in theatre production and music; CinemaSpace and ArtLounge, a high-definition, digital screening room; and the Yiddish Theatre.
The Segal Theatre's first production was The Diary of Anne Frank (2007), followed by An Enemy of the People. Kristen Thomson's I Claudia played in the Studio space in 2008, and the Yiddish Theatre presented The Wise Men of Cheim by Dora Wasserman and composer Eli Rubenstein.
Website: www.segalcentre.org
Profile by Gaetan Charlebois and Anne Nothof
Last updated 2015-10-01