Standjofski, Harry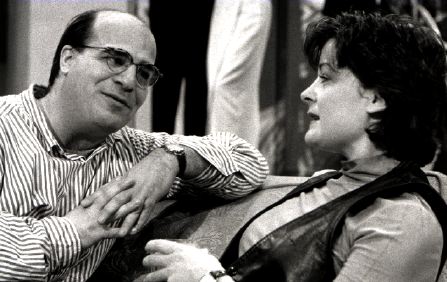 Harry Standjofski with Julie Burroughs in the
Saidye Bronfman Centre
production of Woody Allen's
Play It Again, Sam
, 1996, directed by Dean Fleming, produced by
Joe Maalouf
(photo: Lydia Pawelak)
Quebec-based character actor/voice actor/playwright/director/teacher, born in 1959 in Montreal, who has worked in French and English in film, television and on stage.
Harry Standjofski graduated from Concordia University in 1982, and became playwright-in-residence at Centaur Theatre in 1986.
His plays Anton (1991) and no cycle (1987) were published by NuAge in 1992 under the title Urban Myths (1992). His one-act play, jennydog was produced by Renegade Theatre in 2004, and won two MECCAs. Here & There premiered in Montreal in January 2005, and was nominated for a Masques Award for English language production. The Last Week, co-written with Simon Sachs was produced at ASM at the Mainline Theatre in April 2006.
He has directed plays in most of Quebec's anglophone companies, including Centaur Theatre (Plato's Symposium, Caucasian Chalk Circle, Guys and Dolls, Vittorio Rossi's The Chain, From the Main to Mainstreet, Broadway Bound, A Gone With the Wind Twelfth Night, and Freeze in January 2002). For Imago, he directed I>Incandescent. He directed his own plays, Dick and no cycle, and Pericles for APA. He has also directed at Piggery Theatre (Run for Your Wife); as well as at the National Arts Centre (Map of the World). In 1997, Standjofski directed Silly Cow for the Just for Laughs. He is also co-founder and co-artistic director of Montreal's POV Theatre.
In May 2000, Standjofski appeared in the Teesri Duniya Theatre production of Reading Hebron (by Jason Sherman, directed by Wajdi Mouawad); for his performance he won the Montreal English Critics Circle Award for best actor. In May, 2001, he appeared in Centaur's production of Jean-Marc Dalpé's Trick or Treat ; and in 2017, in Clybourne Park at Centaur.
Standjofski is an inspired comic actor and clown and a favourite of audiences.
He has been teaching acting, playwrighting and script analysis part-time at Concordia University since 1986.
Profile by Gaetan Charlebois
Last updated 2020-12-14