National Arts Centre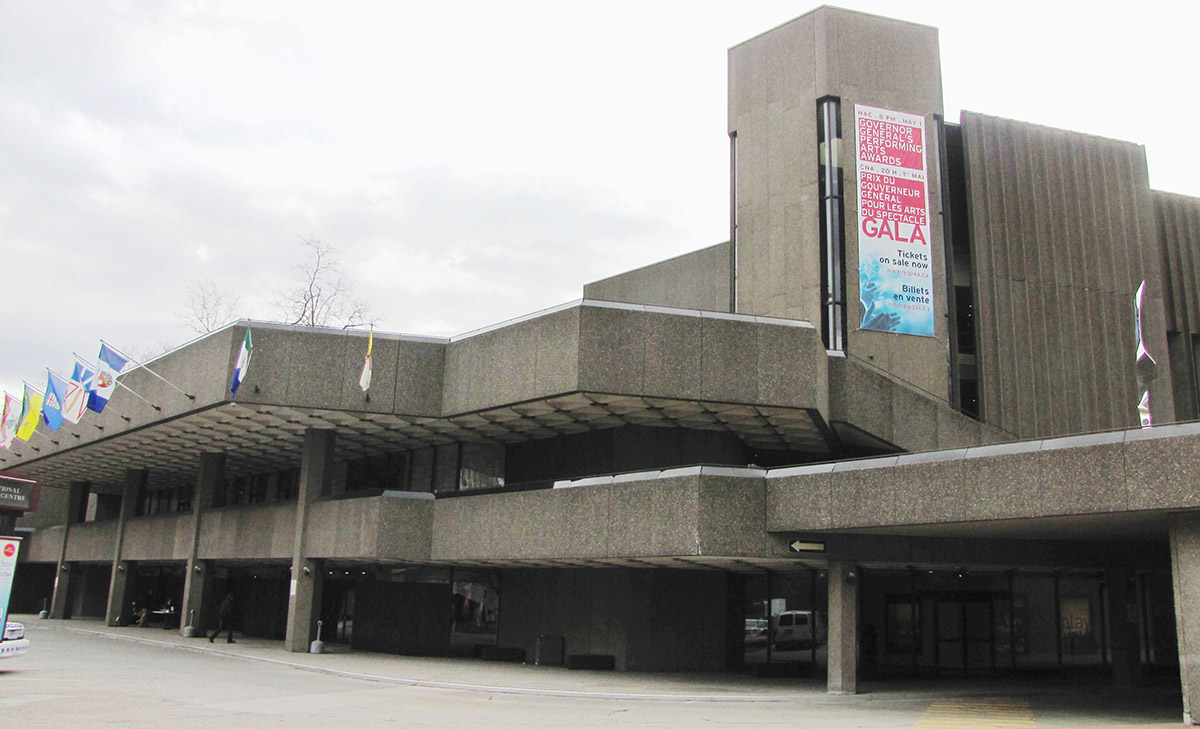 National Arts Centre
A music and theatre complex in Ottawa, Ontario designed in the "Brutalist" style by Affleck, Desbarets, Dimakopoulos, and Lebensold, Sise of Montreal, and completed in 1969 at a cost of $46 million. It houses four stages: Southam Hall (2323 seats), Theatre (897 seats), Studio (300 seats), and Fourth Stage (150 seats). Between 2016-2018, it was extensively renovated to be more open to the public, with the addition of wrap-around windows, and the Kipnes Lantern, designed by Alexandre Gazalé.
The NAC was built to act as a showcase of the best of the country's live arts, including theatre. Its mandate was to develop the performing arts in the Ottawa region, and to assist the Canada Council in the development of performing arts across Canada. However, because of a lack of a consistent policy and underfunding by government, it has struggled to enact this mandate. Since its founding, the NAC has had a variety of administrative structures, and resident theatre companies.
Jean Roberts directed Anglophone theatre activities at the NAC from 1971-77. Productions came from all over the country (Stratford Festival, Neptune Theatre, Tarragon Theatre among many others) with some innovative made-at-the-NAC productions (a large-scale remount of John Coulter's Riel, directed by Jean Gascon). Gascon took over theatre operations in 1977 and John Wood became head of English Theatre. The Anglophone company at last formed a troupe and performed John Murrell's Waiting for the Parade, Tennessee Williams' Camino Real and works by Shakespeare among others. During Wood's artistic directorship, the company's Atelier (an off-site warehouse space) provided a training space for the Acting Company.
Gascon and Wood were replaced by Andis Celms (1984-1996; d. Dec. 2005) who lead the company through some difficult times, though the English troupe was disbanded. During his tenure, the Atelier became a development space for new Canadian playwrights and young Canadian artists under the leadership of Gil Osborne, Artistic Associate. In 1996 the company was put under review and Brian MacDonald was brought in as artistic advisor for the entire theatre program (French and English) until 1998, with Gil Osborne as Artistic Director of English theatre from 1996-97.
Attendance and subscriptions have steadily climbed since 1997 when Marti Maraden was appointed Artistic Director of the English company. Peter Hinton was Artistic Director of the English-language theatre from 2005 to 2012. Jillian Keiley was AD until August 2022, who has promoted and produced plays from theatre companies across Canada under "The Collaborations" program. Her final 2022-23 season was in collaboration with Black Theatre Workshop.
Productions of Canadian plays which have been staged in English at the NAC include Thirteen Hands by Carol Shields; Elsinore by Robert Lepage; High Life by Lee MacDougall; The Drawer Boy (2001/02) by Michael Healey; a world premiere of After the Orchard by Jason Sherman (2005, dir. Marti Maraden); The Donnellys: Sticks and Stones by James Reaney in a co-production with the Stratford Festival; Red Sky Productions' Cariboo Song by Tomson Highway and Raven Stole the Sun by Drew Hayden Taylor; Earshot by Morris Panych in a co-production with Crow's Theatre, Toronto (2006); Copper Thunderbird by Marie Clements (2007); Vimy by Vern Thiessen (dir. Linda Moore in a co-production with Great Canadian Theatre Company); Salt-Water Moon (2011) by David French (dir. Micheline Chevrier). Under the direction of Hinton, the NAC also co-produced an Indigenous version of King Lear with Native Earth Performing Arts (2012). Set in Canada in 1608, it featured August Schellenberg as Lear, with Tantoo Cardinal as Regan, Jani Lauzon as Cordelia, Lorne Cardinal as Albany, and Craig Lauzon as Kent. The 2012-13 season included Sanctuary Song by Marjorie Chan and Abigail Richardson-Schulte. In 2017, NAC hosted Children of God by Corey Payette, a co-production of urban ink productions and Raven Theatre -- a musical which recounts the trauma of the residential school system.
The French company of the NAC has prospered under artistic directors Jean Herbiet, André Brassard, Robert Lepage, Denis Marleau (appointed 2000), Wajdi Mouawad (appointed 2008), and Brigitte Haentjens (2012). Director, playwright and actor Mani Soleymanlou was appointed AD in 2021. The French company has made a policy of co-producing with Quebec companies to keep costs down. For the 2005/06 season, it featured two plays by Quebec writer Normand Chaurette: Les Reines, directed by Denis Marleau, and La Société de Métis, directed by Joël Beddows, then the Artistic Director of Ottawa's Théâtre Catapulte.
The NAC has also co-hosted the Magnetic North Theatre Festival in June 2003, 2005, 2007, 2009, and 2011, presenting diverse plays from across Canada.
In 2016, NAC announced the creation of a new Department of Indigenous Theatre, under the artistic direction of Kevin Loring, who reached out to First Nations performing groups across the country. In March 2019, funding for the department was cancelled, but the 2019/20 season featured eleven productions in ten Indigenous languages, nine of which are written and created by women, including The Unnatural and Accidental Women by Marie Clements. It also featured Kevin Loring's Where the Blood Mixes in French and English. In 2020, when the Covid-19 pandemic closed theatre across Canada, the NAC supported the production of streamed videos, including Deer Woman by Tara Beagan, in an Article 11/Downstage Performance Society co-production. A Blackfoot woman in a forest clearing films herself explaining why she is about to gut a white man who has murdered her sister, and other Indigenous women. This searing monologue, compellingly performed by Cherish Violet Blood, is a response to Colleen Murphy's play, Pig Girl, in which an Indigenous woman is the victim.
Further reading: Sarah Jennings. Art and Politics: The History of the National Arts Centre (2nd ed). Kingston: McGill-Queen's UP, 2019.
Website: www.nac-cna.ca.
Profile by Gaetan Charlebois and Anne Nothof.
Last updated 2022-01-19