Great Canadian Theatre Company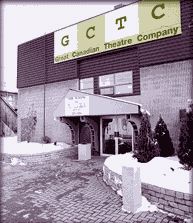 Great Canadian Theatre Company
Theatre company and venue in Ottawa,Ontario, founded in 1975 by professors and students from Carleton University, including Bill Law (Artistic Director, 1976-78), Robin Mathews, Larry McDonald (AD 1978-81), Greg Reid, and Lois Shannon (founding AD). Patrick McDonald was AD from 1982-88, and was instrumental in GCTC's development as a professional company. He was followed by Steven Bush (1982-91), Arthur Milner (1991-95), Micheline Chevrier (1995-99), Lorne Pardy (1999-2005), and Lise Ann Johnson (2005-2012). Eric Coates was Artistic Director from September 2012 to May 2021. The current AD is Sarah Kitz.
The GCTC first performed at the university, then at the Old Firehall (now the Ottawa South Community Centre) and from 1982 in a converted truck garage on Gladstone Avenue. In 2007 it relocated to the newly constructed Greenberg Theatre Centre in the community of Hintonburg. The environmentally responsible complex includes a 262-seat theatre, a residential tower, a bar and coffee shop, and an art gallery.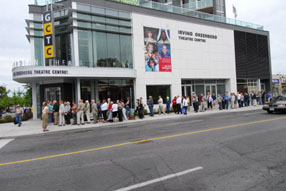 The Irving Greenberg Theatre Centre in Hintonburg/Wellington St. West District, Ottawa.
Photo by Peter Calamairi
The company's mandate is "to foster, produce and promote excellent theatre that provokes examination of Canadian life and [Canadians'] place in the world." GCTC is committed to the production of new Canadian work through a play development program, each season commissioning emerging and established playwrights and workshopping new plays. They also operate The Playwrights' Unit, which gives playwrights the opportunity to work with a dramaturge.
GCTC has produced world premieres of over sixty plays, including Sandinista! (1982), a collective creation based on the Nicaraguan revolution. In 1994-95, it produced an entire season of new plays, and in the 1997-98 season it produced only plays by or about women.
Among Canadian playwrights whose works have been performed by the company are George F. Walker, David French, Joan MacLeod, Morris Panych, Linda Griffiths, Judith Thompson, Ann-Marie MacDonald, Michel Tremblay, Andrew Moodie, Vivienne Laxdal, Jean-Marc Dalpé, Wendy Lill, Arthur Milner (10 plays), Vern Thiessen, and Emil Sher.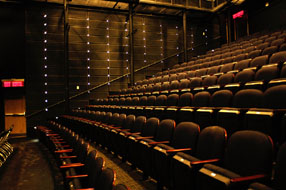 The GCTC's mainstage theatre at the Irving Greenberg Theatre Centre
Paul Toogood Photography
The 2003-04 season included Unity 1918 by Kevin Kerr, Me, Dad & the 100 Boyfriends written and performed by Cathy Jones, Marion Bridge by Daniel MacIvor, and Inexpressible Island by David Young. For the 2011-12 season, GCTC produced East of Berlin by Hannah Moscovitch, and The Girl Who Wants to Fly by John Gray. The 2012-13 season included The Edward Curtis Project by Marie Clements. In 2015-16, GCTC produced Generous by Michael Healey, and in 2016-17, it produced The Gravitational Pull of Bernice Trimble by Beth Graham. Trey Anthony's How Black Mothers Say I Love You premiered in March 2018. The 2018-19 season included The Virgin Trial by Kate Hennig; The Drowning Girls by Beth Graham, Charlie Tomlinson, and Daniela Vlaskalic; Bed & Breakfast by Mark Crawford; and world premieres of Behaviour by Darrah Teitel and, and LO (Or Dear Mr. Wells) by Rose Napoli. The 2023-24 season includes Benevolence, a translation by Leanna Brodie of Fanny Britt's play (dir. Eric Coates).
In November, 2001, the company won the award for best production for Kilt from the Capital Critics Circle.
The company's archives are at the L.W. Conolly Theatre Archives of the University of Guelph, Ontario.
website: www.gctc.ca
Profile by Anne Nothof, Athabasca University
Last updated 2023-07-01