Clements, Marie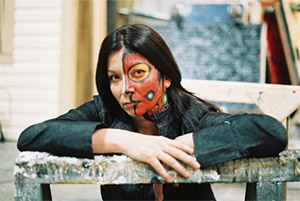 Marie Clements
Métis playwright, actor, and artistic director, Marie Clements was born in 1962 in Vancouver and lives on Galiano Island, British Columbia. She studied journalism at Mount Royal College in Calgary, and during the 1980s she worked as a radio news reporter. She has written thirteen plays, including Age of Iron, Now look what you made me do, The Unnatural and Accidental Women, Urban Tattoo, and Copper Thunderbird.
Her solo show, Urban Tattoo is about a young Métis woman in the 1940s who adopts the persona of Hollywood pin-up girl Jane Russell as she embarks on a journey from a small town in the Northwest Territories to the bright lights of Edmonton. The production toured across Canada and the United States between 1999 and 2003.
The Unnatural and Accidental Women (1997) focuses on serial killings of Native women in Vancouver's downtown eastside between 1965 and 1987, all ruled by the coroner and reported in the press to be "unnatural and accidental." Using a wide range of forms and media, the play critiques state apathy to racial and gendered violence, and celebrates the women as life-affirming and interconnected, even after death. The play was remounted by the newly-formed Indigenous Theatre at the National Arts Centre in 2019 (dir. Muriel Miguel).
Burning Vision was commissioned by Rumble Theatre, developed at Playwrights' Workshop Montreal, and subsequently produced by Rumble Theatre in association with urban ink productions at the Firehall Arts Centre in Vancouver in 2002 (directed by Peter Hinton). It was nominated for six Jessie Richardson Awards, and presented at Festival de Théâtre des Amériques (now Festival TransAmériques in Montreal, and the Magnetic North Theatre Festival in Ottawa in the spring of 2003. In Burning Vision Clements imagines the diverse cultures of Canada (Japanese, Dene, Métis, Irish) as connected by their association with the history of the making and dropping of the atomic bomb during World War II.
Copper Thunderbird (Magnetic North Festival, Ottawa 2007, dir. Peter Hinton) explores the life of Ojibwa painter, Norval Morrisseau -- his life on the street, and his spiritual transformation to become an artist and Shaman.
In 2010, her multi-disciplinary work The Edward Curtis Project premiered at the PuSh International Performing Arts Festival. Combining theatre performance with photographic installations by photojournalist Rita Leistner, it explores how historical photography and documentation continue to influence contemporary Indigenous communities across North America, in particular the early twentieth century photographs of Edward Curtis, portraying what he considered to be a people doomed to extinction.
Tombs of the Vanishing Indian opened at Buddies in Bad Times in 2011 (Native Earth Performing Arts/Red Diva Projects, dir. Yvette Nolan). In this "poetic excavation of the lost stories of displaced Aboriginal people" (Buddies web site), three sisters and their mother are forced by the American government to relocate from Oklahoma to Los Angeles. After the death of the mother, the sisters are raised separately in foster homes, and find very different routes in life.
The Road Forward, an eight-minute live musical installation, was produced at the Vancouver Cultural Olympiad in 2010, and developed into a full-length rock musical performed at the PuSh Festival in February 2015. Clements was inspired by her discovery of eighty years of archival photographs and articles at the Native Brotherhood of British Columbia offices in West Vancouver. As the photographs and newspaper clippings are projected on a large screen, a singing and dancing ensemble combine traditional First Nations music with current pop music.
Marie Clements was Artistic Director of urban ink productions, which she founded in 2001 to develop and produce aboriginal and multicultural works of theatre, writing and film that "celebrate and bring together different cultural and artistic perspectives and inter-racial experiences." Since 2010, she is co-Artistic Director with Michelle St. John of Red Diva Projects, and Director of the film company, Working Pajama Lab. She has adapted The Unnatural and Accidental Women for film.
She has been playwright-in-residence at the National Theatre School of Canada, the Banff Centre for the Arts, the Firehall Arts Centre, and the National Arts Centre.
Burning Vision, Copper Thunderbird, The Unnatural and Accidental Women, and Tombs of the Vanished Indian are published by Talonbooks; and Urban Tattoo by UCLA Press. The Unnatural and Accidental Women is also included in Staging Coyote's Dream: An Anthology of First Nations Drama in English, Vol.1, Eds. Monique Mojica and Ric Knowles. Toronto: Playwrights Canada P, 2003.
Website: https://www.reddiva.ca
Sources: CanPlay: Playwrights Guild of Canada's bi-monthly news magazine. 20.1 (Jan/Feb 2003).
Staging Coyote's Dream: An Anthology of First Nations Drama in English, Vol. 1, Eds. Monique Mojica and Ric Knowles. Toronto: Playwrights Canada P, 2003.
Canada Council for the Arts (www.canadacouncil.ca)
Profile by Anne Nothof, Athabasca University
Last updated 2020-11-06