Jessie Richardson Awards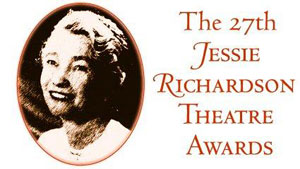 Annual professional theatre awards, based in Vancouver British Columbia and sponsored by the Greater Vancouver Theatre Alliance and the Jessie Richardson Theatre Award Society -- a non-profit charitable organization formed in 1997. The Board of Directors comprises theatre professionals from all aspects of the theatre community. It establishes and monitors three volunteer juries for each season's awards, as well as establishing and overseeing policy and procedure governing the Awards.
Popularly known as the "Jessies," the awards are named in honour of Jessie Richardson, who was actively involved in Vancouver theatre for forty years since the 1930s. She acted, directed, and designed costumes in the Vancouver Little Theatre Association, and in the mid-1950s, she helped to form the children's touring company Holiday Theatre, which later became Playhouse Holiday Theatre.
Awards are presented for outstanding actor and actress in lead and supporting roles; lighting, set, sound, and costume design; production direction; and artistic achievement in both the large and small theatre categories. Several awards are also given for accomplishments in the Theatre for Young Audiences category. Individual awards include one for outstanding original script. In 2009, this was awarded to Kevin Loring for Where the Blood Mixes.
The Board of Directors suspended the awards during the 2020-21 Covid-19 pandemic that forced closures of theatres across Canada, and began a re-consideration of its structure and awards categories in order to be more inclusive and to represent the diversity of theatre production and practitioners in Vancouver.
Website: www.jessieawards.com
Last updated 2021-02-10