MacDonald, Ann-Marie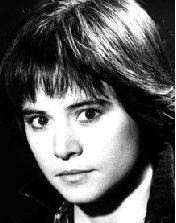 Ann-Marie MacDonald
Ontario-based playwright, actor, and novelist born in 1958 at a Canadian Air Force base in West Germany, although her family origins are in Cape Breton. She attended High School in Ottawa, and studied for a year at Carleton University before attending the National Theatre School of Canada in Montreal. Since 1983, much of her playwriting and acting has been with Nightwood Theatre, which produced her first play, Nancy Drew: Clue in the Fast Lane (co-written with Beverly Cooper), a spoof of the female detective story. She collaborated with Nightwood and Banuta Rubess on This Is For You, Anna); and Smoke Damage, about the witch-hunts in medieval Europe.
Her best-known work, Goodnight Desdemona (Good Morning Juliet) (Nightwood Theatre 1988) was directed by Banuta Rubess.
It has had hundreds of productions in Canada, the United States and the United Kingdom and won both the Governor General's Award and the Chalmers Award. Ann-Marie played the part of the "heroine", Constance Ledbelly, in the 2001 revival at Canadian Stage.
She has also written The Arab's Mouth (Factory Theatre, 1990, Maureen White), the libretto for a chamber opera, Negredo Hotel (with music by Nic Gotham, 1992, Tarragon Theatre, dir. Rubess), and Anything that Moves (with Allen Cole, 2000, co-production between Tarragon Theatre and Nightwood Theatre, Alisa Palmer), which won the Dora Mavor Moore Award. Belle Moral: A Natural History, an extensive revision of The Arab's Mouth premiered at the Shaw Festival in 2005, directed by Alisa Palmer. It was remounted in 2008.
Hamlet-911 premiered at the Stratford Festival's Studio Theatre in 2022 (dir. Palmer). A young actor playing Hamlet at Stratford finds himself in the Underworld while a troubled teenager in the Upper World is also struggling with the question, "To be, or not to be".
As an actor, MacDonald's performances include Rosalind (Shakespeare 's As You Like It, Canadian Stage), and Pope Joan in Carol Churchill's Top Girls (Soulpepper Theatre Company, 2007 and 2008). She has also acted in film (I've Heard the Mermaids Singing 1987), and for television. She has hosted CBC TV's Life and Times, and other major documentaries.
Her novel, Fall on Your Knees (1996), is a complex and disturbing story that traces a Cape Breton family history through three generations. It won the 1997 Commonwealth Prize for Best Fiction. The National Arts Centre's English Company, Canadian Stage, Grand Theatre, London, Neptune Theatre, and Vita Brevis Arts are co-developing and producing an adaptation by Alisa Palmer and Hannah Moscovitch in 2023.
MacDonald's second novel, The Way the Crow Flies (Vintage Canada 2004), is a murder-mystery set on an Air Force base, which also tracks the consequences of childhood trauma through a family history.
Asked about how she would describe what she has done (being an actor, playwright, and best-selling novelist), she said, "I tell stories in various ways."
Readings: Ann-Marie MacDonald. Goodnight Desdemona (Good Morning, Juliet). Toronto: Coach House Press, 1990.
Ann-Marie MacDonald. Belle Moral: A Natural History. Toronto: Playwrights Canada Press, 2005.
Profile by Anne Nothof, Athabasca University
Last updated 2022-03-30