Grand Theatre, London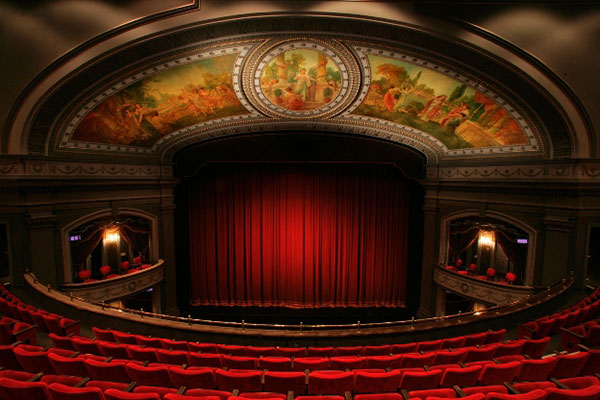 The Grand Theatre (London, Ontario)
Theatre venue in London, Ontario, opened on September 9, 1901 to replace the opulent Grand Opera House, which was destroyed by fire in 1900. It was operated by Toronto entrepreneur Ambrose Small until his mysterious disappearance on December 2 1919, and the theatre is said to be haunted by his ghost to this day. Originally it seated 1850, with a large proscenium stage and ornate arch, box seats and two balconies. It opened with a performance of the popular melodrama Way Down East.
From 1901 to 1919, the Grand hosted touring melodramas and revues. In 1924 it was sold to Famous Players, but reverted to a theatre space in 1945, when it was purchased by London Little Theatre. In 1971 a professional company, under Heiner Pillar, began playing the venue (with productions like Otherwise Engaged starring Douglas Rain, and Bernard Slade's Same Time, Next Year). With renovations in 1978, the house was reduced to a seating capacity of 829. In 1983, Robin Phillips attempted to establish a repertory ensemble, but the concept lasted only one year before the Grand became a mainstream subscription house.
Artistic directors have included William Hutt (1976-1980), Bernard Hopkins (1981-83), Don Shipley (1984-86), Larry Lillo (1986-88), Martha Henry (1988-95), Michael Shamata (1995-99), Kelly Handereck (1999-2001), and Susan Ferley. As of September 2016, the AD is Dennis Garnhum.
The theatre has a Mainstage for large-scale productions of musicals, and the McManus Studio Theatre in the basement for small productions and staged readings of works by local writers during the Playwrights Cabaret in January. AD Susan Ferley spearheaded the annual programming of The Grand Theatre High School Project, in which students produce a major musical on the Main Stage and a Shakespeare play in the McManus Studio. The Theatre for Young Audiences produces two plays a season.
Productions at the house include Later Life, Cat on a Hot Tin Roof, A Little Night Music and Cabaret. Recent productions of Canadian plays include: Kingfisher Days by Susan Coyne (dir. Susan Ferley). For the 2016-17 season Ferley programmed Joni Mitchell: River; Artistic Fraud of Newfoundland's production of the Robert Chafe adaptation of Wayne Johnston"s novel about Joey Smallwood, The Colony of Unrequited Dreams; and James Reaney's play about Tom Thomson--Colours in the Storm. The season also included the Catalyst Theatre production of Jonathan Christenson's Vigilante, and Ronnie Burkett's The Daisy Theatre.
The 2019-20 season included a world premiere of a comedy by Morris Panych, This London Life (dir. Panych); and Robert Chafe's newest work Between Breaths (dir. Jillian Keiley). The production of a new musical, entitled Grow, "set at the intersection of agrarian Amish culture and the legalization of marijuana" (Grand Theatre website), was cancelled when the Covid-19 pandemic forced the closure of theatres across Canada and around the world.
The company's archives are at the L.W. Conolly Theatre Archives of the University of Guelph, Ontario.
Website: www.grandtheatre.com
Profile by Gaetan Charlebois and Anne Nothof.
Last updated 2021-06-11