Artistic Fraud of Newfoundland
Artistic Fraud of Newfoundland was founded in January 1995 by a production and creative team which included artistic director, Jillian Keiley for the first project, the large scale original musical In Your Dreams Freud. The company has since produced many more original pieces, and four unique interpretations of well-known works.
Since its inception, the company has been developing a system of directing and performance called Kaleidography, initially as a blocking notation system, later a notation system for blocking/text/musical/gestural/technical instances on stage. Its productions typically involve an a capella choral ensemble.
The company's long-term mission is multifold; to build and maintain a viably operating and artistically satisfying professional theatre company; to operate from the province of Newfoundland and Labrador; to promote local talent, as well as the new techniques developed by the company, throughout the nation; to employ these innovative techniques in the creation of original works; to expand the regional audience base, and appreciation, for innovative theatre practice and productions, both through original work, and through the presentation of national and international work of significance; to enhance the reputation of Newfoundland theatre for developing new forms and standards in the industry; and to contribute to a Canadian reputation for excellence in innovative theatre.
Artistic Fraud is also committed to presenting its new works across Canada through touring, or by licensing them outside the province to other Canadian theatre companies.
Productions to 2009 included:
1996 - Staging of The Cheat, an 81-person math music extravaganza, by Jillian Keiley and Dave Somers.
1997 - Production of Under Wraps: A Spoke Opera, by Robert Chafe, with musical score by Petrina Bromley, and directed by Jillian Keiley. The show toured to Calgary, Banff, and Vancouver in 2000, and was remounted in 2013.
1998 - Production of A Midsummer's Blacklight Dream. This production, originally staged in an underground iron-ore shaft, was done in full blacklight.
2000 - Development and Production of SIGNALS. This production cast several audience members in the show.
2001 - Development and presentation of Michael Crummey's book of poetry Hard Light as a stage production.
2001 - Presentation by RCA of Artistic Fraud production, Emoticons commissioned for the Marconi Celebrations and featuring St. John's soprano, Shelley Neville.
2002 - Production and presentation of Icycle at the Yukon Arts Centre, and the St. John's Arts and Culture Centre.
2002 - Production of The Chekhov Variations at the 2002 Sound Symposium.
2002 - Production and presentation of Tempting Providence by Theatre Newfoundland and Labrador. In June 2004 Tempting Providence was performed at the Magnetic North Theatre Festival in Edmonton. It has subsequently toured across the country and abroad for eight years.
2003 - Production and workshop presentation of BellyUp, in development for touring with the Six Stages Festival in Toronto.
2003 - Production of Salvage - The Story of a House by Michael Crummey.
2003 - Presentation of Bully by Stephen Guy-McGrath at the Resource Centre for the Arts.
2003 - Development and workshop presentation of Burial Practices of the Early European Settlers through to Today, for the Magnetic North Theatre Festival in Ottawa in 2005.
2005 - Fear of Flight by Robert Chafe, developed during a teaching residency at Sir Wilfred Grenfell College in Cornerbrook with the students. The play was remounted at Magnetic North Theatre Festival in St. John's, and at the culture festival of the Vancouver 2010 Winter Olympics.
2009 - Afterimage by Chafe, adapted from short stories by Michael Crummey, music by Jonathan Munro.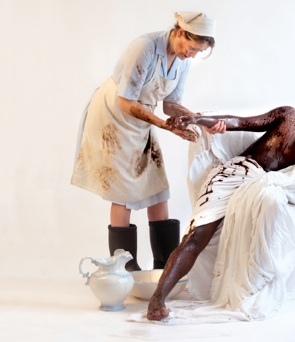 Oil and Water
In 2012, Artistic Fraud produced Oil and Water by Chafe, directed by Keily, and it subsequently toured to Factory Theatre and Magnetic North Theatre Festival in Calgary. A cast of ten comprises an a capella chorus, which interweavies the folk music of Newfoundland and African-American gospel. Oil and Water enacts the story of Lanier Phillips, a Black sailor shipwrecked off the coast of Newfoundland in 1942, and rescued by local villagers who have never encountered a Black man and exhibit none of the racism Phillips has lived through in the American South.
The Colony of Unrequited Dreams adapted by Chafe from the novel by Wayne Johnston about Joey Smallwood and the end of Newfoundland as a British colony (dir. Keiley), was developed in 2015, and toured across Canada in 2017.
Between Breaths by Chafe (dir. Keiley) opened in 2018. It depicts the life of Dr. Jon Lien, who pioneered techniques for rescuing whales entrapped in fishing nets.
The current Artistic Director of Artistic Fraud is Robert Chafe.
Website: www.artisticfraud.com
Last updated 2018-09-05