Catalyst Theatre
Catalyst Theatre was founded by University of Alberta professor, David Barnet in 1977 in Edmonton Alberta as a social-action theatre. The mandate of Catalyst was "to promote and practise the use of theatre for public education and as a catalyst for social change." It produced commissioned works about alcoholism, drug and sexual abuse, native rights, immigration, and suicide, as well as initiating its own plays. These were performed in found spaces, and sometimes toured in the province. In 1979, Barnet hired Jan Selman (from the Drama Department at the University of Alberta) as Artistic Director. In 1985 Ruth Smillie became A.D. for a ten-year period.
Initially, many of the works were created collectively. A play about prison conditions, It's About Time used the interactive style of Brazilian director and theatre educator, Augusto Boal, who developed the "Theatre of the Oppressed."
A notable exception to the collective approach was Odd Jobs, written by Frank Moher in a co-production with Workshop West Theatre in 1985. It addresses issues of unemployment and old age in a sensitive, imaginative way.
In 1996, Catalyst Theatre committed "to creating original Canadian work that explores new possibilities for the theatrical art form and the process through which it is created, to exposing the work locally, nationally and internationally, and to challenging the artists and audiences who participate in the creation of that work." Co-directors Jonathan Christenson and Joey Tremblay believed that in political theatre "there's often a basic oppressor/oppressed dichotomy. The theatre spells out the problem, and sometimes spells out the solution." A more important kind of political act is "to get people to engage their imaginations-–to get an audience to make its own meanings out of an aesthetic experience in a world that tries to get us not to do that."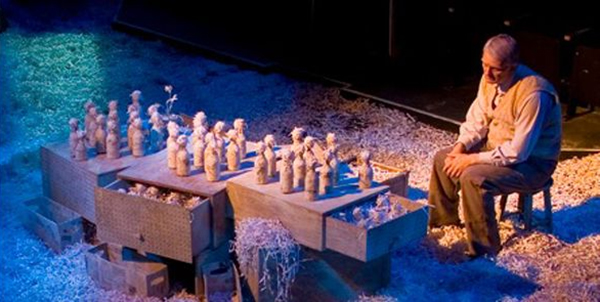 Joey Tremblay in Elephant Wake
Elephant Wake, a monologue co-written by Jonathan Christenson and Joey Tremblay, (Edmonton Fringe 1995) was performed in a revised version at the Catalyst in 1996 (dir. Christenson, designer Bretta Gerecke), with Joey Tremblay as the protagonist Jean Claude. Elephant Wakeis a lament for a dying French culture on the prairies, subsumed by an Anglophone hegemony. Jean Claude is the last member of a once extensive Catholic family to remain in the large ancestral home. But he insists on survival, creating for himself, as he has learned from his grandmother, a zoo full of creatures from papier-mâché-–an imaginative world that he can safely inhabit. Elephant Wake travelled to the Edinburgh Fringe in 1997 and to the Brighton Festival the following year. It was highly acclaimed by critics and awarded an Edinburgh Fringe First Award for Outstanding New Work. It was remounted by Catalyst in 2014, with Joey Tremblay playing Jean-Claude as a 77-year-old who recalls his fraught experiences in an English school, his escapades with his Metis friend, and the demise of his family, insisting on the necessity of remaining strong, and working hard. Tremblay won a 2015 Sterling Award for Best Actor in a Leading Role for his performance. Elephant Wake is published by NeWest Press (Edmonton, 1999) in a collection entitled Ethnicities: Plays from the New West.
Tremblay, Christenson, and designer Gerecke continued to work collaboratively with actors to produce highly imaginative works, typically set in Alberta. In the 1996-97 season, the Abundance Trilogy explored the dark side of life in Alberta through the lives of the misfits, grotesques, and marginalized, and invited the audience to participate as voyeurs of the gothic tales which unfolded. Other collaborations included My Perfect Heaven, Electra, and Songs for Sinners (1997/98 season), an unmusical musical morality play which examined the implications and contemporary manifestations of the deadly sin, Sloth.
Christenson, Tremblay, and Gerecke developed The House of Pootsie Plunket in 1999, and took it to the Edinburgh Fringe where it won the Scotsman's Fringe First Award. The play is a satiric recasting of "Bonanza"-style television melodrama in an Alberta environment, with Greek myth underpinnings.
In 2000, the collaborative team at Catalyst initiated The Blue Orphan, a collage of poetic text, imagery, and music, for the Edmonton Fringe, and reworked it for a premiere at the theatre in 2002. It subsequently travelled to the Edinburgh Fringe in 2002 and the Adelaide Fringe in 2004.

Frankenstein, written and directed by Jonathan Christenson, designed by Bretta Gerecke Left to right: Tracy Penner, Andrew Kushnir, Tim Machin, Sarah Machin-Gale & Nick Green Photo by Jackson Hinton
For the 2006/07 season Christenson (writer/director/composer) and Gerecke (designer) created an imaginative musical extemporization on Mary Shelley's gothic novel, Frankenstein. It explores the tragic possibilities of both the "Creature" and his Creator. "People regard it as a horror story. I don't find it scary, but it is about fear," says Christenson. "The fear of putting yourself out in the world and finding yourself reviled as a freak ... ." Two opposing archetypes are at play. "One is the basic human fear of being so unlovable even your creator can't accept you... The other is the human impulse to aspire for more, to create beyond yourself, to aspire at any cost, even the fear that the world will find your creation hideous." (Quoted in Edmonton Journal 20 March 2007). Frankenstein has played across Canada, and abroad. In 2010, it played at Canadian Stage, to critical acclaim. In 2007 it won 8 Sterling Awards -- best direction, musical direction, and playwriting for Christenson, and set, light, and costumes for Gerecke.
Nevermore (National Arts Centre for the Magnetic North Theatre Festival 2009) tells the story of Edgar Allan Poe as a dramatazation of one of his macabre stories, imaginatively designed by Brette Gerecke, with words and music by Christenson. In 2010, it played at the LIFT Festival in the Barbican Theatre, London; off-Broadway in New York; at the Vancouver Olympics; and at One Yellow Rabbit's High Performance Rodeo in Calgary. In 2015, it returned to New York for an open-ended Off-Broadway production. The play has been performed over sixty times in North America, Europe, and Australia. It is scheduled for another performance at the Vertigo Theatre in Calgary in June, 2023 with the original cast: Shannon Blanchet, Sheldon Elter, Beth Graham, Ryan Parker, Garett Ross, Vanessa Sabourin, and Scott Shipley.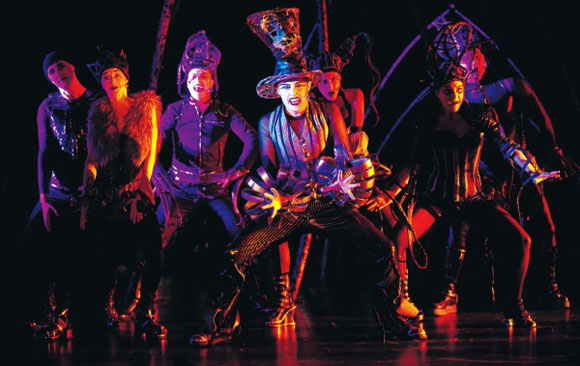 Hunchback at Citadel Theatre, 2011
In March 2011, Catalyst launched Hunchback at the Citadel Theatre, created by Christenson and Gerecke, and directed by Christenson, with Ron Pederson as Quasimodo. It extrapolates scenes and characters from Victor Hugo's novel to explore "love gone horribly wrong" through Gerecke's imaginative costumes and lighting, and Christenson's rhythmic text and pop music.
In 2013, Christenson and Gerecke premiered The Soul Collector, a dark mythic tale of despair, set in a frigid Alberta town named Cold Comfort. A young woman named "Memory" is found comatose in the snow after a car crash by a young man named Gideon Glum, and she imagines the complex history of love and loss which informs his death. The production is again notable for its stark set of twisted, leafless trees by Gerecke, and program music and lyric text by Christenson.
Christenson's Vigilante (McLab Theatre in the Citadel, March 2015) is based on the legend of the infamous Donnelly family and their murder in the southern Ontario community of Biddulph which perpetuated the Catholic-Protestant feuds they believed they had left behind in Ireland. As ghosts which are compelled to revisit their massacre in 1880, the mother, father and six sons bring the violence of their final days into the present. Narda McCarroll designed the punk costumes, and the choreography was by Laura Krewski. The story of the "Black Donnellys" was first dramatized by James Reaney in the 1970s as a trilogy entitled The Donnellys. It recasts a sensational horror story as a community tragedy to show that the present is not wholly determined by patterns established in the past.
In 2016, Catalyst premiered Fortune Falls by Jonathan Christenson and Beth Graham at Alberta Theatre Projects; it performs the consequences for a small town when the only business, a candy factory, shuts down.
The Invisible - Agents of Ungentlemanly Warfare, a "spy noir musical," opened at the Vertigo Theatre in May 2019, portraying the dangerous sabotage efforts against the Nazis in France by seven female secret service agents from the British Special Operations Executives (SOE). The odds against their survival are not good. Although The Invisible celebrates their courage, it is yet another story of female selflessness and sacrifice. Jonathan Christenson was playwright, composer and director: Brette Gerecke was the designer.
Catalyst launched a "creator in residence" program in 2013, affording mentorship and rehearsal space for a three-month period. It has teamed up with Surreal SoReal Theatre and Jon Lachlan Stewart to develop The Genius Code.
From 1996 to 2015, Catalyst was resident in a converted CN warehouse in Edmonton's Old Strathcona district. The company undertook extensive renovations to the space to create a 138 seat black box theatre that also provided rehearsal and performance space for outside user groups between 25 and 34 weeks of the year, under the name C103. In 2014, Catalyst relocated to the Maclab Theatre in the Citadel Theatre complex in downtown Edmonton, becoming in effect a resident company.
The Artistic Director of Catalyst Theatre is Jonathan Christenson.
website: www.catalysttheatre.ca
Profile by Anne Nothof, Athabasca University
Last updated 2022-11-01