Surreal SoReal Theatre
Collaborative, innovative theatre company, founded in 2004 in Edmonton Alberta. Co-founders were actor, director, playwright Jon Lachlan Stewart, and actor, dancer, director Vincent Forcier. Actor, composer, singer, songwriter Joel Crichton was Artistic Associate. Cory Sincennes was Resident Designer.
In its productions, Surreal SoReal Theatre focuses on the unusual and paranormal in new works and established texts, with an emphasis on physical theatre.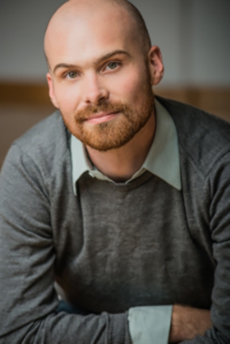 Jon Lachlan Stewart
Its first production, Little Room was written and performed by Jon Lachlan Stewart for the Edmonton International Theatre Festival in 2004. It enacts the anger, angst, and sexual fantasies of a teenage boy in the confined space of his room, as he imagines his past and his future through violent physical actions. Stewart reprised the role for the 2011 Edmonton Fringe.
Other productions include The Zoo Story by Edward Albee (Edmonton Fringe 2005); Grumplestock's by Jon Lachlan Stewart, Kevin Jesuino, and Trish Lorenz (NextFest at Theatre Network 2005); Twisted Thing by Stewart (2006); Urbantility by Stewart (Azimuth Theatre 2006); Duet for a Schizophrenic by Chris Johnson (Edmonton Fringe 2006); Big Shot by Stewart (Toronto and Edmonton Fringes 2008, remounted at the Roxy Theatre in 2012, with an outstanding performance by Stewart as multiple characters in the Vancouver Sky Train); Eleanor by Stewart (Edmonton Fringe 2008); The Anti-Morality Plays by Stewart, Forcier and Crichton (NextFest 2008); RedBird by Crichton (Calgary Uprising Festival 2009); El Dorado by Crichton (2009); The Survival of Pigeons as Studied by Human Lovers by Stewart (Edmonton Fringe 2010); Death: Live! by Crichton and Stewart (Edmonton Fringe 2010); and Dog by Stewart (Roxy Theatre 2011), which shows the bizarre consequences to a marriage when the wife suffers a miscarriage and falls into a depression.
Grumplestock's is published in Nextfest Anthology II, ed. Steve Pirot. Edmonton: NeWest P, 2006.
The Surreal SoReal inaugural season in Edmonton was launched in 2010-2011 with Dog and Keeping Peace by Stewart (Living Room Playhouse at Azimuth Theatre), which consider Canada's role in war through the trauma of a soldier in Afghanistan.
Both Dog and Death: Live! were nominated for several Elizabeth Sterling Haynes Awards in 2011. Dog was nominated for Outstanding New Play, Outstanding Actor (Stewart), Outstanding Director (Bradley Moss), Lighting Design (Cory Sincennes), and won the award for Outstanding Independent Production.
Lachlan Stewart and his Surreal collaborators were Catalyst Theatre's 2013-14 artists in residence, and developed The Genius Code, a love triangle where the audience listens on headphones and chooses which of three stories to follow.
In December 2013, the company produced Sartre's Shorts, a series of plays based on Jean Paul Sartre's short stories, which enact the cruel absurdity of life. Playwrights were Darrin Hagen, Jon Lachlan Stewart, Jason Chinn, Amber Borotsik, Nicole Moeller.
As part of the Canoe Theatre Festival, hosted by Workshop West Theatre in January 2015, Surreal SoReal presented a workshop production of Lavinia, which considers the misogynistic inclination of some of William Shakespeare's plays. Lavinia puts several of the Bard's victimized female characters in a survivor group, where they continue their unfinished stories of sexual violence in the contemporary world.
In 2018, Jon Lachlan Stewart returned to the Edmonton Fringe Festival with Marie Hélėne Bélanger in a wordless production of Macbeth Muet, a sixty-minute visceral, accelerated version of Shakespeare's Macbeth, with two actors and puppets, and a soundtrack of pop and classical music. The physical theatre piece reprises at the Crow's Theatre in April 2021.
Surreal SoReal is a bilingual theatre company, and currently based in Montreal. Jon Lachlan Stewart is Artistic Director.
Website: www.surrealsorealtheatre.com
Profile by Anne Nothof, Athabasca University
Last updated 2021-11-18