Theatre Network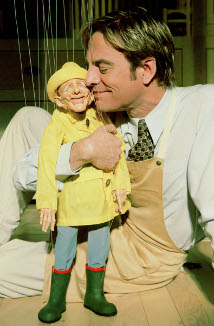 Ronnie Burkett's Happy
Theatre Network was founded as a non-equity collective in Edmonton in 1975 by a group of University of Alberta BFA students, including Tanya Ryga and Mark Manson. Its original objective was to produce plays about Alberta for Albertans, with a mandate to foster the development of original regional theatre, and to promote the arts in Alberta through the medium of theatre.
Under the direction of Mark Manson, its first productions were developed through collective creation in the form of social satires, docu-dramas, and community plays, including Hard Hats and Stolen Hearts: A Tar Sands Myth (with Gordon Pengilly, 1977). This production relocated to Richard Schechner's Performance Garage in New York. Other significant early productions were George Ryga's Seven Hours to Sundown (1976), and Sharon Pollock's Tracings.
Under Artistic Director Stephen Heatley, the mandate was "to assist, develop, and perform original plays by Alberta playwrights." In 1981, it became part of the Theatresports network. Theatre Network has established partnerships with Playwrights' Workshop, Montreal, the Blyth Festival, Studio Theatre at the University of Alberta, the Catalyst Theatre, and Alberta Theatre Projects. In 1986 Heatley initiated a collaboration with other prairie theatres located along the historic Carlton Trail, the 25th Street Theatre Centre in Saskatoon and Prairie Theatre Exchange in Winnipeg, which brought such plays as Connie Gault's Sky to Edmonton.
Following Stephen Heatley's resignation in 1992, Ben Henderson became Artistic Director in 1993. After the demise of Phoenix Theatre in 1997, Henderson amalgamated the funding of the two theatres, and shared the artistic directorship with John Cooper, the last AD of Phoenix. They produced a split season that was half the new play mandate of Theatre Network and half the innovative world theatre mandate of the Phoenix. When Henderson and Cooper both left at the same time, Bradley Moss took over the whole operation and the amalgamated mandates in 1999 as the sole AD. Bradley Moss has since premiered many Canadian plays that are "unexpected and surprising", "unpredictable and exciting" (Program guide for Bust by Matthew MacKenzie, 2017).
Premiers of new Alberta plays since the inception of Theatre Network have included the musical Country Chorale (1982) by Raymond Storey and John Roby, with kd Lang in the chorus; Wolfboy (1982), Brad Fraser's first play; The Deer and the Antelope Play (1983) with Edmonton actor Paul Gross from the University of Alberta's Studio Theatre; Odd Jobs (1985) by Frank Moher, nominated for the Governor Generalís Award for drama; The Last Bus (1987) by Raymond Storey; The Mail-Order Bride (1988) by Robert Clinton, winner of the Alberta Culture Playwriting competition; The Third Ascent (1988) by Frank Moher, winner of an Elizabeth Sterling Haynes Award for Outstanding New Play; Gravel Run (1989) by Conni Massing; Castrato (1992) by Greg Nelson, also winner of a Sterling; Scraping the Surface (1995) by Lyle Victor Albert (Sterling winner); Martin Yesterday (1998) by Brad Fraser; Tinka's New Dress, (Sterling Award), Street of Blood, and Happy (2000), a trilogy of marionette plays conceived and enacted by Ronnie Burkett; Mom, Dad, I'm Living with a White Girl (1998) by Marty Chan (Sterling); three plays by Eugene Stickland: A Guide to Mourning, Excavation, and Midlife; Let the Light of Day Through (2013) by Collin Doyle; Bust by Matthew MacKenzie (2017); and Irma Voth (2017) by Chris Craddock. In 2019, Bradley Moss directed the premiere of The Empress & and Prime Minister by Darrin Hagen to celebrate the gay activism of ted northe which motivated PM Pierre Trudeau to back the passing of Bill C-150, and ending the criminalization of homosexuality.
Outstanding productions of other Canadian plays include High Life by Lee MacDougall; two of George Walker's Suburban Motel plays (1999); La Repetition by Dominic Champagne (2000); Mump and Smoot in Flux; Lawrence & Holloman by Morris Panych; For the Pleasure of Seeing Her Again by Michel Tremblay; Perfect Pie (2003) by Judith Thompson; Thunderstick (2011) by Kenneth T. Williams; Where the Blood Mixes (2013) by Kevin Loring; Little One by Hannah Moscovitch (Elizabeth Sterling Haynes Award for Outstanding Production 2014). In April 2016, Bradley Moss directed the very black comedy, Gordon by Morris Panych. In November 2019, he directed an uproarious and moving production of Bed and Breakfast by Mark Crawford.
New play development, music, dance, and poetry are showcased in the annual NeXtFest Arts Festival, initiated in 1996 under the directorship of Bradley Moss. NeXtFest productions have included SuperEd by Chris Craddock, and Tuesdays and Sundays by Daniel Arnold and Medina Hall (anthologized in NeXtFest, NeWest Press, 2000). Steve Pirot was the Festival Director from 2001 to 2016. The current Festival Director is Ellen Chorley.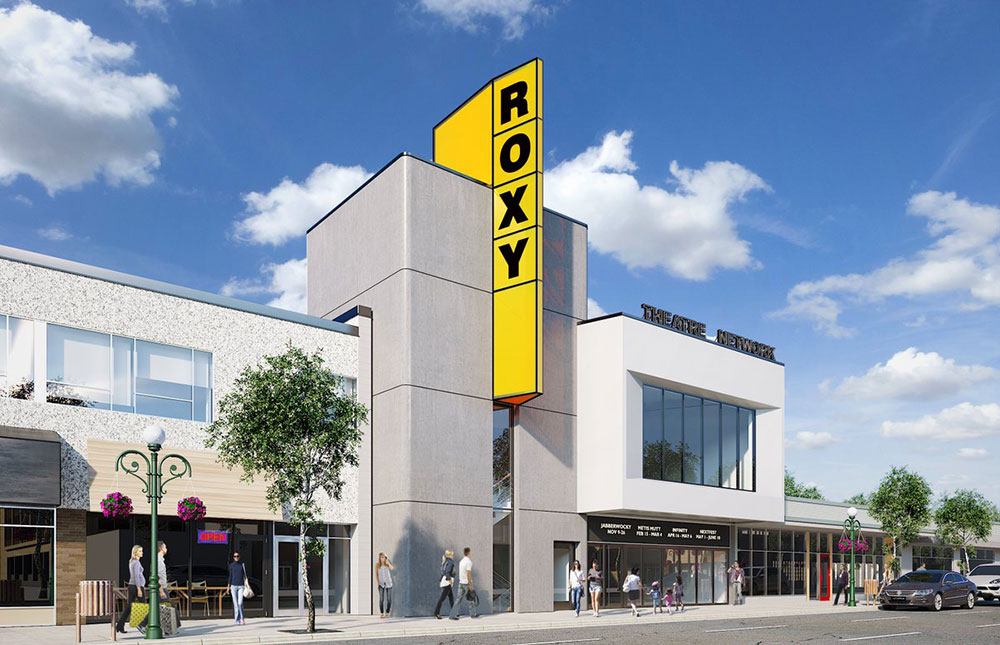 Roxy Theatre
Until 1980, the early collective productions toured throughout Alberta, Northwest Territories, Newfoundland and Labrador, and Ontario. A permanent stage for the company was established in Espace Tournesol, a Jehovah's Witness Hall renamed after the resident dance company. In 1989 the theatre moved into the Roxy, a historic movie house on 124 Street, constructed in 1938. In 1993/94 the Roxy was extensively renovated, and improvements to the stage, lighting, seats, and roof continued since then. Sadly, on January 13, 2015, the Roxy Theatre was destroyed by fire, leaving Theatre Network temporarily homeless. For six years, it staged its productions in the former Catalyst Theatre space on 103 Street, renovated and rebranded as The Roxy on Gateway, while fundraising to rebuild its home. The new Roxy opened in April, 2022, with a production of William Shakespeare's As You Like It, A Radical Retelling by Cliff Cardinal.
The archives of Theatre Network are housed at the University of Alberta Archives.
Website www.theatrenetwork.ca
Sources: Theatre Network website.
Don Perkins' essay on the history of Theatre Network for University of Alberta Archives.
Profile by Anne Nothof, Athabasca University.
Last updated 2022-04-11