Doyle, Collin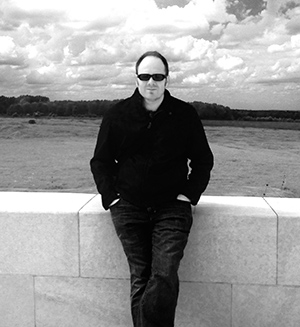 Collin Doyle
Edmonton Alberta based playwright and actor, born in 1975. He is a graduate of the National Theatre School of Canada (where he studied playwriting with Sheldon Rosen), and the television and radio program at the Northern Institute of Technology.
His plays Dear Penthouse and Nighthawk Rules (with James Hamilton) were critical and popular successes at the Edmonton Fringe in 2004 and 2005. Nighthawk Rules received two Sterling Awards for Outstanding Fringe Production and Outstanding New Fringe Work. A hard-partying sports addict, pushing 30, considers the necessary sacrifices he will have to make to maintain a stable relationship, including with his drinking buddy.
Slumberland Motel was the winner of the Alberta Playwriting Competition in 2006 (for an unproduced play). Two hardluck vacuum cleaner salesmen share a room in a seedy roadside motel. Disillusioned with their lives, Ed and Edward seem to be at the end of their ropes. But the unexpected arrival of a mysterious woman from the next room brings hope. Slumberland Motel premiered at Shadow Theatre in January 2018 (dir. John Hudson).
The Mighty Carlins (Workshop West Theatre 2009, dir. Michael Clark) was the winner of the 2004 Alberta Playwriting Competition and a Sterling Award. The two Carlin brothers and their irascible father indulge in a night of drinking to "commemorate" the death of the mother, reminiscing and arguing until they reconcile themselves to being a family.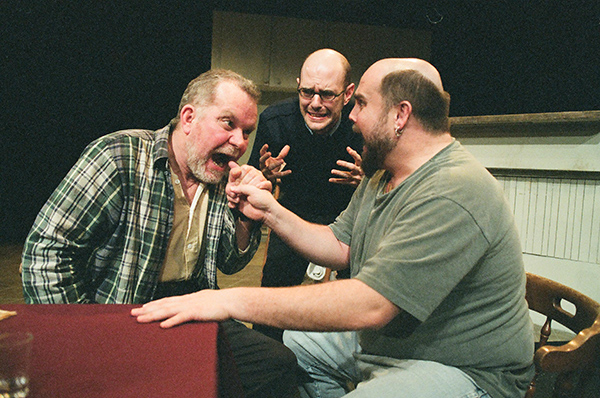 The Mighty Carlins
l. to r.
John Wright
, James Hamilton, Fred Zbryski. Photo by Russ Hewitt, Russ Hewitt Photography.
Routes, commissioned by Concrete Theatre (2010, dir. Mieko Ouchi) is a solo play about family violence and bullying. A teenager rides the night bus around Millwoods in Edmonton to escape the violence at home, but discovers that it is in his community and school as well. The Concrete production played at the Lorraine Kimsa Theatre for Young People (now Young People's Theatre) in November 2010, and toured to high school audiences in Alberta, Saskatchewan, and Ontario. Routes received a Sterling Award for Outstanding Production for Young Audiences, and a Dora Mavor Moore Award.
The Gift, written with Jeff Page opened at the Old Cycle Building in Edmonton in April 2010. In this dark comedy, three friends receive a gift from a fourth, with whom they have had a disagreement, which opens up a closet with many skeletons.
Let the Light of Day Through (Theatre Network 2013, dir. Bradley Moss) tracks the relationship of a couple in their late 30s back over eighteen years, uncovering a tragedy which may destroy their marriage. The play won a Sterling Award for Outstanding New Play in 2013. It is published in the collection, The Mighty Carlins and Other Plays (NeWest Press, 2018), and won a Gwen Pharis Ringwood Award for best published play in 2019.
In Terry and the Dog (Edmonton Actors Theatre 2018, dir. Dave Horak), an alcoholic recollects his many binges, his attempts to stay sober, his destructive relationship with his wife and son, and his final salvation, effected by his dog's deaths and resurrections. There is a family reconciliation, but it is brief. As Terry observes, "Our time together was like a glance over the shoulder. One second – and it was gone." It won a Sterling Award for Outstanding Indie Production of a New Play in 2018.
Collin Doyle's plays typically deconstruct fraught relationships through black humour, scatological colloquial dialogue, and anarchic, extroverted characters. They are also insightful investigations of what holds people together, and what tears them apart.
As an actor Collin Doyle has performed at the Citadel Theatre, Theatre Network (Alias Godot by Brendan Gall, dir. Bradley Moss, 2008), Workshop West Theatre, Azimuth Theatre, Geordie Theatre, and with The Bedlam Theatre Concern. He starred in the world premiere production of Mary's Wedding at Alberta Theatre Projects, and the Canadian premiere production of The Pillowman at the Citadel. He won a Sterling for his gripping performance as Jerry in Edward Albee's The Zoo Story at the Edmonton Fringe Festival in 2018.
Profile by Anne Nothof, Athabasca University
Last updated 2019-06-26