Shadow Theatre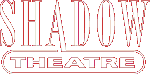 An Edmonton Alberta-based theatre company born out of the Edmonton Fringe Festival in 1990, Shadow Theatre was co-founded by John Hudson and Shaun Johnston, both graduates in the BFA program at the University of Alberta. It was incorporated in 1992, operating under the governance of a volunteer Board of Directors. In 1994, it merged with David Belke's Acme Theatre Company, also a Fringe creation. An artistic core of four people, John Hudson (Artistic Director), Coralie Cairns (General Manager and Artistic Associate), John Sproule (Company Member), and Glenn Nelson (Company Member) continues to nurture the company's development. Shadow is housed in the Varscona Theatre (200 seats) in the heart of Old Strathcona, the site of the annual summer Edmonton Fringe Festival.
Shadow Theatre is one of the two managing partners in the Varscona Theatre Alliance (in partnership with Stewart Lemoine's Teatro La Quindicina, benefiting the theatre community by operating on a volunteer basis a venue that hosts some 400 performances annually by a wide range of companies and artists./p>
Its core values are: Collective success through collaboration; A sense of belonging for artists and patrons; Making the live theatre experience accessible; Celebration of local creativity and imagination; A devotion to the craft of theatre as a profession.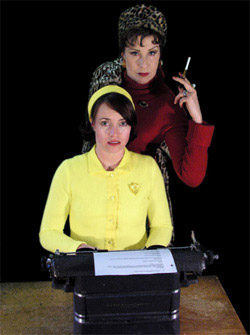 Becoming Sharp by David Belke, with Vanessa Holmes (front) and Coralie Cairns. Photo by Michael Cowie.
Shadow Theatre has produced a regular main stage season since 1995, typically offering modern classics, innovative contemporary plays from around the world, and new Canadian works. In 1993, the Company co-produced Guillermo Verdecchia's Fronteras Americanas with Catalyst Theatre.
David Belke's The Minor Keys (published by NeWest Press in 2000) was the highlight of the 1998/99 season, a jazz play in which every character has a riff. For the 2002/03 season, Shadow Theatre presented The Glace Bay Miners' Museum by Wendy Lill; The Unexpected Man by Yazmina Reza; and That Darn Plot by David Belke.
The 2003/04 season included the world premiere of The Last Train by Edmonton playwrights and actors Beth Graham and Daniela Vlaskalic. Becoming Sharp was Belke's new play for the 2004/05 season – a witty expose of ghost-writing (revised and remounted in 2015).
The 2005-06 season included The Pavilion by Craig Wright; Helen's Necklace by Carole Frechette in a translation by John Murrell; Three Days of Rain by Richard Greenburg; and 10 Times 2: The Eternal Courtship by David Belke.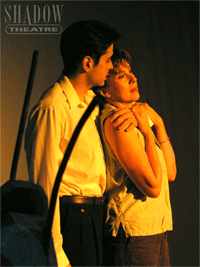 Helen's Necklace with Mark Meer and Coralie Cairns. Photographer: Michael Cowie
In 2006, Shadow premiered While My Mother Lay Dreaming by Doug Curtis. Sexy Laundry by Michele Riml was a sellout in 2007, and remounted in 2008. In 20017, Shadow staged The Fly Fisher's Companion by Michael Melski (dir. James de Felice and starring Glenn Nelson and John Wright). MacGregor's Hard Ice Cream & Gas by Daniel Macdonald was produced in 2008.
In 2012, Shadow celebrated its twentieth anniversary by reprising its first production, Fool for Love in a co-production with Sage Theatre (dir. John Hudson), with actors Jamie Konchak, David MacInnis, and Kevin Rothery. TV actor Shaun Johnston returned to the stage from which he launched his career playing Eddie, this time performing the part of the Old Man (which James deFelice performed in 1989). Terry Gunvordahl designed the set and lights.
Little Elephants, a new play by Edmonton actor/playwright Belinda Cornish, won the 2012 Elizabeth Sterling Haynes Award.
In 2014, Shadow premiered Sequence, a complex, cerebral work by Calgary eye surgeon, Arun Lakra, which explores the nature of coincidence, luck, and the laws of probability through two parallel encounters: a disgruntled genetics prof with her unlucky student, and a lucky celebrity author with a doubtful young woman who challenges his system.
Scott Sharplin's witty new play, First Time Last Time, premiered in March 2015. A mismatched couple committed to having no commitments in their relationship tell the story of their fifteen years together, from its unlikely inception is a bar, through its sexual euphoria, cranky mid-life crisis to its affirmative conclusion.
Shadow continued its support of challenging new Canadian works with a premiere of Bravo by Blaine Newton in January 2016. It examines the devastating impact of the American Bravo nuclear bomb tests on the inhabitants of the Marshall Islands in the Pacific in the mid-1950s, and the political and moral cover up.
To celebrate its 25th anniversary in the newly renovated Varscona Theatre, Shadow produced The Red King's Dream by David Belke; Annapurna by Sharr White (starring Coralie Cairns and Shaun Johnston); Soliciting Temptation by Erin Shields; and Art by Yasmena Reza. A highlight of the 2018-19 season was the premiere of a WWI musical, The Comedy Company by Edmonton writer/actor Neil Grahn, based on the history of members of the Princess Patricia's Light Infantry Division, who entertained the troops during the war to increase morale and raise spirits (with Julien Arnold, Sheldon Elter, Jesse Gervais, Andrew MacDonald-Smith, Nathan Cuckow, Steven Greenfield, Nick Samoil, dir Hudson).
Web site: www.shadowtheatre.org
Last updated 2019-05-15