Riml, Michele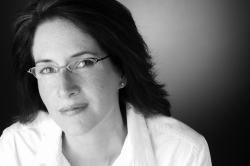 Michele Riml
Playwright, born in 1967, a graduate of Simon Fraser University, and based in Vancouver British Columbia. Her first play, Souvenirs, which she began writing at the age of 17, won the BC Young Playwrights Search. It was remounted in 2009 at Prairie Theatre Exchange. Souvenirs portrays a dysfunctional father-daughter relationship between a Czech immigrant named Gustav and his all-Canadian 16-year-old daughter Maggie, who has been raised by her mother, and who is focused primarily on accessing her father's hidden cash reserves.
Her work for Green Thumb Theatre for Young People includes Cool, The Invisible Girl and The Skinny Lie. The Invisible Girl tackles our society's preoccupation with fashion and popularity, while revealing the devastation of adolescent peer ostracism.
RAGE, produced by the Vancouver East Cultural Centre, explores the issues of bullying and violence in high school. It dramatizes a dangerous confrontation between a violent teenager and a pacifist liberal counsellor. It won the Sydney Risk Award for Outstanding New Play, and a Jessie Richardson Award for Outstanding Large Theatre production, both in 2005. In April 2010, the French version of Rage was staged at Théâtre Français de Toronto.
Her work for young audiences, Tree Boy was produced by The Olney Theater in Portland in fall, 2009.
In Riml's most popular play, Sexy Laundry (Vancouver Fringe 2002), a middle-aged couple married for 25 years attempt to rejuvenate their relationship by booking a room in a spa hotel to try out the advice proffered in Sex for Dummies. Riml exploits conventional sit-com tactics to create a hilarious but compassionate consideration of the reasons why people stay together, or drift apart. Sexy Laundry has played at regional theatres across Canada – from the Belfry Theatre to Magnus Theatre to Theatre Aquarius, and has been produced in Britain, South Africa and the US. It premiered in German in Berlin, January 2010.
In April 2012, Riml's sequel to Sexy Laundry, entitled Henry and Alice: Into the Wild opened at the Arts Club Theatre, Granville Island Stage (dir. Andrew McIlroy). It continues the story of the mid-life couple and their sexual crises and adventures on a camping trip after Henry loses his job.
Poster Boys (Arts Club Theatre, 2008) is played out in the world of advertising, which, according to Riml, "is all about creating belief in people, creating desire." This setting is a way to explore what we believe in, the need for belief, and the need to discover who we really are. When an ambitious advertising executive is hired by a bank to create a queer-positive ad campaign, she is shocked to discover that one of the "poster boy" models is her former fiance, and she is forced to come to terms with her own public and private image. At the same time, the other poster boy struggles to reconcile his Catholic beliefs with he sexual proclivities.
Under the Influence is about women in their forties under the influence of pop culture. It comprises monologues by three women: one addicted to fashion, one with a fascination with celebrity and the media, and one waging a losing battle with her inner child. It was first produced at the Vancouver Fringe, and then moved to the Arts Club Theatre. The play was revised and remounted in 2012 as On the Edge (Belfry Theatre 2012, dir. Andrew McIlroy). One actress plays three roles: a fashion addict, struggling with finances and aging; a police officer who uses her sense of humour to function in a hyper-masculine world; and a housewife learning yoga who is trying to find a balance between her inner life and the demands of her family life.
Shadow Theatre in Edmonton mounted the Canadian premiere of Miss Teen in January, 2019. A mother with aspirations beyond her means for her two daughters finds a way to enter her reluctant elder daughter into a local Miss Teen contest that escalates into national proportions requiring surreptitious "shopping" and imaginative responses to judges' questions that compromise the integrity of both mother and daughter. Kristi Hansen enacted the misguided and determined mother in the Shadow production, with Emily Howard as the conflicted elder daughter, Emma Houghton as the younger socially-challenge daughter, and Patricia Cerra as the ostentatious and glamorous pageant coach. John Hudson directed; Leona Brausen was costume designer, and Darrin Hagen was sound designer.
The Amaryllis, a production at the Firehall Arts Centre by The Search Party, premiered on November 12, 2020 (directed by The Search Party's Artistic Director, Mindy Parfitt). This two-hander features the introverted world of Lucy (Amy Rutherford), a voice-over artist, and her brother and agent Jeremy Keener (Shawn Macdonald). The mysterious gift of an amaryllis plant, assumes a strange power over their lives, emerging as a symbol of growth and change.
Riml's work has been nominated for ten "Jessies" (Jessie Richardson Awards). In 2008, she was nominated for the Siminovitch Prize in Theatre.
Profile by Anne Nothof, Athabasca University
Last updated 2021-08-30